There are many cool things to do and cool places to visit in Romania. It's a shame that so many people don't know about them! Romania is a beautiful and interesting holiday or vacation destination with some warm, friendly people, plenty of tourist attractions, good food, adventure and cultural activities making for cool days out and trips.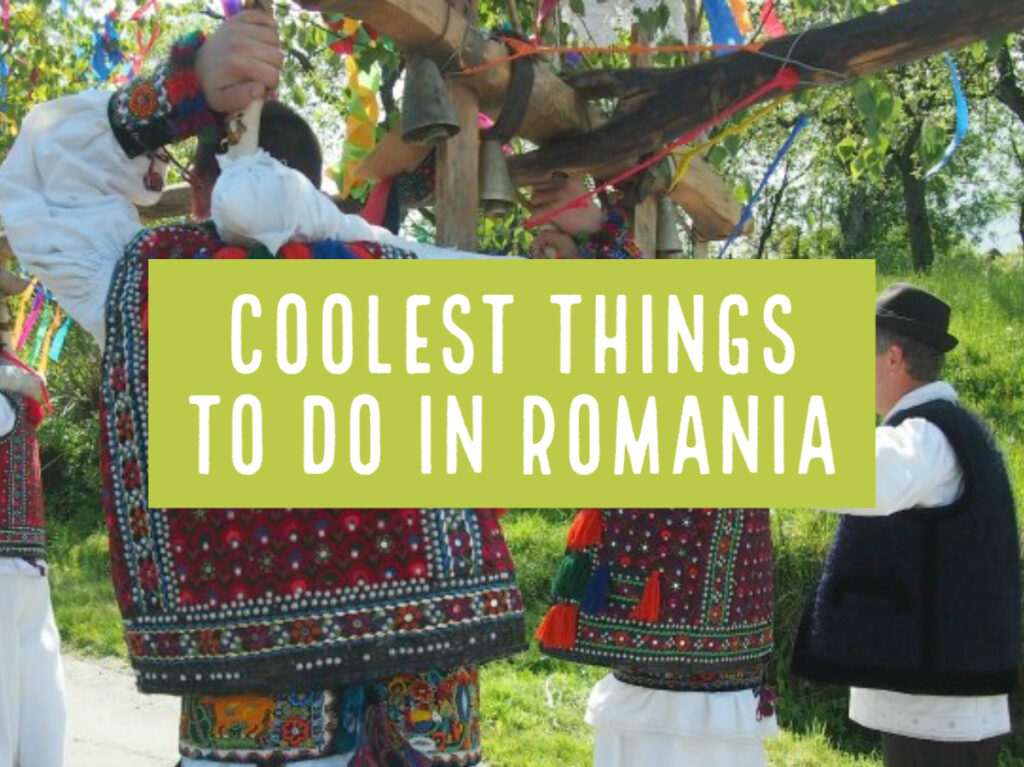 Brasov and The Black Church
Visit Bran Castle, Dracula's Fictional Castle
See a fortified church at Prejmer
Peleș Castle, Romania's Most Beautiful Castle
Visit a Matrimonial Prison or Marital Jail
Visit Roman Ruins and Remains
Take Part in Romania's Festivals
Brukenthal and Astra Museums in Sibiu
Hiking in the Carpathian Mountains
The Danube Delta- Birding and Boating
Romanian Wine Tours
See European Brown Bears and Other Wildlife
Visit the Painted Monasteries of Bucovina
Visit the Wooden Churches and Monasteries of Maramures
Take a Steam Train Ride
Sighișoara Medieval Citadel Historic Centre
Take a Traditional Romanian Food Tour
The Merry Cemetery
The Underground Amusement Park Inside Turda Salt Mine
Europe's Biggest Building, The Palace of Parliament, Bucharest
Drive The Transfăgărășan Highway
Romanian Nightlife in Bucharest
The Romanian Sphinx in Bucegi Mountains
Romanian Village Life
The Haunted Forest
Take a Trip to Another Country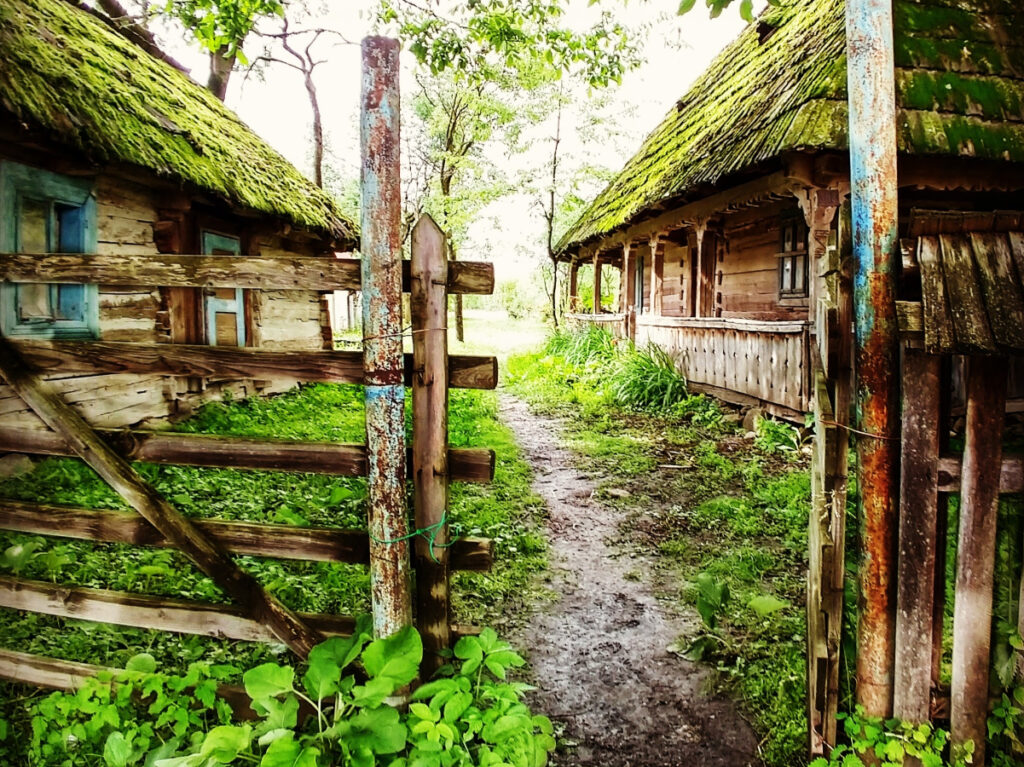 Romania is known for quite a few beautiful places and famous tourist attractions but there is much more to see in this country outside Bucharest and possibly Romania's most famous (maybe coolest) region, Transylvania.
Maramures, Bucovina, and most of Romania has UNESCO sites, famous fortified churches, citadels and castles plus wonders of nature and phenomenal wildlife.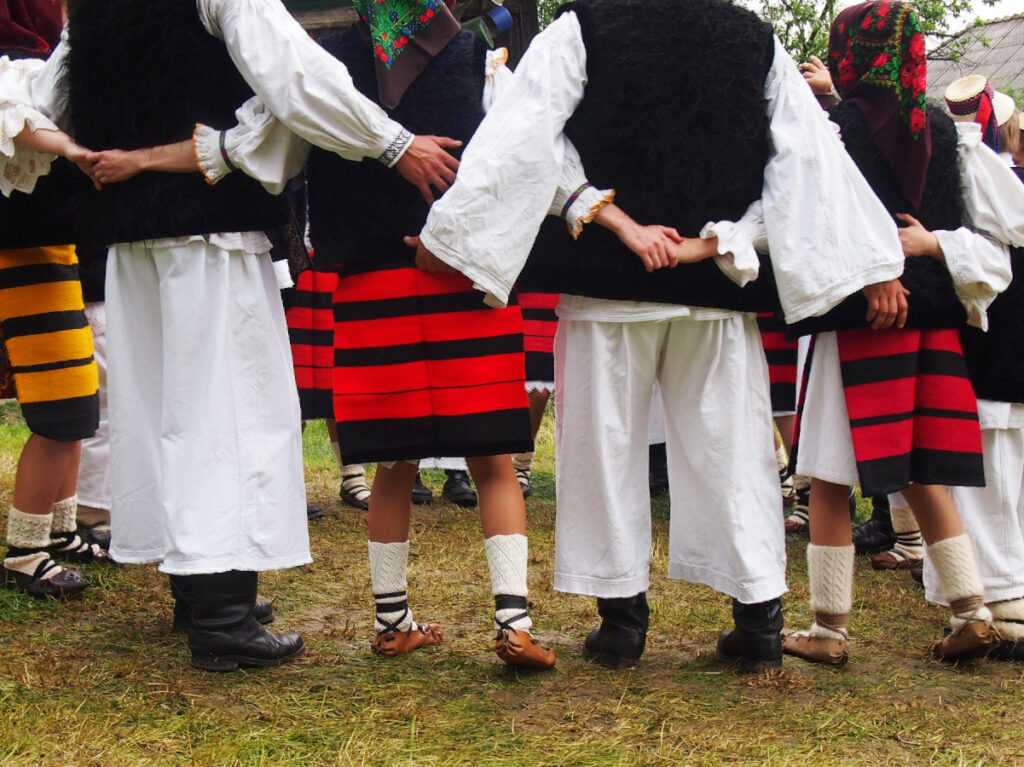 Some of the coolest things to see and do in Romania are truly unique. Where else can you visit the birthplace of Dracula, a haunted forest, or a gaily painted Merry Cemetary? You can also enjoy stepping back in time to a more traditional way of life, enjoying farm-fresh local food, including meats, fruit, preserves and cheeses. Things are still made the traditional way in the villages of Romania.
you can also take part in some pretty cool adventure travel activities in Romania. How about hitting the ski slopes in winter, mountain biking in summer or hiking some incredible trails? All of these things, plus so many more, are part of the joy of visiting Romania.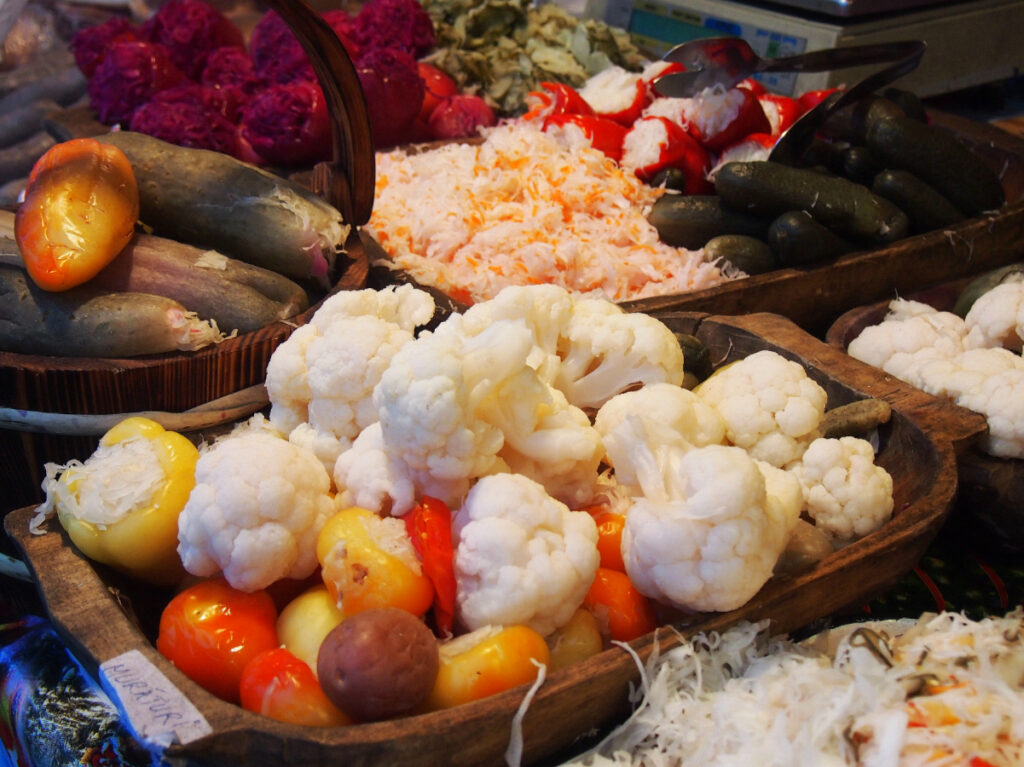 This is rather a long list of cool things to do in Romania, just pick your favourites and build them into your Romania vacation itinerary. At the end of this post we'll tell you how to book some of these trips and experiences.
Cool Things To Do in Romania
Some of the coolest things to do in Romania are in our post. Romania is truly an incredible country and you'll likely encounter a few surprises on this page.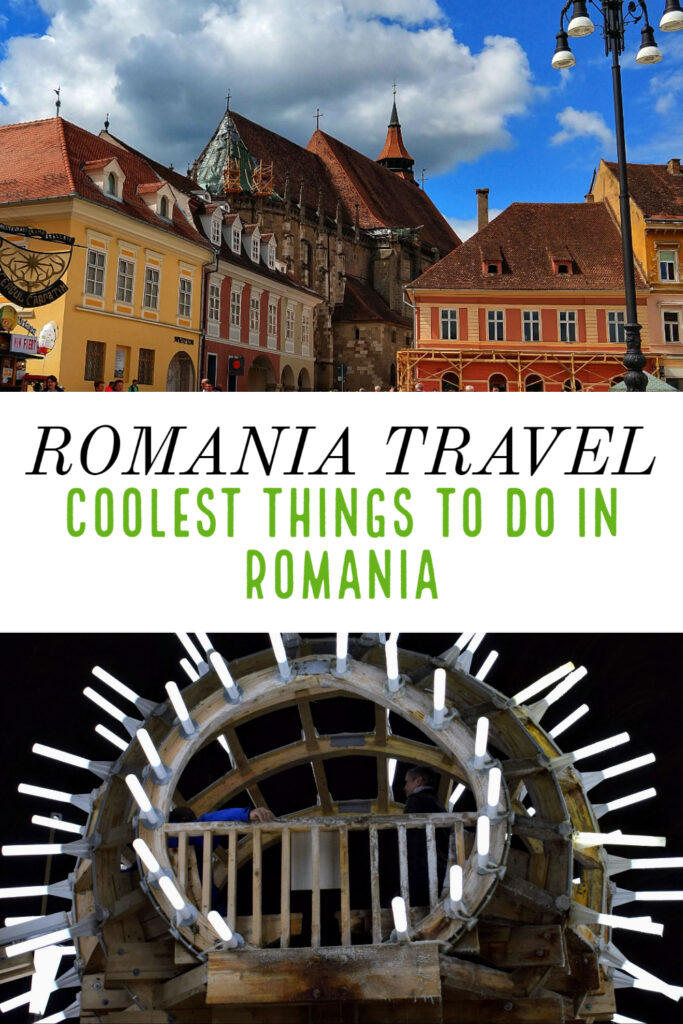 If you do plan a trip to Romania, allow yourself plenty of time. Romania is quite a large country and a road trip is a great way to see as much as possible. If you plan to spend most time in a particular region, plan your airport of arrival carefully. Romania has several international airports.
Consider Wizz Air for flying to Romania. This budget airline always served us well on London to Cluj Napoca flights. We have also driven to Romania from London several times. This trip will take you an absolute minimum of 25 hours but it's better to break it up and see some sights on the way.
Visit Dracula's Castle, Bran Castle Transylvania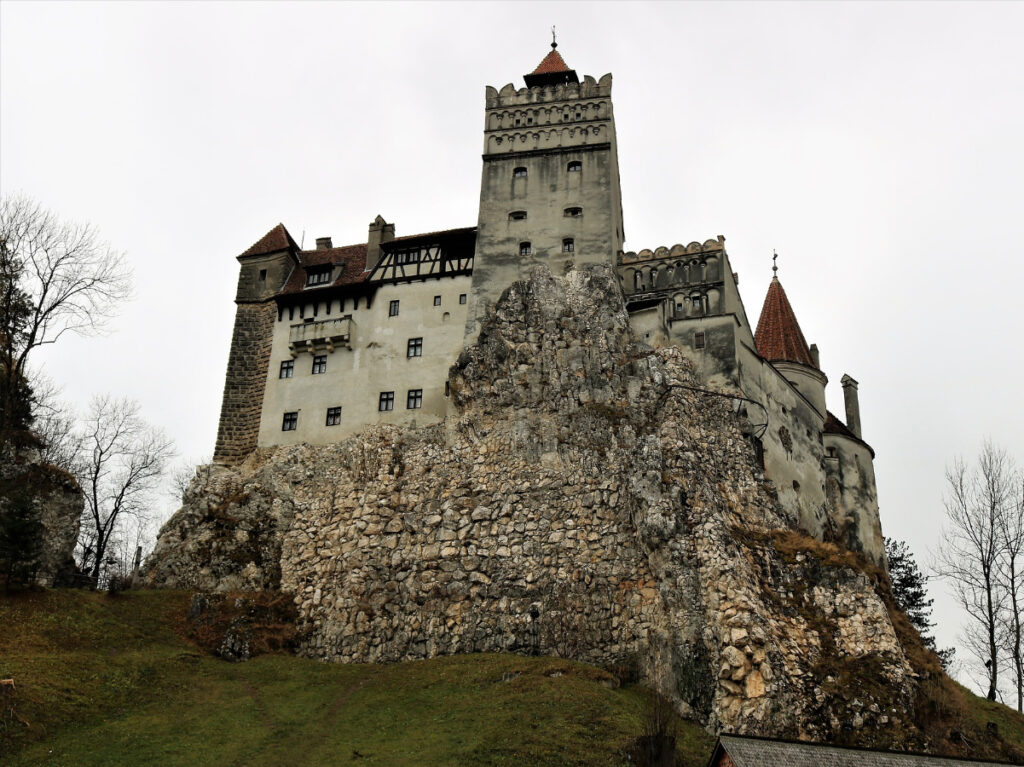 International tourists and locals love to visit Bran Castle in Transylvania, the home of a fictitious but world-famous character, Count Dracula, the star of Bram Stoker's classic book.
"Dracula's Castle" was never really home to the fictional Count, nor to the man behind the story, Vlad Dracul, AKA Vlad the Impaler. He was real, but this was not his home.
This castle most closely resembles the castle in the book and is a spooky site indeed. If you'd like to read up on the story of Dracula, Vlad, and the link with Romania, click through and discover the real and fictional story.
Bran Castle was built in the 13th century by the Transylvanian Saxons to protect the city of Brașov (which has its own walls and fortifications) and prevent the northern expansion of the Ottoman Turks. It protects the Carpathian crossing into Transylvania and sits high on a hill overlooking the valley. The medieval building was completed in 1388.
Transylvania was then a province of Hungary, borders have changed over the years and Hungarian is still spoken in parts of Romania today.
Within Bran Castle, there are four floors and 57 rooms open to tourists, containing ancient artefacts, items of furniture armour and historical clothing. Outside the castle, you'll find traditional and Dracula-themed items for sale in a small but interesting market.
You can book a day tour from Bucharest, including Bran Castle, Old Brasov and Peles Castle here.
See a Fortified Church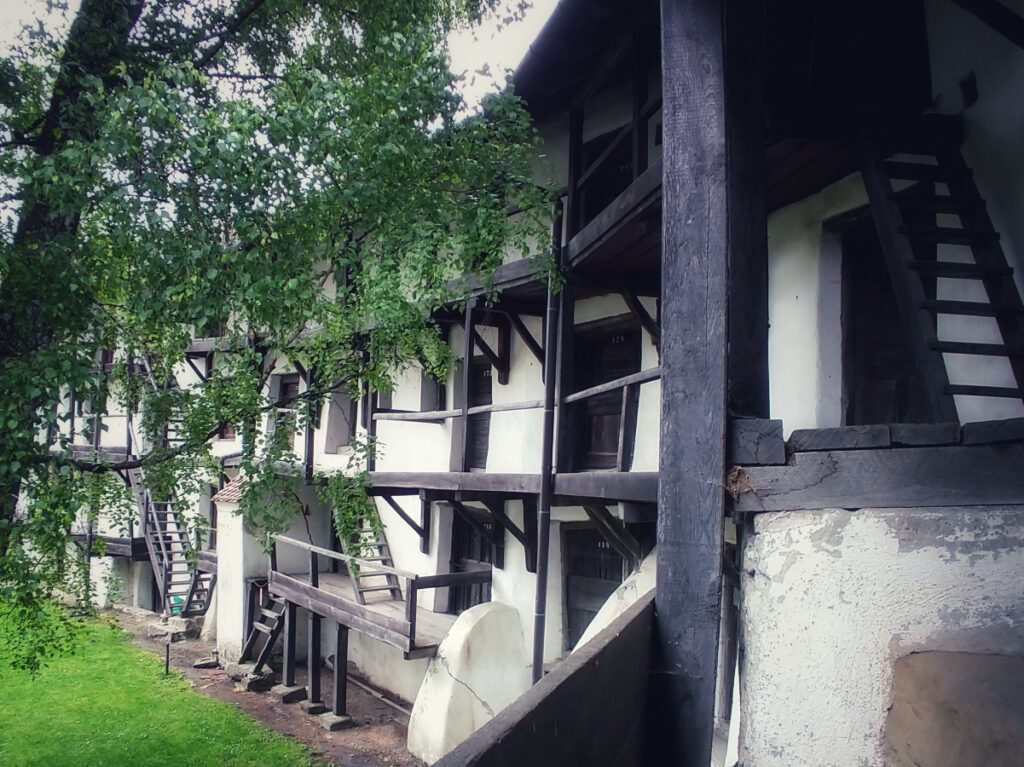 The fortified church at Prejmer, not far from Brasov, is the oldest and largest such fortification in Southern Europe.
It's a phenomenal structure, as solid as it could possibly be. Visitors can easily imagine people in times gone by hiding in the rooms built into the walls in times of attack.
Peleș Castle, Romania's Most Beautiful Castle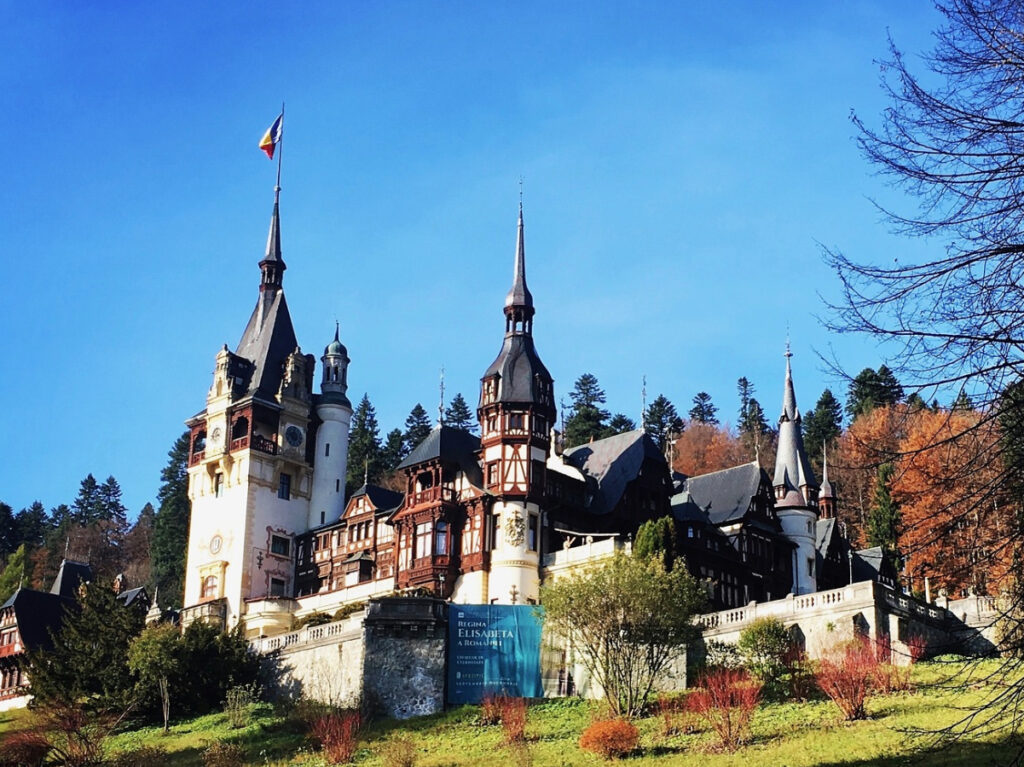 Peleș Castle is considered Romania's most beautiful castle and again, is very popular with foreign tourists. Peles Castle is a Royal castle, the summer residence of Romanian royalty.
This castle is near the beautiful resort town of Sinaia at the base of the Carpathian Mountains and was built in the 19th century.
Peles castle is approximately 1hr 30mins from Bucharest by car, depending on traffic conditions.
Neo-Renaissance architecture, stained glass windows and picturesque landscaping give this castle visual appeal. The castle still has remaining modern amenities and is well preserved and maintained.
The castle's armory contains artifacts and within the castle's rooms you will find beautiful paintings, including those by Gustav Klimt.
A tour of Peles castle, with guide, will allow you to learn more about Romania's cool and fascinating history, from the German-bred monarchy to communism.
It years gone by a chained bear was to be found at Peles Castle, he eventually made it to the Brasov Bear Sanctuary, Libearty.
You can book a day tour from Bucharest, including Bran Castle, Old Brasov and Peles Castle here.
Visit a Matrimonial Prison or Marital Jail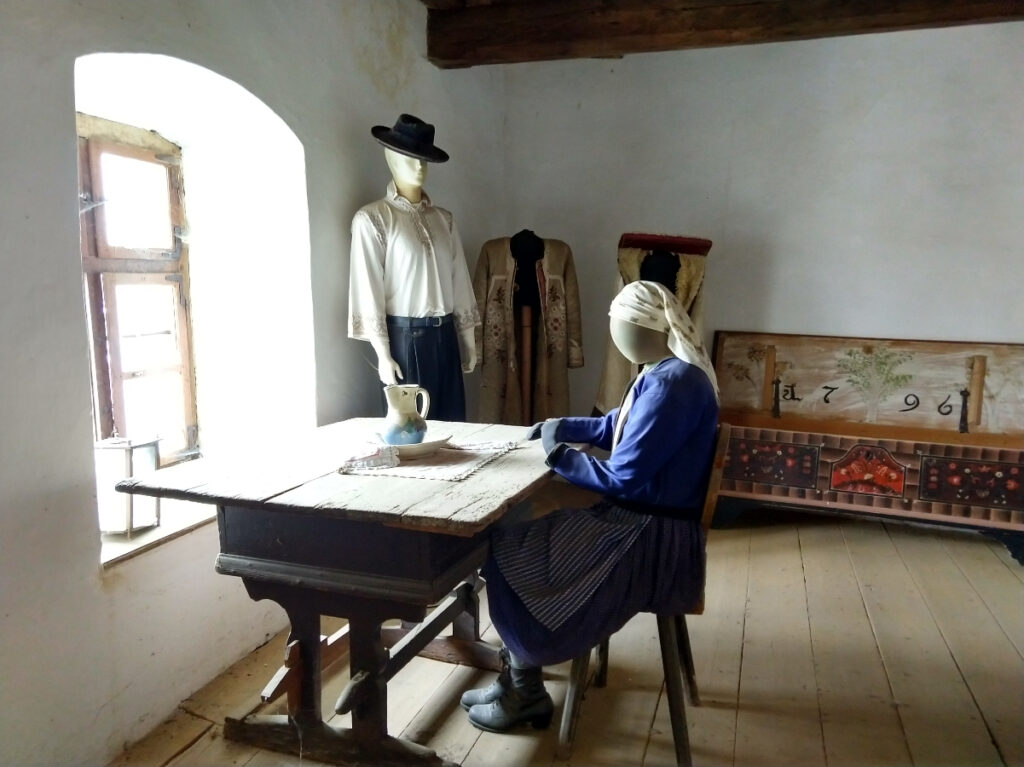 Visit Roman Ruins and Remains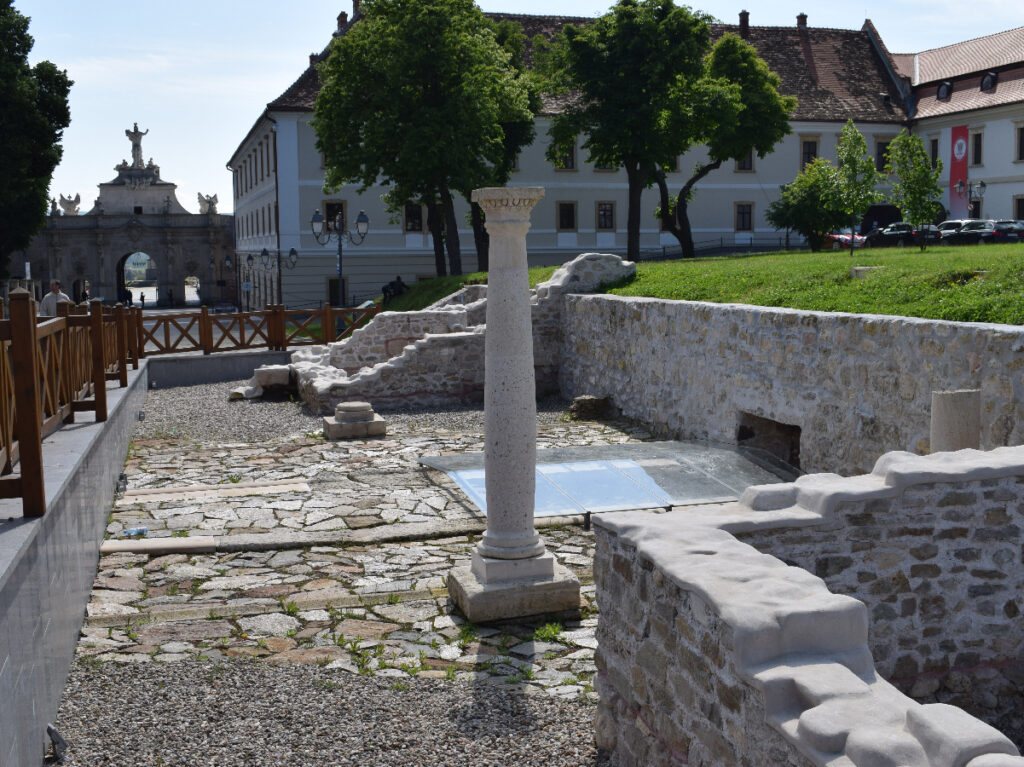 Romania was at one time, Roman and today's Romanians have Latin blood in the mix. In many towns you will see a statue of Romulus and Remus, feeding from a she wolf as a legacy of those days.
If you want to see Roman roads, ruins, and statues, head to Alba Iulia in west-central Romania, on the banks of the Mureş River . Alba Iulia is about 170 miles from Bucharest.
This ancient fortress is well worth a visit, and the Roman road beneath the modern streets has been excavated. Look out for a very cool medieval-themed restaurant built into the city walls.
Brasov Old Town, Fortifications, and Black Church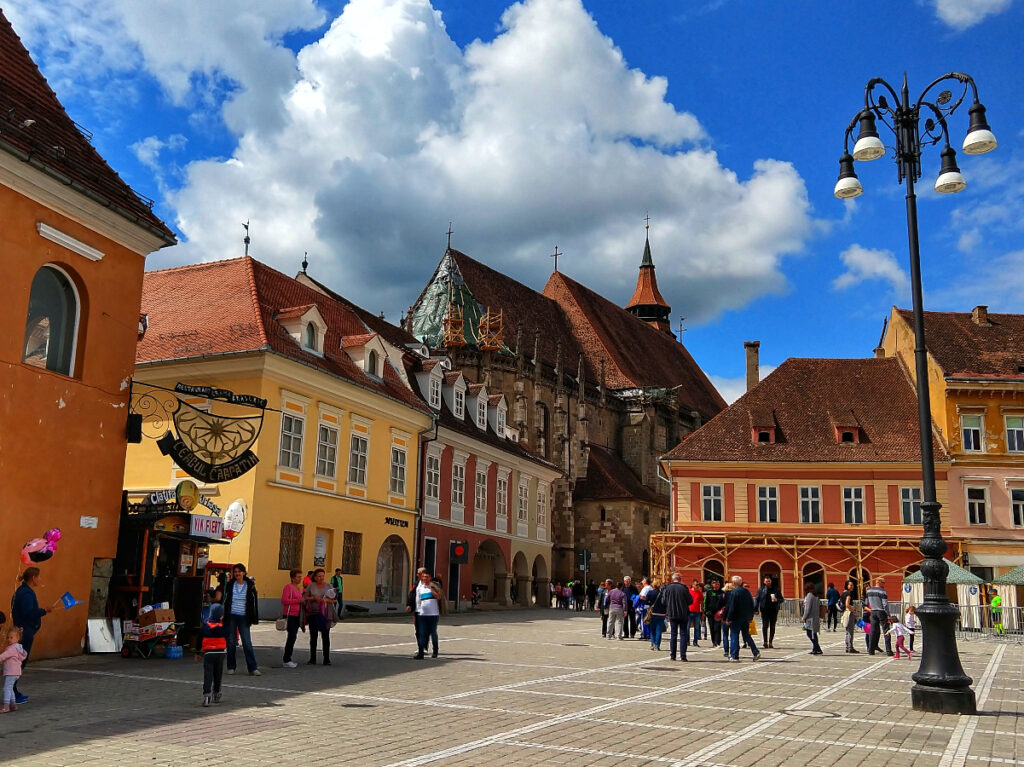 Brasov is a must-see city in Romania, busting with historic buildings and churches, The Black Church is possibly the most famous but Brasov is a city to enjoy, with pavement dining in the old square, medieval fortifications, and stunning views from the citadels and fortifications above the city.
We created a full guide to cool things to see and do in Brasov, here, including interesting day trips from Brasov, and places to visit near Brasov, there are many!.
One of Brasov's most iconic landmarks is the Black Church (Biserica Neagra) an example of medieval German-Saxon architecture. This imposing Gothic church is not just one of Romania's tourist attractions, it's also the largest Gothic Lutheran church in Romania
This church was built between 1385 and 1477 but was semi-destroyed by the Great Fire of Brasov in 1689. Its charred remains took over 100 years to restore and this look was what gave the church the name "black". It's actually red and the tip of its tower stands over 68m tall.
From the Black Church look up to the mountain above you to see another icon of Brasov adorning the mountain. The "Brasov" sign can be reached by cable ride, or you could take a brisk uphill hike.
Inside the Black Church, you can see a magnificent 19th-century organ and organ recitals are still held at the church today. There is also a collection of Anatolian rugs, some dating as far back as the 1500s.
Brasov also (allegedly) has the narrowest street in Europe Strada Sforii, is indeed, very narrow, but its claim is disputed. Find "Rope Street" in the old town near the main square.
From Brasov you can take the Saxon Trail or visit other medieval castles, fortifications and citadels at Rasnov, Rupea or Fagaras. There is good hiking nearby at Piatra Craiului and the Bucegi Mountains and bears, wild and captive rescue bears, are very nearby. Alternatively head on over to Turda Salt Mine and from there to Cluj Napoca. Brasov makes a great base for a long weekend or holiday in Romania.
You can book a day tour from Bucharest, including Bran Castle, Old Brasov and Peles Castle here.
Take Part in Romania's Festivals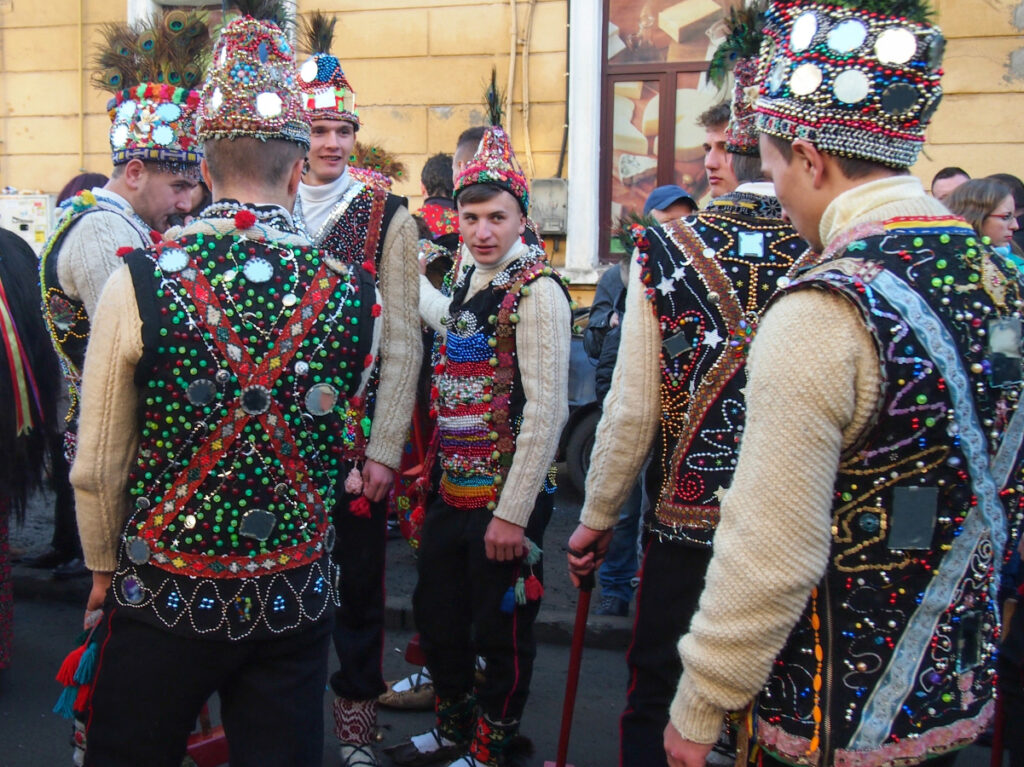 If you can, visit Romania when festivals are being celebrated. You may be able to see processions of people wearing bear skins, or see the celebrations of the Christian calendar.
Easter, Christmas, Halloween, and Pentecost all have traditional celebrations, particularly in the rural villages.
Remember that Romania used to Orthodox Calendar, so double-check your dates.
Another unique festival is the ploughing festival, celebrating the first farmer to plough his fields in spring. Our photo above, of this festival, the Tânjaua, is taken in the village of Hoteni, in Maramures.
Brukenthal and Astra Museums in Sibiu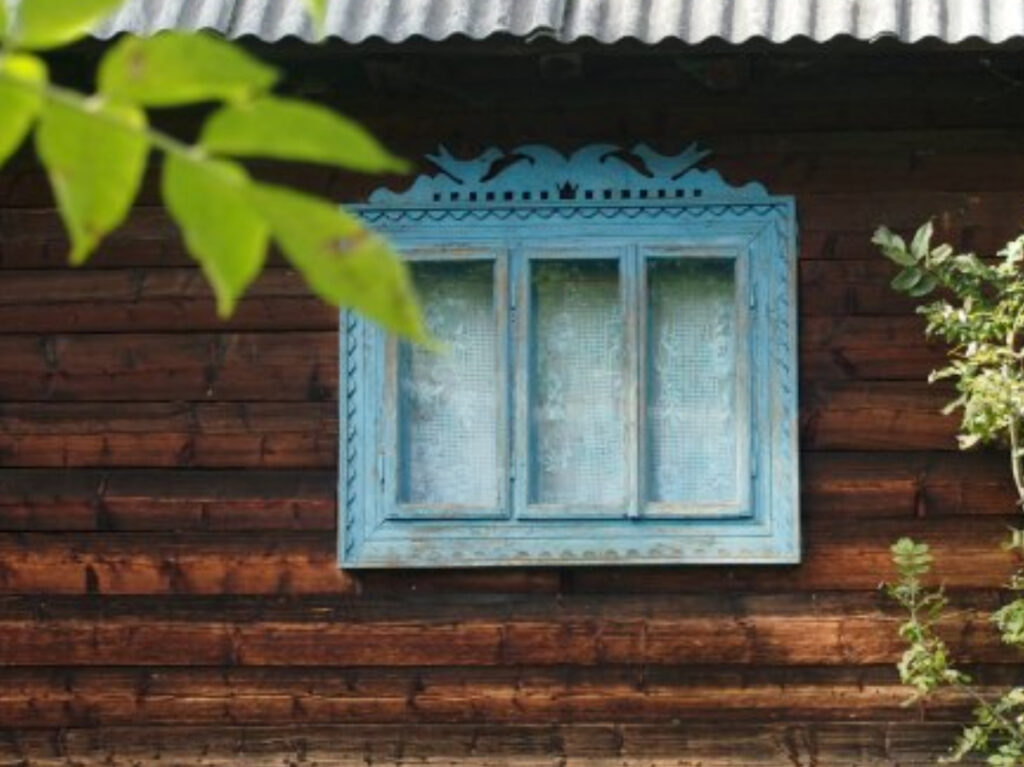 Sibiu is a lovely destination in itself, but it is also home to Brukenthal National Museum and Astra Museum of Traditional Folk and Civilisation.
Sibiu is about 2 hours from Brasov.
The Brukenthal National Museum building was originally the residence of an 18th century Saxon ariistocat and art collector. This man, Samuel von Brukenthal welcomed the public to see his collection in the 1800.
Today the museum, the Brukenthal National Museum is a huge attraction in Romania for art-loving tourists.
If you are not into old works of art, you must visit the phenomenal and super cool Astra Museum of Folkloric Traditional Civilization. This place has a village feel in a traditional and beautiful setting. Tour houses and other buildings from various eras and cultures to discover folklore and tradition in Romania through the centuries.
This open-air museum is a great one for kids to explore, you may even see some farm animals.
Sibiu is a good base for seeing the Transfagarasan Highway(only in summer), Corvin Castle or Sighisoara citadel, the birthplace of Vlad Dracul.
Food tours in and around Sibiu are also popular and Sibiu was the 2019 European Region of Gastronomy. It has a good food reputation and a vibrant restaurant scene.
Hiking in the Carpathian Mountains
Hiking is popular in Romania and tourists come just for this, to stretch their legs in the stunning Carpathian Mountains.
Altitudes in the Carpathians can reach 2,500m and there is a good selection of hiking and mountain biking trails.
The Danube Delta- Birding and Boating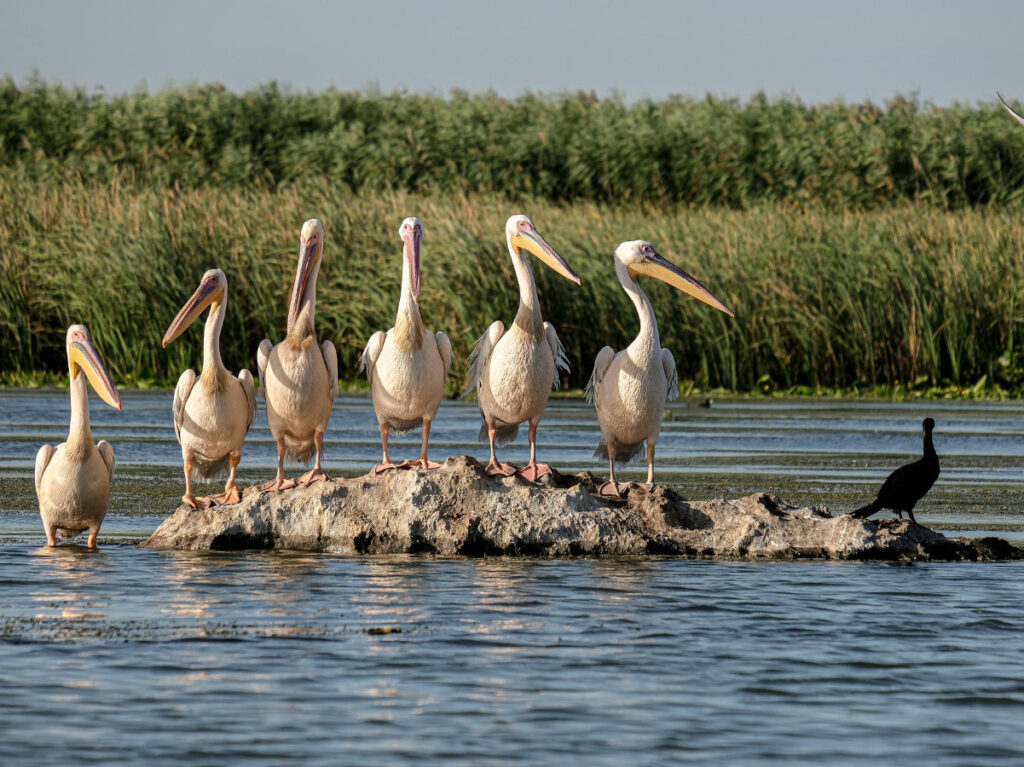 Romania is the place to see a UNESCO natural reserve, the Danube Delta. This huge biosphere is unique and one of the coolest and best places to visit in Romania if you enjoy birdwatching and boating. The Danube Delta is understandably popular with wildlife photographers and conservationists.
The Delta region is also known for its traditional fish dishes. Visit the fishing villages to sample fish stews unique to this part of Roman.
Nearby Letea Forest is the place to see wild horses in Romania.
Romanian Wine Tours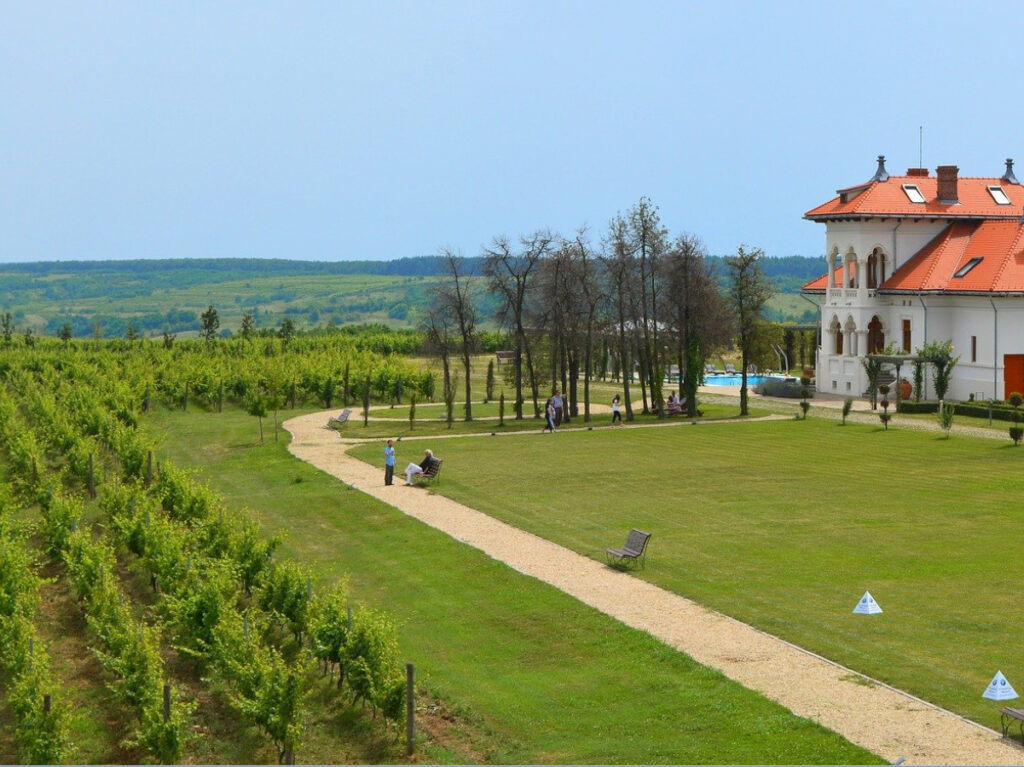 Romania is Europe's 5th largest wine producer and is famous for tuica (a home-brewed spirit made from fruit) but the wine is good too.
You can visit wineries or take a wine tasting tour in Romania.
See European Brown Bears and Other Wildlife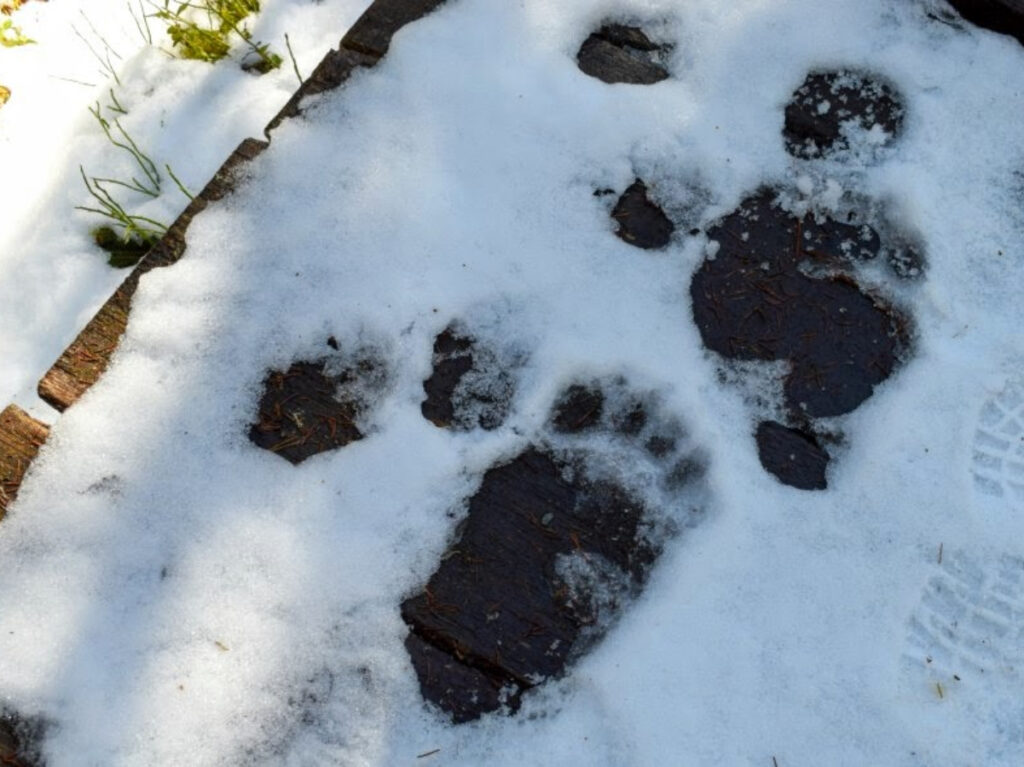 The wildlife in Romania is really cool, and can be dangerous. Romania has the largest population of Brown Bears in Europe, so many that they do come close to towns and villages, even campsites.
The wild parts of the Carpathians are also home to foxes, deer, lynx, eagles, wolves and the fearsome polecat, the dihor. Don't take risks in bear country, but you can see them in the wild, and at Romania's bear sanctuary near Brasov.
There is rabies in Romania (and most of Europe). You'll see signs warning of the dangers of rabid foxes.
Another Romanian animal to look out for is the Romanian Shepherd dogs. These protect flocks from wolves and bears and are formidable creatures. Never approach one, and stay well away from their sheep.
Piatra Craiului National Park (close to Brasov) or Apuseni Natural Park (close to Cluj-Napoca) are full of traditional mountain villages where you may encounter wildlife. Watch out for deer on the roads in the mountains.
We took the photo above in Transylvania on a marked hiking trail through forest.
Visit the Painted Monasteries of Bucovina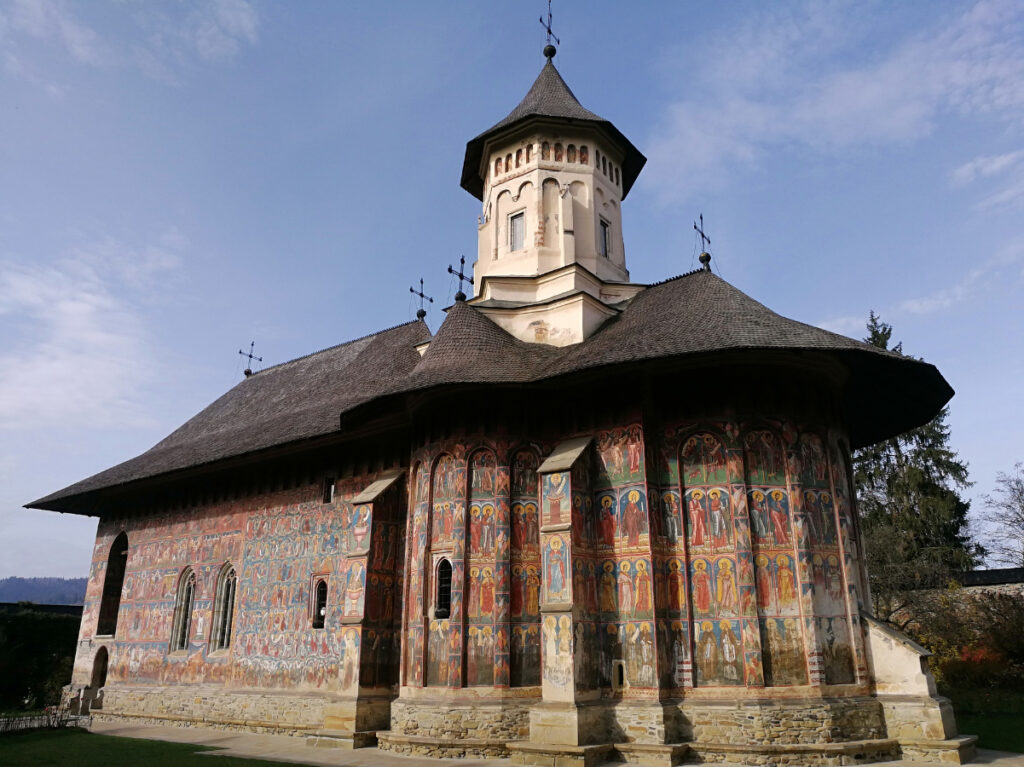 Bucovina is in northeastern Romania and here you will find several painted monasteries, most of them UNESCO listed.
Visit the Wooden Churches and Monasteries of Maramures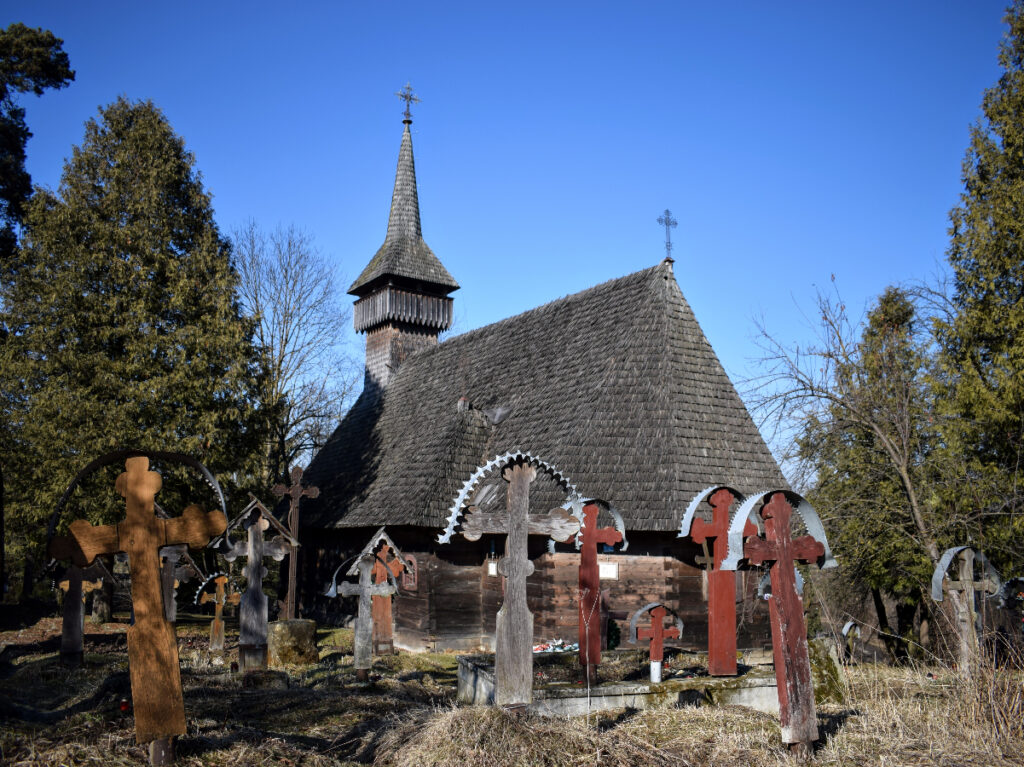 Take a Steam Train Ride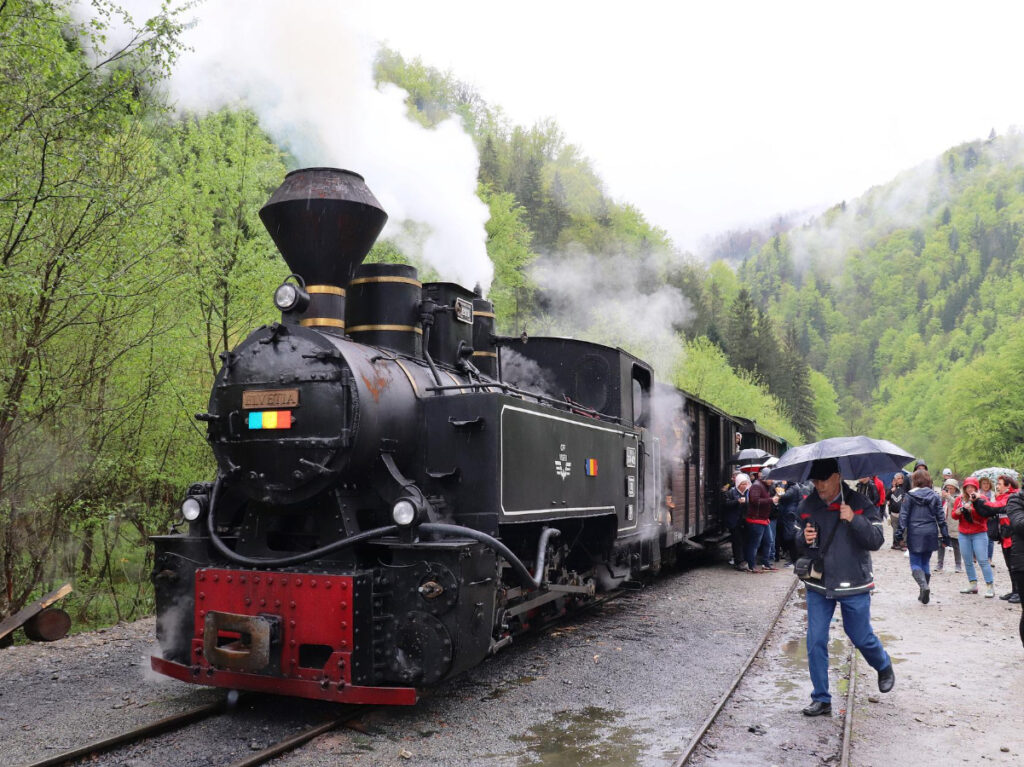 Most famous of Romania's steam trains, the Mocanita Steam Train runs through the Vaser Valley in the north of Maramures.
A less well-known steam train journey is the (The Semmering of Banat after the more famous Semmering railway in Austria) on the Oravita to Anina route in the Banat region, South of Timisoara in western Romania.
Incidentally Oravita railway station,is the oldest train station in Romania, and dates from 1854.
Sighișoara Medieval Citadel Historic Centre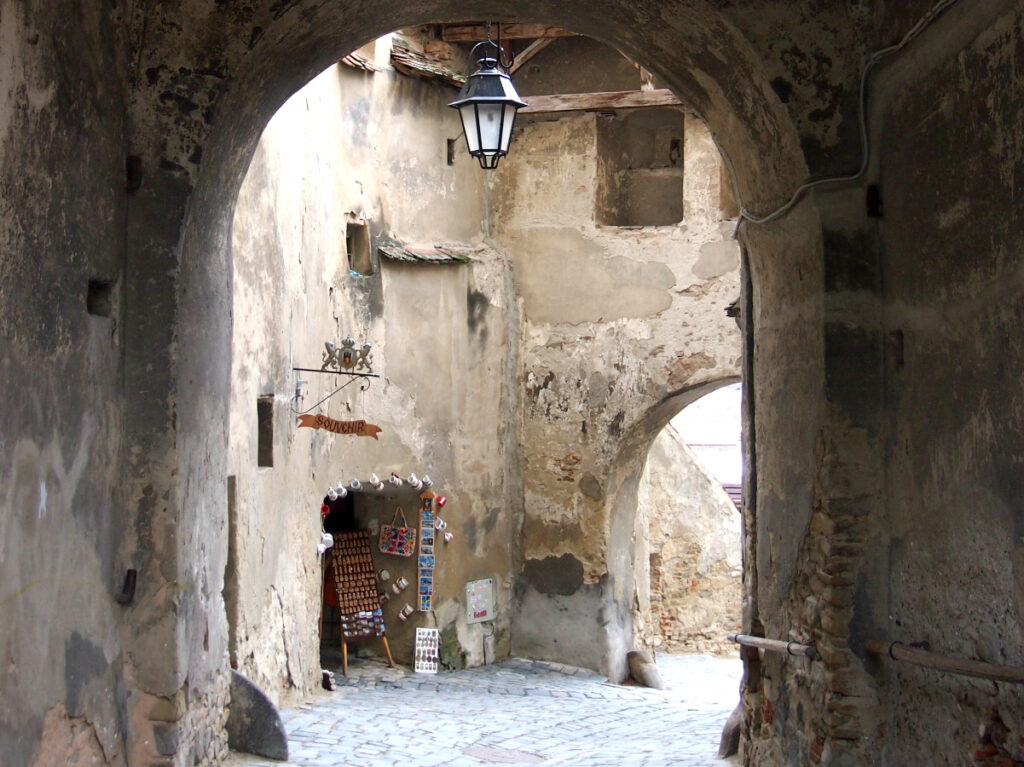 Sighișoara' historic citadel is a UNESCO heritage site in Mureș County, Transylvania.
The fortified citadel sits above the modern city of Sighisoara and was built in the 12th century by German Saxon merchants to protect their trading routes in the region. The citadel is still inhabited today and the streets within the walls have many small homes as well as tourist infrastructure.
Sighișoara is also the birthplace of Vlad Tepes or Vlad the Impaler (the inspiration for Dracula). You will find a plaque on one of the buildings (now a restaurant), marking the site of Vlad's birth. There is also a statue of The Impaler within the citadel's walls.
Sighisoara is one of the best-preserved medieval citadels in Europe with distinct German character.
Sighișoara is also the birthplace of Vlad Tepes or Vlad the Impaler (the inspiration for Dracula) .
If you enjoy these Romanian Citadels, also visit Rasnov citadel, near Brasov.
Summer when the famous Sighișoara Medieval Festival takes place Sighisoara can be easily visited on day trips from Cluj, Sibiu or Brasov.
Take a Traditional Romanian Food Tour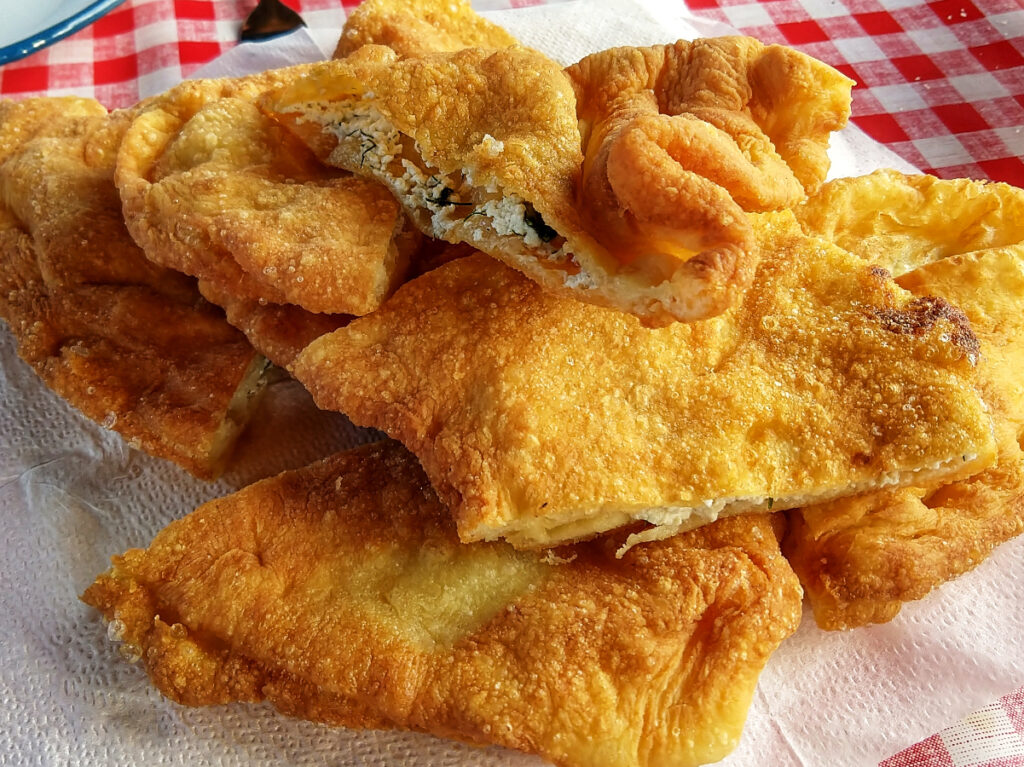 Romanian food has many influences and bears the flavours of history. It's best described as a fusion of Mediterranean, Arabic and Slavic with influences from Rome, the Turks, Austro-Hungarians and Russians.
What's really great about good Romanian food is the quality of the produce. Cheeses are made from pastured sheep and cows, eggs come from village hens and butter is churned at home. The summer's rich abundance of wild and cultivated fruits and vegetables is preserved in various tasty ways for winter consumption.
Likewise, meats, if a family kills an animal, no scrap is wasted and there are a good selection of sausages, cured, and smoked meat products to try.
Dishes to look out for include stuffed cabbage leaves, sarmale, and the skinless sausage, mici (pronounced meech) that you'll find grilling anywhere people gather. Mici come with mustard but it's common for dishes in Romania to be accompanied by sour cream smântână and a hot pickled pepper.
Soups are also popular in Romania, with ciorba being just one kind. Your soup often comes in a crusty bread bowl.
Polenta is also popular in Romania, called mamaliga, it comes with sour cream, cheese, and butter.
You may encounter dips or salads reminiscent of Middle-Eastern foods, Balkan hummus is made with white beans rather than chickpeas and zacusca is an aubergine preparation.
Deserts may be a sweet version of placinta, fruit pies, papanasi or fancy pastries. Nut and honey fillings are common along with cream cheese.
The Merry Cemetery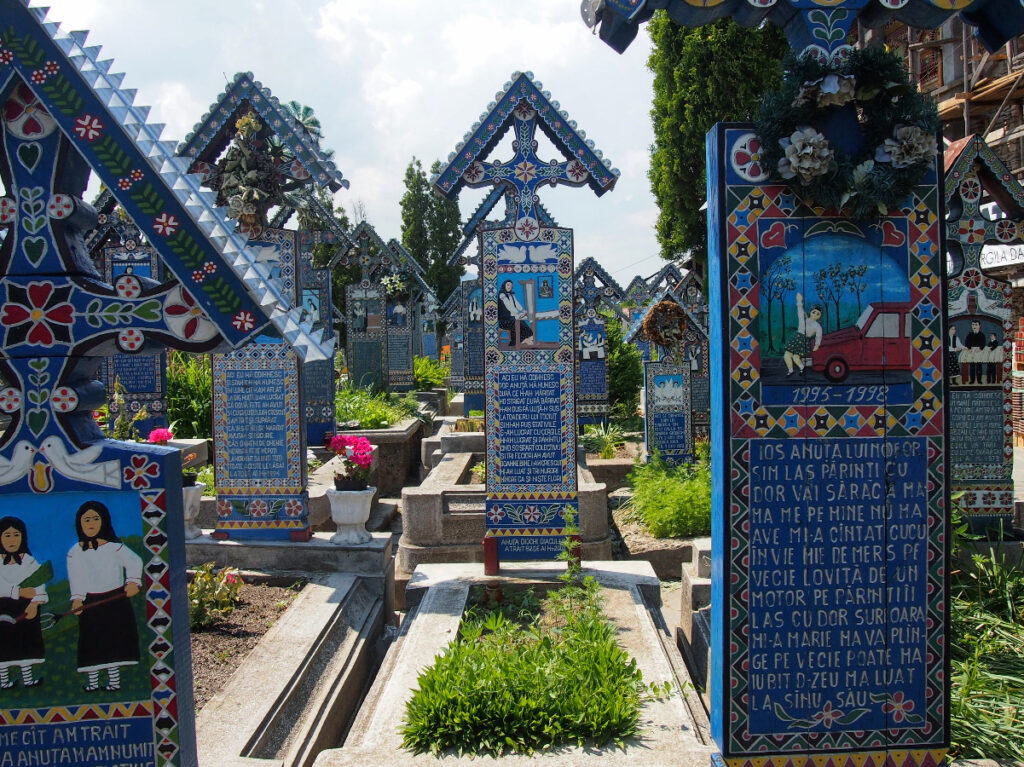 The Merry Cemetery is to be found in the small village of Săpânța in Maramures, northern Romania. Around the cemetery, you'll find several small traditional gift shops and places to grab a bite to eat.
Each of the brightly painted grave markers in the cemetery bare a story about their owners, often with a humorous twist. This is something uniquely Romanian and you really should try to visit.
The Underground Amusement Park Inside Turda Salt Mine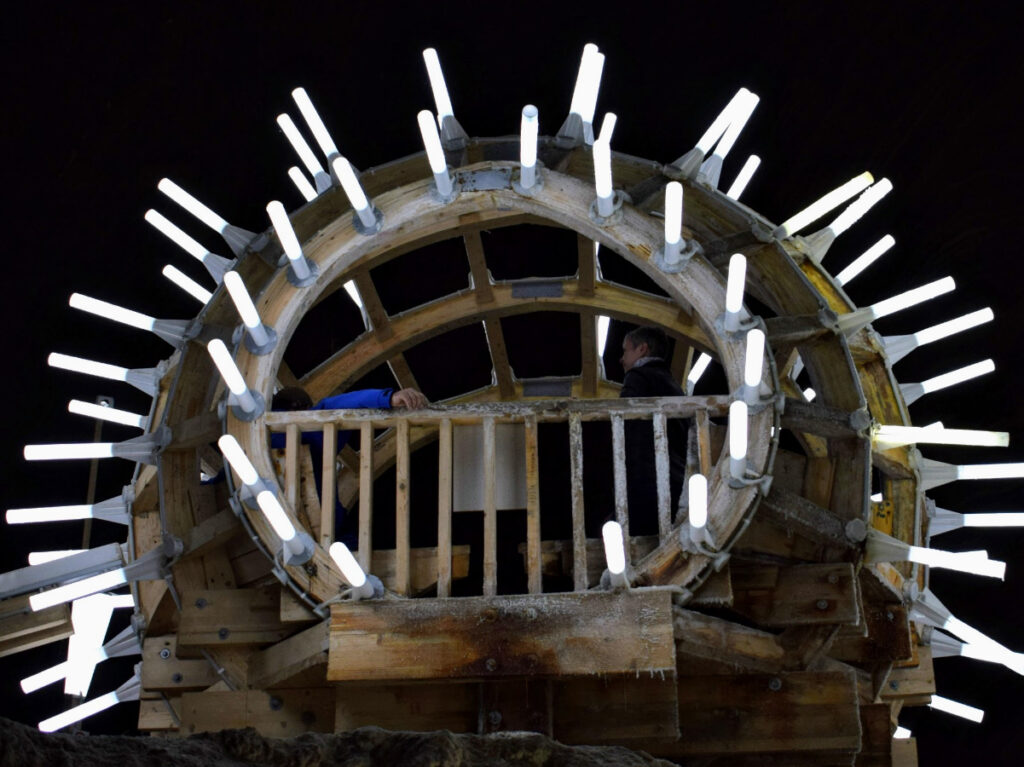 Roughly 40 minutes South of Cluj-Napoca (where there is an international airport) on the outskirts of the city of Turda, is the Turda Salt Mine or Salina Turda.
This is a place like no other, a historic salt mine would be worth visiting in its own rite, but this ancient relic contains an amusement park and Ferris wheel, deep in the bowels of the Earth.
There is an underground boating lake, a theatre and thalassotherapy available at the mine.
This one is maybe the coolest of all the cool things to see and do in Romania!
Europe's Biggest Building, The Palace of Parliament, Bucharest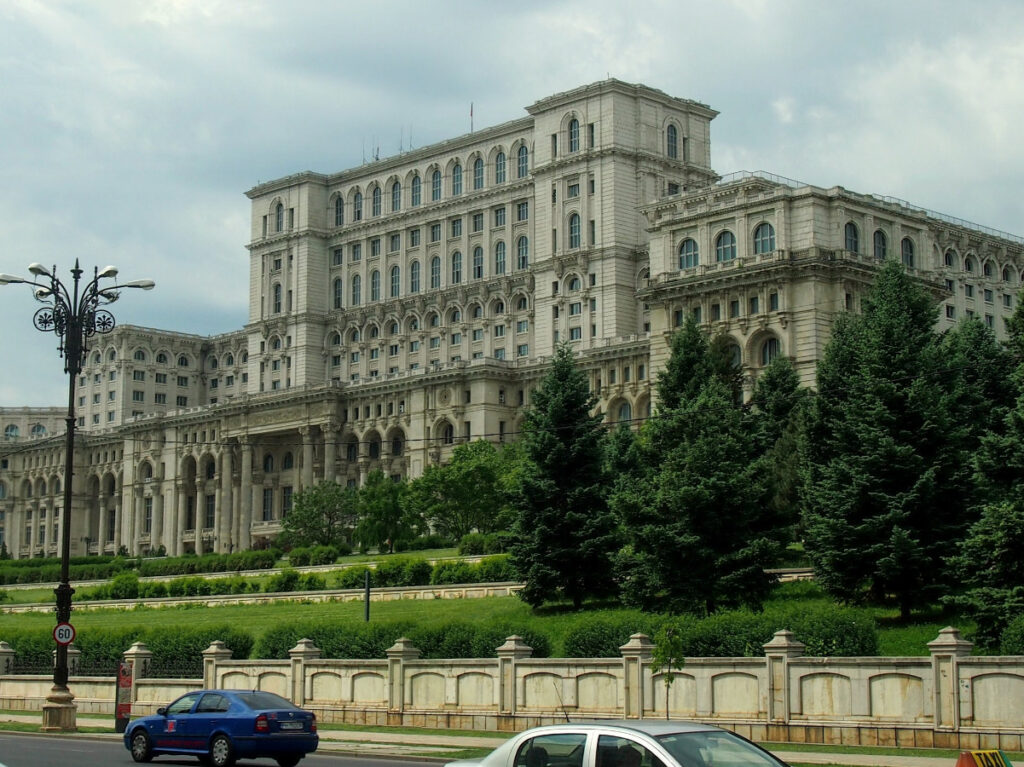 The Palace of Parliament was the work of former communist leader Nicolae Ceaușescu. A building on such a huge scale, it's hard to comprehend.
This is the biggest building in Europe and it dominates Bucharest. It's also known as Ceaușescu's Palace or The House of The People. Guided tours are the best way to see the highlights of this construction.
This monstrous building is the second largest administrative structure in the world, the biggest being the Pentagon in the US.
There's a very good kids' playground right next door, if you're visiting Romania with children.
Book a slot for a guided tour of the Palace of Parliament here.
Drive The Transfăgărășan Highway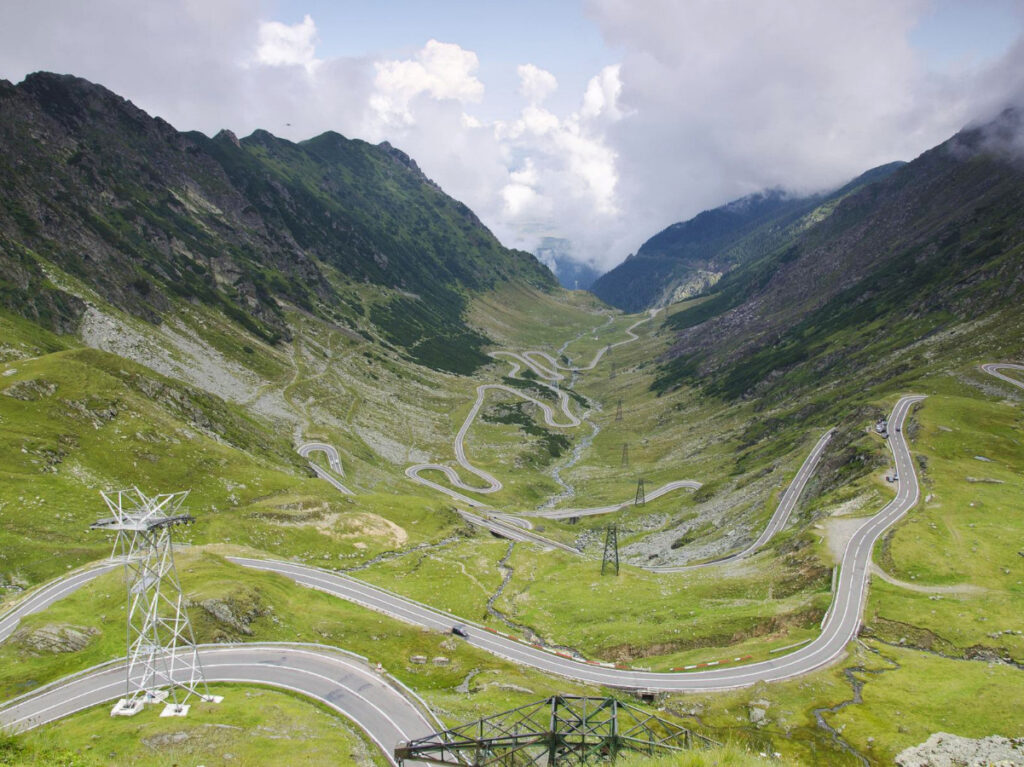 The ultimate Romanian roadtrip is the switchback Transfăgărășan Highway, through the Fagaras Mountains. The road is some 150km long and was named the best road in the world by the BBC's Top Gear crew.
The Transfăgărășan is some 3 hours from Bucharest by road, or about half that time from both Sibiu and Brasov. this 150 km scenic road
The road was built during the communist era for strategic military purposes. It's an escape route across the mountains, however, this road is usually only passable in summer and winter snows close it to road users.
Romanian Nightlife in Bucharest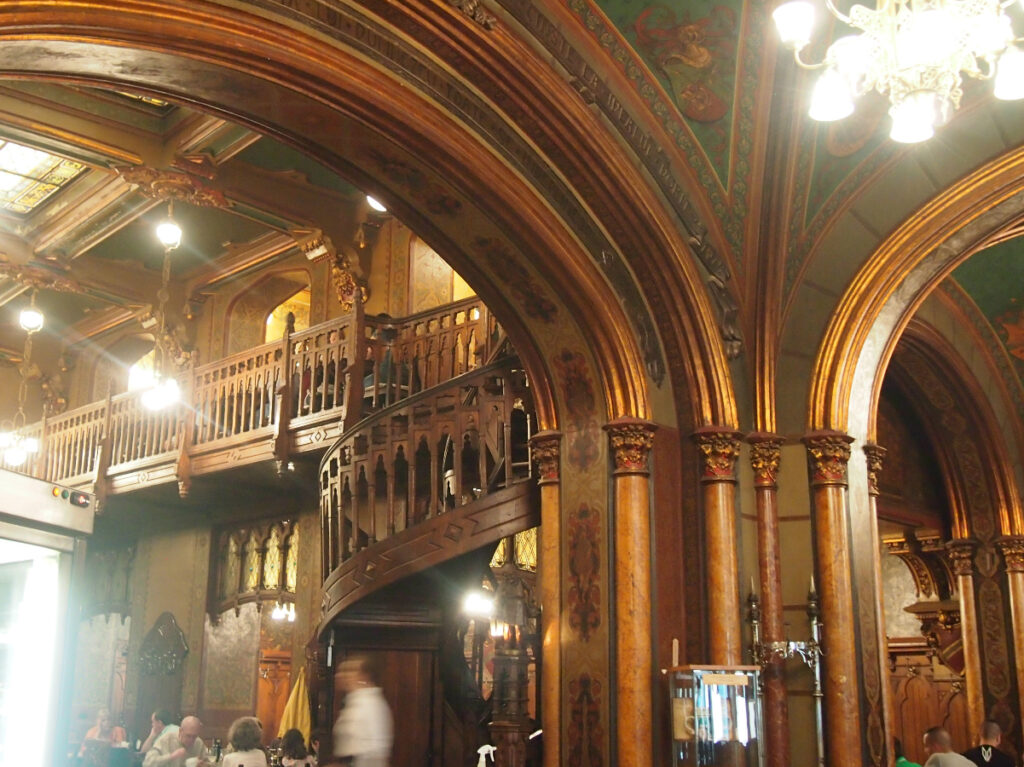 Bucharest's nightlife is famous across Europe with many stag and hen parties hopping on a cheap flight for a few days of celebration in Bucharest's bustling Old Town. You'll find a good selection of pavement dining, bars, and even clubs around Lipscani Street
There are also abundant restaurants, cafes, gardens (terraces) and wine bars around Bucharest that are perfectly family-friendly on long summer evenings.
Cluj Napoca old town is also famous for its nightlife, being a university city.
Book a walking tour of Bucharest here.
The Romanian Sphinx in Bucegi Mountains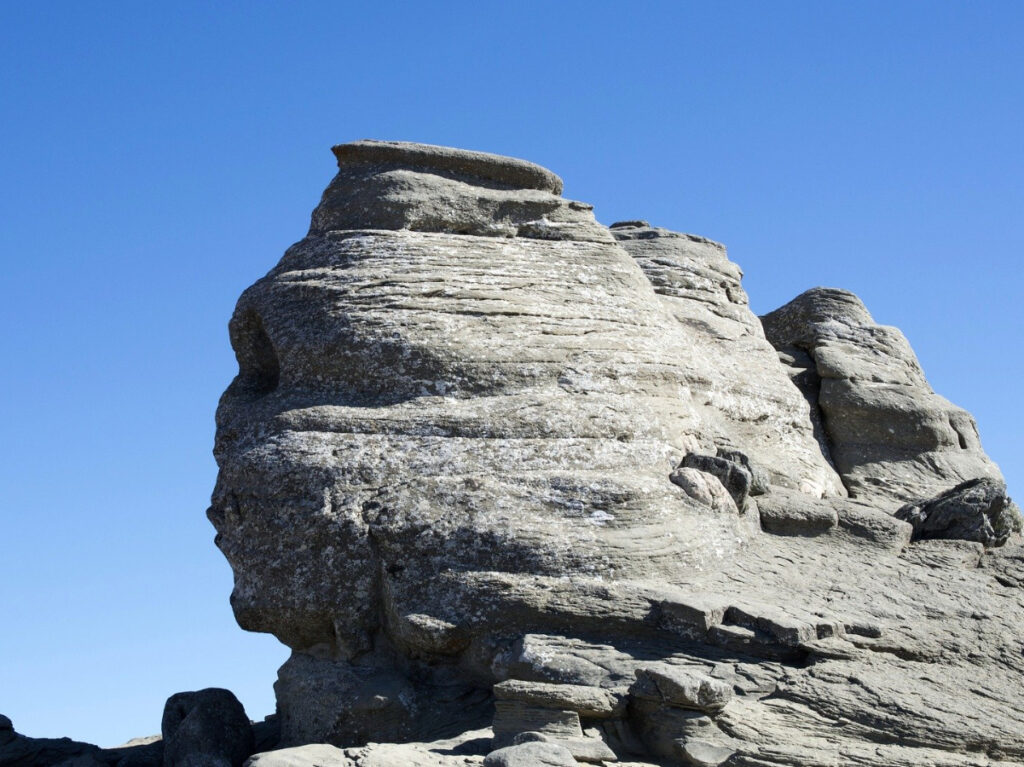 The Romanian Sphinx is a natural rock formation in the Bucegi Mountains, somewhat resembling an Egyptian sphinx.
A nearby cable car (from Busteni)can take you to the top of the mountain, or you can walk.
According to local legends the rock was an image of a god worshiped by the Dacians in pre-Roman times.
Romanian Village Life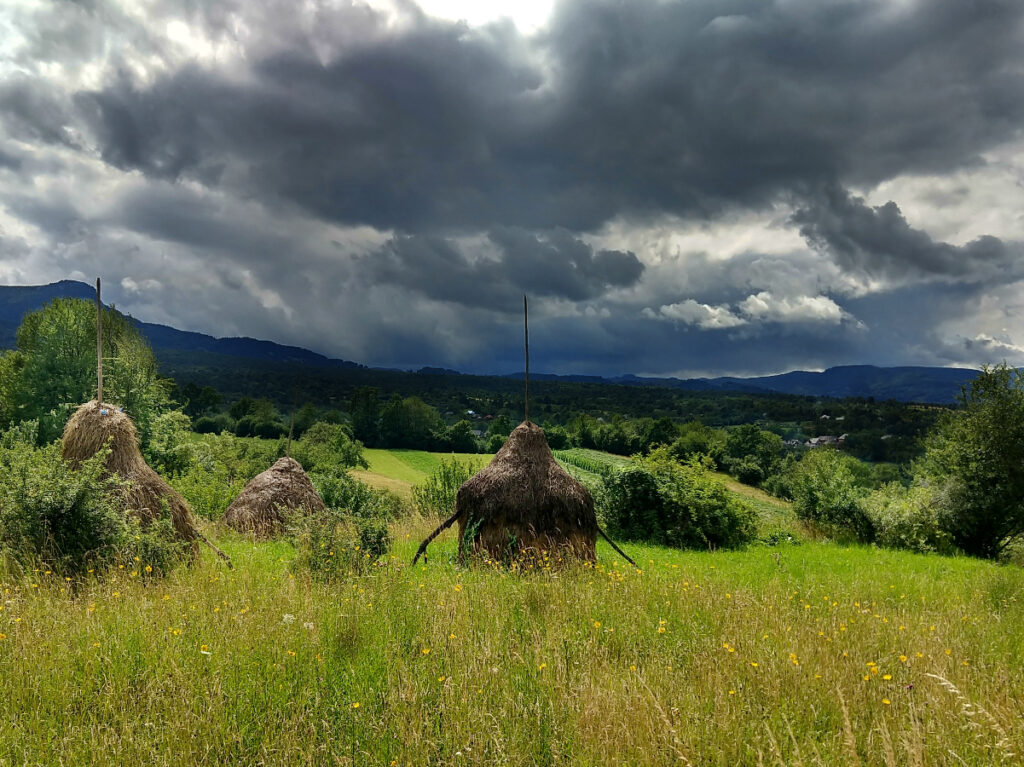 We've touched on Romania's very traditional villages and their customs already, if this simple life rooted in religion and the agricultural year fascinates you, take a chance to fully immerse yourself with a village home stay.
Many traditional villages have old wooden cottages converted to tourist accommodation, or modern pensions, built with tourism in mind.
The most traditional regions lie in Transylvania, Maramures, Bucovina, Apuseni (near Cluj-Napoca), or around Sibiu and Brasov. A must see are the famous haystacks of Maramures, still made by hand today.
If you can, visit around the time of a festival. Celebrations can be fascinating and like nothing you will see elsewhere. Easter is a good time to visit, but remember Romania uses the Orthodox religious calendar.
These simple wood and mud farm houses are super-cosy inside. We lived in one for 3 years and loved simple village life.
The Haunted Forest
Romania has an extremely cool, and spooky haunted forest. The eery tails from Hoia Baciu forest near Cluj-Napoca will make you a little uneasy as you explore on foot.
The forest was named after a local shepherd who disappeared in the forest with his whole flock of sheep.
In 1968 there was another spooky event, a military technician allegedly saw a UFO above the woods.
Local folklore suggests that the weird twisted trees and empty spaces within the forest are the result of unnatural events.
Take a Trip to Another Country
If you're in Bucharest and looking for something different, and cool to do. Take an organised tour over the border to Bulgaria. This tour allows you to explore some stunning Medieval heritage sights.
Book a trip to Medieval Bulgaria, from Bucharest, here.
That's our take on the coolest things to see and do in Romania, there are many! We had the privilege of living in Romania for several years, and these are the highlights, hidden gems and quirky things to do that we treasured so much about Romania. Pick your favourites and build your Romania travel or vacation itinerary. Any questions? Leave them in the comments. Check out our post on things to know before visiting Romania next.