There are many places, sites and stories surrounding Dracula in Romania. Some are true, some are works of fiction. Dracula was real, a historic figure, some say, but not the fictional vampire Count of Irishman, Bram Stoker's classic 1897 Gothic horror "Dracula" novel.
In the fictional book the cursed count Dracula, based in Castle Dracula, Transylvania, was on a mission to reach British shores in search of fresh blood. Van Helsing and a group of upstanding citizens who knew all about vampires, garlic and stakes, did battle with the Count, preventing the vampire's curse from spreading throughout The British Isles.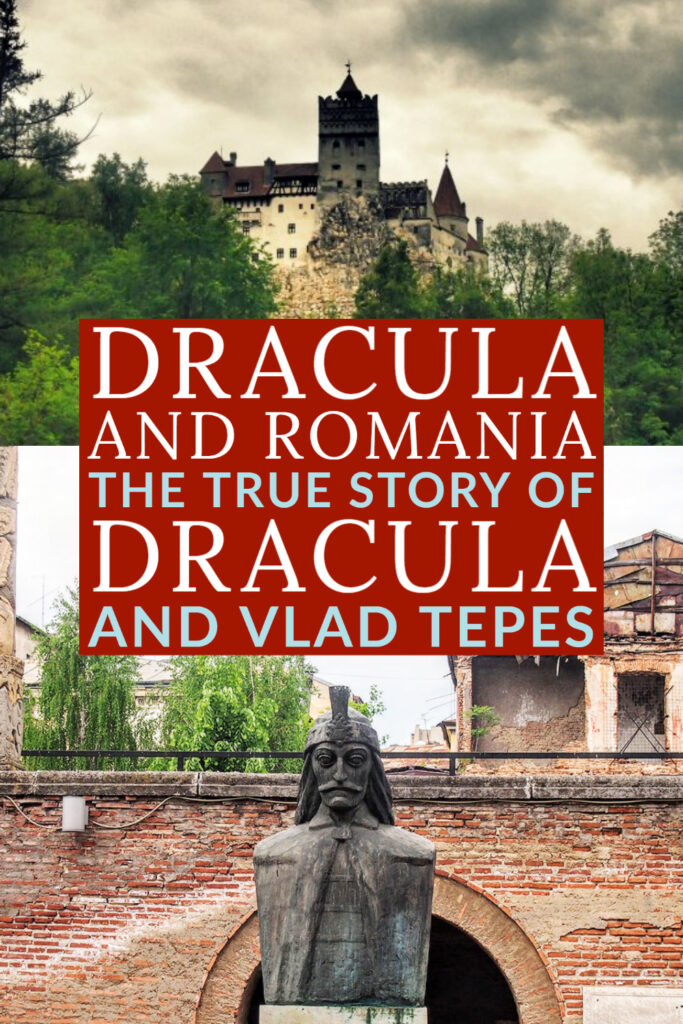 Bram Stoker didn't invent vampires. Transylvania isn't a fictitious location and the Count is thought to have been based on a historical figure. In Romania, vampires are big news, if you want to explore the vampire and Dracula legends and history, take a Dracula tour of Romania.

Dracula, Romanian vampires, castles and legends are unavoidable in Romania. You will find Dracula-themed restaurants, hotels, souvenirs and foods, along with some historic places associated with the Dracula stories, real and fictional. Let's talk about Dracula and Romania.
Dracula and Romania – Origins
European folklore and stories of vampires influenced Stoker's creation. His research lead him to an essay, "Transylvania Superstitions".
In the local villages, there is a belief in evil spirits called ghosts or "strigoi". It was accepted that living people "strigoi" existed, normal by day but at night their souls left their bodies and haunted the village tormenting residents. Romanian mythology has accounts of these troubled spirits.
The evil spirits haunted their prey from midnight until the first cock's crow, before dawn, when their power to hurt people vanished. It is thought that Count Dracula's character was derived from these local Romanian myths and legends.
The original name of Stoker's fictional count character was "Count Wampyr". He changed this to "Dracula", after reading Account of the Principalities of Wallachia and Moldavia with Political Observations Relative to Them in his local Whitby library.
The name Dracula was carried by the descendants of Vlad II of Wallachia, Vlad II took the name "Dracul" after being invested in the Order of the Dragon in 1431 (founded by the king of Hungary to uphold Christianity and defend the Empire against the Ottoman Turks.)
In Romanian, the word dracul can mean "the dragon" or "the devil".
Vlad Dracul III was the Transylvanian-born son of Vlad II. During his reign (1456–1462) Vlad Tepes of Wallachia is said to have killed tens of thousands of people, mainly by impaling.
The sources depicting these events are records by Saxon settlers in neighbouring Transylvania, who had frequent bloody clashes with Vlad III.
Vlad III is revered as a folk hero by Romanians for driving off the invading Ottoman Turks, many of which, he impaled. The people of Wallachia knew Vlad III as Vlad Țepeș (the Impaler). In Romania, Dracula became popular after publication of the Dracula book.
In the novel, Stoker mentions that Dracula fought against the Turks, and was later betrayed by his brother, historical facts which point to Vlad III
It is thought that Stoker's description of Dracula's Castle was inspired by fortifications in England, or an illustration of Bran Castle in a particular book on Transylvania. Stoker was an armchair traveller, he had never visited Transylvania or Romania.
Dracula Day in Romania
May 26th is World Dracula Day and this day is celebrated in Romania. This international holiday commemorates the anniversary of the publication of Bram Stoker's novel "Dracula." Dracula was first published on May 26, 1897. The Dracula Day holiday was first invented in 2012 by the Whitby Dracula Society.
Dracula Day can be celebrated with Gothic horror parties or by watching Dracula movies. Better still, celebrate Dracula Day in Romania!
Dracula-Related Sites in Romania
The following locations in Romania, mostly in Transylvania, are associated with vampires, Dracula or Vlad Dracul.
If you plan to take a vampire tour of Romania, include these sites and castles. This is a list of places to visit in Romania, with links to Dracula, the real Dracula, or the fictional Count Dracula
Bistrita
Bran Castle
Poenari Fortress Ruins
The Old Princely Court in Bucharest
Snagov Monastery
Sighisoara
The Village of Arefu
Brasov
1.Bistrita
In the Dracula novel, Harker visited Bistrita in northern Transylvania and stayed at a fictional hotel. The Dracula Castel Hotel (see below), possibly Romania's most well-known Dracula themed hotel, is nearby in Piatra Fantanele today.
2. Bran Castle
Vlad Tepes actual castle isn't in Transylvania, it's in Wallachia. Bran Castle is the only castle, in the right area, that matches Stoker's description.
The fictional count's castle was located high above a valley perched on a rock with a flowing river below in the Principality of Transylvania.
"on the very edge of a terrific precipice, with occasionally a deep rift where there is a chasm [with] silver threads where the rivers wind in deep gorges through the forests."
Bran Castle, "Dracula's Castle" is a big tourist draw boasting a Vampire themed market and various small sideshows at its entrance. It is also a venue for parties, events and Transylvanian Halloween celebrations.
My children loved visiting, but some find it a little tacky and the interior of the castle disappointing.
Book a Trip To Bran Castle From Bucharest Here. (Includes Old Town Brasov and Peles Castle)
3. Poenari Fortress Ruins
Vlad Tepes' real castle fortress, perched on a mountaintop in the forbidding Poenari forest. Unfortunately not in Transylvania, in Wallachia.
If you climb the steep steps today you'll be rewarded with incredible views from this mountain-top perch, along with a few reminders that this castle did belong to Vlad, outside you may see some unfortunate victims being impaled along with a hangman's gibbet and execution tools.
The local authorities have electric fences protecting visitors from bears as they hike through the forest up to these evocative ruins.
4. The Old Princely Court in Bucharest
Palatul Curtea Veche is in the heart of old Bucharest, the site is small but the spooky subterranean chambers are well worth the admission fee. A blood chilling statue of Vlad Tepes stares down menacingly at modern-day visitors.
5. Snagov Monastery, Dracula's Burial Place in Romania
Snagov Monastery, in Snagov Lake, is said to be where Vlad's remains are buried. Snagov island has an ancient monastery, one of the oldest in Romania.
The surrounding lake is beautiful, fairly unspoiled, and is the location for many wealthy homes.
6. Sighisoara, Dracula's Birth Place
This stunningly beautiful 14th-century citadel was the birthplace of Vlad Tepes. You can visit the building in which he was born, now a restaurant.
Read more about Sighisoara, this medieval citadel is a highlight of any trip to Romania. And a vital stop on your Romania Dracula tour.
7. The Village of Arefu
A village untouched by time, where Dracula legends are still told. It is allegedly inhabited by descendants of the followers and servants of Vlad Tepes. It is just 6Km from Vlad's real fortress at Poenari.
8. Brasov
Vlad led raids against Saxons merchants from here. It's a pretty medieval town and squarely on the tourist map.
We have a detailed post about Brasov here, it's one of Romania's most visited destinations and a good base for exploring Transylvania. You can visit the Romanian Bear Sanctuary just outside Brasov.
Dracula and Vampire Themed Hotels, Restaurants, Tours and Souvenirs in Romania
You will find many, you can drink Vampire Wine and eat Dracula Soup. There are Dracula Hotels and restaurants.
Dracula and vampire-themes souvenirs abound in any town connected to the vampire legends and throughout Romania, even at the airport, you might find Dracula wine or haunted castle memorabilia.
It's all great fun and something kids, in particular, love. The following is a list of Dracula themed hotels in Romania.
If you're looking for something unique and special, how about a Dracula-themed Halloween tour of Transylvania? Visit many of the places mentioned above before staying in a medieval castle for a Halloween party you will never forget.
Read more about Dracula Halloween tours in Transylvania here, they're a great way to experience Romania's history and culture, while getting your vampire fix. These tours don't only run for Halloween, but why not maximise the spooky fun?
Further Reading on Romania, Dracula and Vlad Dracul or Tepes
In the Footsteps of Dracula, 3rd Edition
If you're heading to Romania Dracula should be top of your reading list!
Book a Trip To Bran Castle (Dracula's Castle) From Bucharest Here. (Includes Old Town Brasov and Peles Castle)
A vacation in Romania has to be on your European travel bucket list, there's so much to see and do in Romania for all kinds of visitors. Read up on the best things to do in Romania here!