Romania was the country that captured our hearts. It came as a total magical surprise, inspiring us to spend 3 years trying to buy a house in Romania and basing ourselves, on and off, in a beautiful, remote rural village of Breb, Maramures County. It was 100 years in the past. It's been an incredible experience spending many Christmases, Easters, winters, and summers in Romania giving us time to put this Romania Travel Guide page together. We toured Romania by road, took trains, and buses, to discover as much as we could about Romanian destinations, people, customs, wildlife, food, and culture. Romania is one of our favourite countries.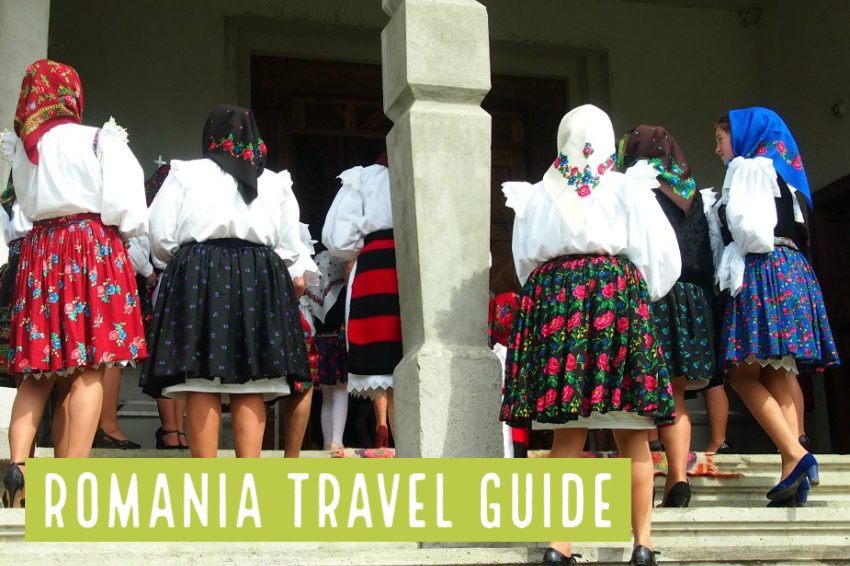 Our personal experiences of living in the village will be a book one day, but I am a blogger first, so you'll find plenty about our time here and Romania travel destinations below.
We know Romania, we weren't just typical tourists, we were living it, and we loved it.
Romania Travel, Highlights, Guide, Tips, Reviews and Advice
We've created a travel guide featuring information about travel destinations, hotels, tips and suggestions for travel to and in Romania. We include family travel, adventure travel, singles and couple travel and of course, lots of food and drink related posts.
We have another post titled "Cool Things to Do in Romania" which gives you a more detailed list of things to do, to help you build your Romania itinerary. You should also check out the essential things to know before going to Romania.
Wildlife in Romania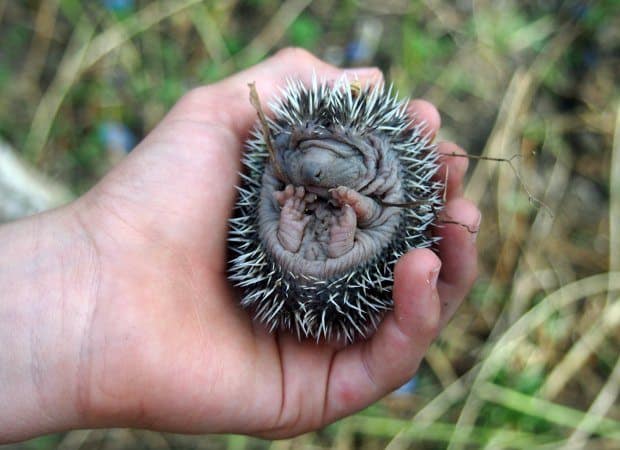 Romania is an exciting destination for wildlife lovers.
Here you will find wild wolves, brown bears and lynx along with fascinating bird life, squirrels, pole cats, (the gyhor or dihor) and abundant smaller mammals like the baby hedgehogs in the photo above.
This hedgehog nest was disturbed by a farmer cutting his grass with a scythe, this one, we rescued from a cat. All the babies and their mother survived after we found them.
Watch out for the migratory cranes that arrive in March and leave as the weather turns cold. You'll see nests on the top of pylons throughout the country. Surprisingly, you can also find pelicans in Romania. They are Dalmatian pelicans and can be found in The Danube Delta.
Romania and Dracula
Bram Stoker's fictional character, Count Dracula, was, of course, from Transylvania. Transylvania is a very real place, but "Dracula's Castle" Bran Castle, is not really the castle in the book.
You'll find Dracula related attractions, foods, drinks, hotels and souvenirs all over Romania, it's a bit of fun and the story is rooted in history, folk tales and superstition.
It's an interesting story to read up on, read all about Dracula's Romanian roots and vampire related destinations, here in our Romanian vampires post. There is a real Dracula's castle and a fictional one, if we take Dracula to be based on Vlad Tepes. That's Vlad the Impaler or Vlad Dracul. It's all in the post.
You can visit the birthplace of Vlad Dracul, thought to be Dracula, in beautiful Sighisoara.
The Weather in Romania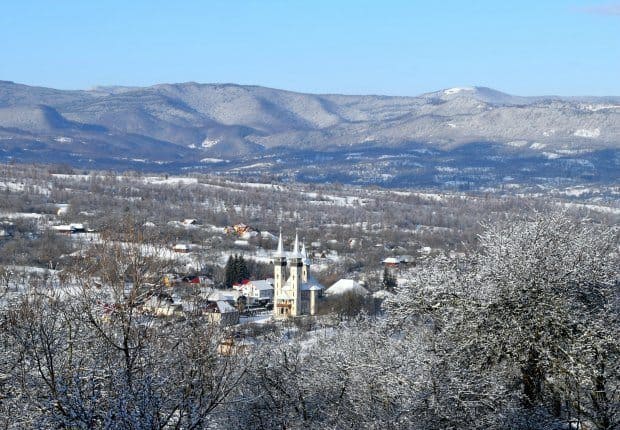 Romanian winters can be incredibly cold, but summers are long and hot.
Rainfall is modest to low and focused on the western mountains, allowing a long ski season.
The lowest temperature ever recorded in Romania was in Brasov, a chilly −38.5 °C (−37.3 °F). The absolute maximum temperature was 44.5 °C (112.1 °F) in Brăila County.
The coldest nights we've ever experienced in northern Maramures were around -20C. At those temperatures your New Year's Eve champagne around the campfire turns to slush instantly. Christmas is often white in Romania. We survived the big freeze just fine, with only a small wood burning stove in our farmhouse kitchen.
The country's topography will obviously give location-dependent variations.
For more information on best times to visit Romania, see the Romania tourism website. If you'd like to read a first hand account about how we coped with the winter in Romania, frozen toilets, no water and just a wood stove. Click through on the link.
Romanian Visas
Brexit has, of course, potentially destroyed travel in Europe for British passport holders. Time will tell what the outcome will be. You must double-check this information, things could change daily. At time of writing the situation was as below.
EU and UK passport holders can stay in Romania for 3 months without needing a visa. ( UK advice here)
Romania is not part of the Schengen agreement.
American and Canadian citizens and citizens of Australia and New Zealand do not need an entry visa to visit Romania, for stays up to 90 days, during a single visit, or multiple visits, within any 6 month period.
The 90 day visa can be extended by applying to the Ministry of Foreign Affairs..
Visas will be needed if you are a national of one of the countries on this list.
Please check this information for yourself at the Ministry above, these regulations, for any country, have a habit of changing and I'm only trying to give you a rough guide here.
Romania Travel Destinations
Our list isn't comprehensive as yet, but we're adding posts just as fast as we can!
Bucharest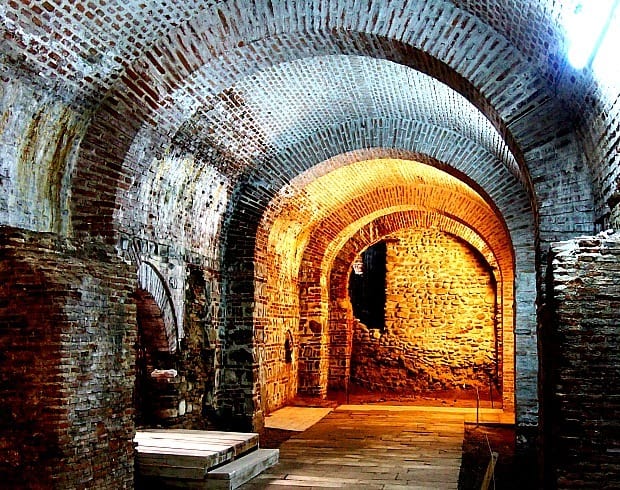 Bucharest was so much more than we expected, fantastic hospitality, a lovely family guest house, great food, vibrant nightlife and our first Dracula encounter.
See our full post on Bucharest, including that guest house recommendation.
Sighisoara, Transylvania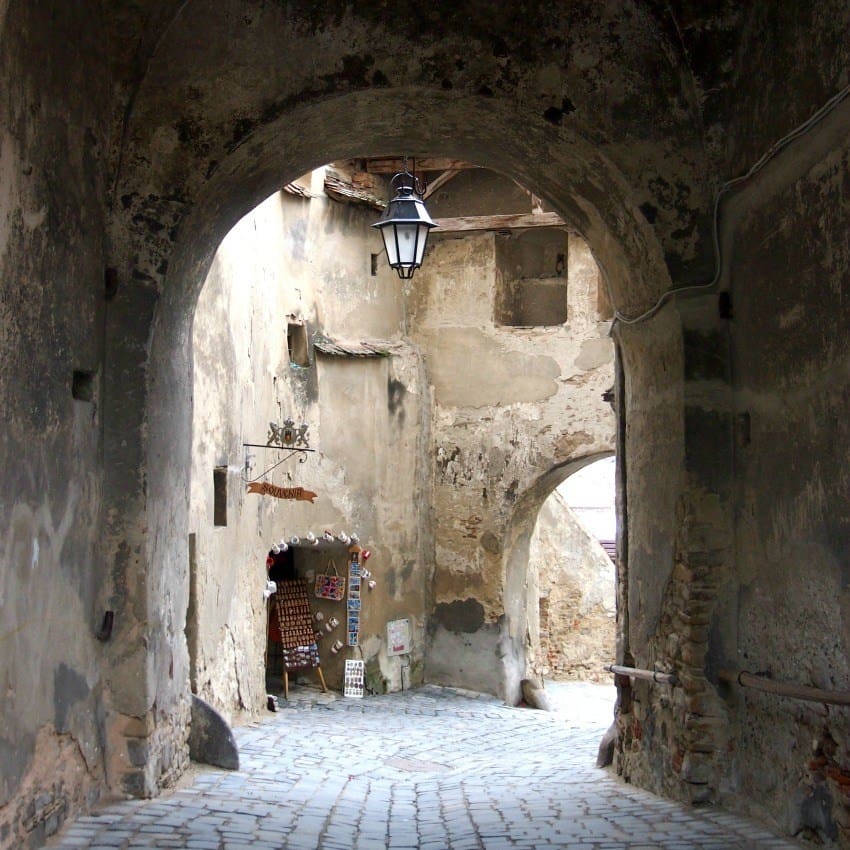 Inside the ancient citadel of Sighisoara, Transylvania. This would be my #1 must visit place in Romania after Maramures County.
Sighisoara is a tiny, fortified, medieval town with stunning good looks. It's traffic-free streets are a joy to explore and it was the birthplace of Vlad Dracul, so expect some vampire theming. My boys adored a trip to the spooky cemetery at midnight through the oak covered walkway.
See our post on why you absolutely must include Sighisoara on your Romania itinerary here.
Brasov, Transylvania
With ancient fairy-tale buildings and cobbled streets, the old town area of Brasov is a popular tourist destination in Romania.
It nestles at the foot of a mountain and boasts its own Hollywood style sign "Brasov".
The main square Piaţa Sfatului, is a wonderful place to sit at a pavement cafe and watch the world go by. There are ski resorts and wild European brown bears around Brasov and some bear-watching tours are based here.
To see Romania's brown bears in captivity you'll need to visit the Libearty Bear Sanctuary near Brasov (full post).
To read more about Brasov and the surrounding area, you need our full guide to things to do in Brasov and nearby. You could easily base yourself in Brasov and explore Transylvania from here, there's loads to see and do nearby including some incredible historic sites, forts, Saxon villages, citadels, and fortified churches. Take a look at the Brasov travel guide above.
Cluj Napoca Transylvania
We've spent a lot of time in Cluj Napoca because it was our nearest large town with an airport. When we were flying in or out of Romania it would normally involve a trip to Cluj. Cluj is roughly 4 hours by road from Breb.
Cluj is a university town with some lovely old buildings. It also has modern shopping malls, Starbucks and Subway. We'd visit Cluj for a slice of modern life. The traffic can be horrendous here. You can easily visit Turda from Cluj Napoca.
Alba Iulia Transylvania
Alba Iulia boasts an impressive citadel and sits on Roman remains. We would highly recommend you check out Alba Iulia, a half-day to a day here would be enough to explore the citadel. Full post coming!
Maramures County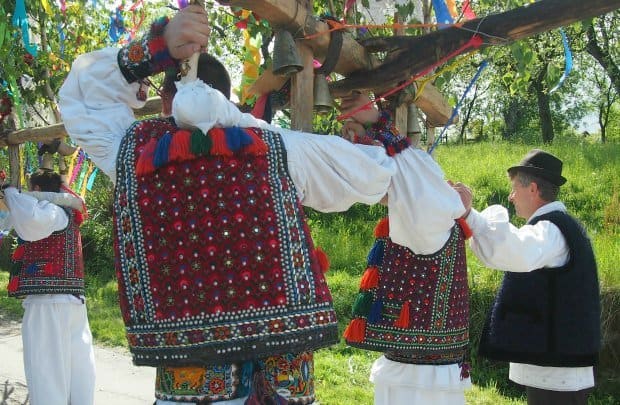 Maramures, in the north of Romania, nestled against the Ukraine border is an absolutely stunning part of the world where time stands still. It is where we chose to live. It's green and unspoilt, the meadows grow thick with wildflowers and theold way of life is simple, traditional and beautiful. 
Villagers dress in traditional costume regularly, not just for church on Sunday and local festivals and traditions hold strong. Traditionally people here are skilled at everything from sewing, to carpentry, to building haystacks to producing all their own food and alcohol and preserving it for winter. The old ways are gradually disappearing as the modern world marches in.
Prince Charles is often associated with this part of northern Romania.
The magical village we called home, Breb, is in Maramures. and a special post on the annual hay making, cutting the grass with scythes and constructing the characteristic Maramures haystacks.
Experiences of surviving harsh winters in Romania with just a wood stove in our 100 year old village house are here.
The weekly Farmers Market at Ocna Sugatag and our monthly livestock market at Sighetu Marmatiei
A special dinner with the shepherds and their dogs, in Maramures Romania
Learning to ski in Cavnic, Maramures
A look inside a Maramures tuica shed to see what the Romanians are brewing in there from the fruit pulp they would store in the barn year-round. Our neighbours invited us for lunch in the tuica shed, or was it breakfast?
Maramures is famous for wooden churches and huge gates, even the simplest home can have a towering gateway, a tradition from years gone by. The wooden churches of Maramures are UNESCO listed.
In this region you'll find places to visit such as the Merry Cemetery in the village of Sapanta and the stunning Barsana Monastery.
The real jewel of Maramures lies in its stunningly preserved lifestyle, culture and traditions. You will step back into a medieval peasant past in small pockets in the region.
Turda and Turda Salt Mine, Transylvania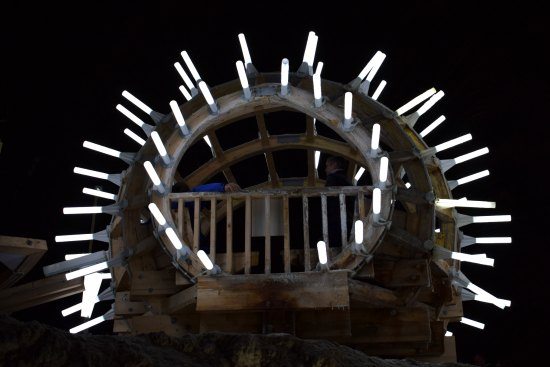 What an incredible place! If you're travelling to Romania please make a point of going here, it's like nothing else on earth.
It's a day trip from Cluj Napoca in Transylvania or a great overnight stay. Read our full post on the Turda Salt Mine, here. You could also stay in Turda itself if you are taking a road trip. There is one unique and special hotel that we mention in our Turda post, link above.
Romanian Food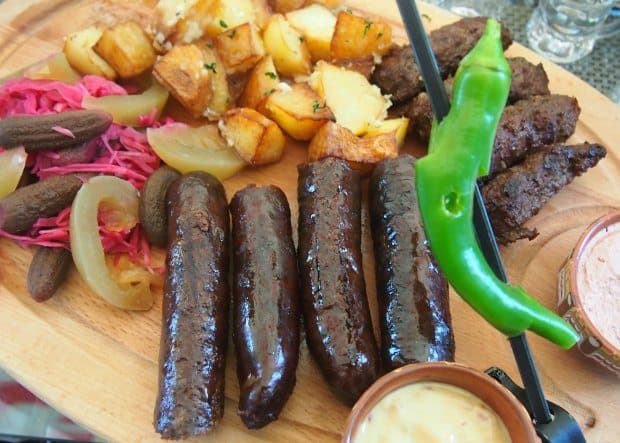 Romanian food (a full post by my husband, he is a Chef – opens in new tab) is hearty, simple, meaty and good. We were all surprised by how much we loved it.
You'll find good produce, much of it organic and traditionally produced.
Village cows feed on wildflowers to make amazing milk and butter, home-made bread and jams are easy to find and there are plenty of traditional dishes to explore.
Sarmale cu Mamaliguta, stuffed cabbage leaves with polenta, is a festive dish and our favourite Romanian dish so far.
Expect a hot chilli, fresh or pickled, and a dollop of sour cream (smantana) on the side.
Mici or Mititei are a rolled meat sausage, without a skin (top right, above). Served with beautiful mustards on the side. This is Romania's traditional and most typical street food and if you're hungry, you'll find a grill serving mici outside most supermarkets or at any market. It will probably be next to the placinta (a large fried dough cake, sweet or savoury) and the funnel cake stalls.
You'll also find an abundance of soups, some vegetarian-friendly and plenty of cheeses and cured meats.
For you, for Pinterest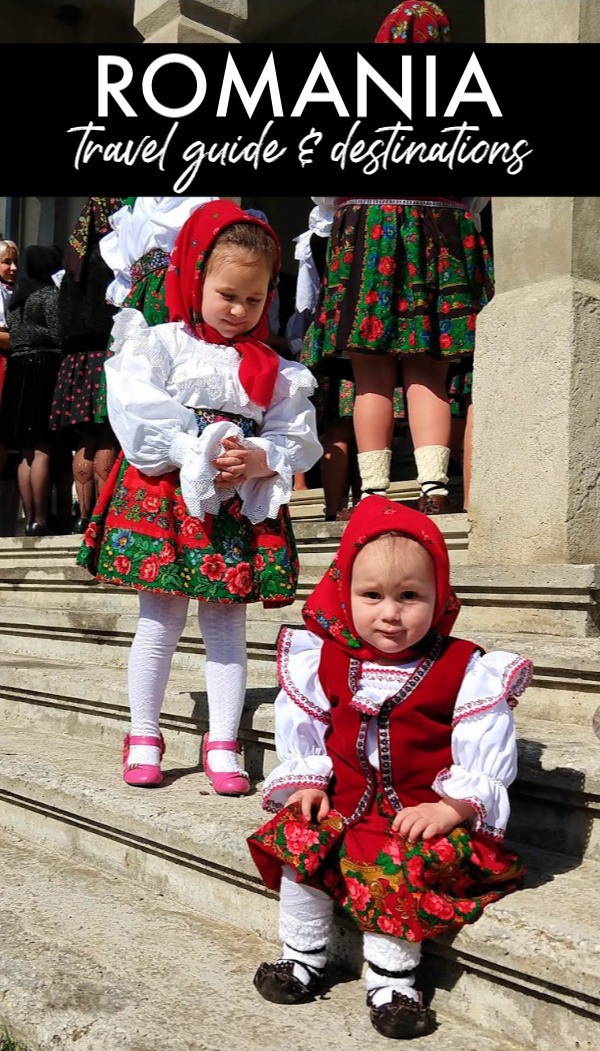 Is There A Language Barrier in Romania?
In the cities, no, none at all. Young Romanians often speak perfect English.
Once you venture out into the more remote countryside, that all changes. You will most certainly need a good guide-book with phrases and translations to get by, mostly to communicate with older people and sometimes to read menus.
Discover the history, culture, food, and language of the region with Lonely Planet Romania & Bulgaria. It includes phrases and Romanian words that you will most probably need Check out the guide here.
The good news is, Romanian is fairly easy to understand if you know some Italian, French or Spanish. To my ear, Romanian takes me back to my days learning Latin in school, with a Slavic twist. The Romans were here, they left a lot of things behind, including some of their vocabulary.
Hiring a Car to Road Trip Romania
Taking a road trip around Romania is possibly the best way to see the country, other than by taking guided tours. Public transport in Romania isn't the easiest, although there are sleeper trains for the longer journeys.
Country roads are fairly quiet in Romania and in some areas will be deserted other than for the odd horse and cart. In big cities traffic congestion can be bad.
Roads in Romania can either be superb and brand new, or more hole than tarmac. Some roads that appear on Google maps can quickly become dirt tracks so pick your route carefully.
Romanian driving is interesting. My husband was always super appreciative of the wide clearance motorists would give him as a cyclist, but the sheepdogs on some roads counter-acted that bicycle friendliness.
We found most Romanian drivers to be courteous but there are speed demons too. Some of the cars you'll see on the road will have character.
Don't believe the hype, driving around Romania or taking a road trip there is not a nightmare. We drove in Romania for 3 years without incident, you will, however, need to get used to a different driving style. Main roads tend to have 2 lanes, the outer hard shoulder is used as an extra half lane, so if somebody wants to overtake you, you should pull over into this outer lane and allow them to do so.
We'll give you information on hire or rental car companies in Romania and more tips on driving in Romania in another post. We were stung by a cowboy company, but also had great experiences.
So join us in Romania, a country we love and know well. We're aiming to make this Romania travel blog and guide the most complete Romania website in existence, we're working hard to help you better.