There are several ways of organising airport transfers in Romania, and there are many international and domestic airports within Romania. This post covers how to arrange airport transfers to your hotel or to the city centre for each major airport.
BUCHAREST AIRPORT TRANSFER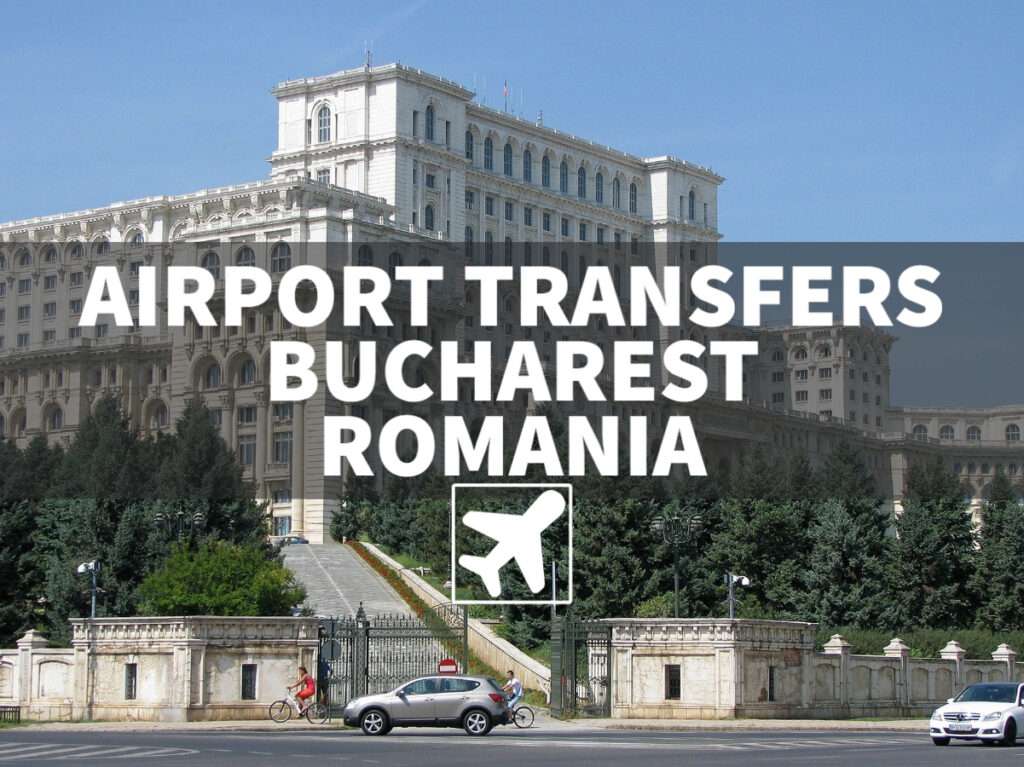 BUCHAREST OTOPENI AIRPORT TRANSFER
Otopeni Airport, also known as Henri Coandă International Airport, is the biggest and busiest airport in Romania. The airport is located 16.5 KM north of Bucharest's city centre. To book a private transfer car with an English-speaking driver from Bucharest Otopeni Airport, use this company.
There are several methods of airport transfer from Bucharest airport, including an airport rail link to the main railway station, a bus service to the city centre, and taxis from the airport.
You can fly direct to Otopeni Airport from many cities in Europe, parts of Asia (The Middle East) and parts of North Africa.
TRANSFER FROM BUCHAREST AIRPORT TO BRASOV
Brasov is 184.7 Km north of Bucharest by road. Bucharest Otopeni Airport is not the closest airport to Brasov, Sibiu Airport is a few Km closer, however, Bucharest has better air connections than Sibiu, so many visitors to Brasov arrive in Romania at Bucharest airport.
It is possible to arrange train or bus transport to Bucharest, however, this can be tricky if you don't speak Romanian. A better option is to arrange a taxi transfer with an English-speaking driver. You can use this company to book this transfer to Brasov and they will monitor your flight arrival time and be at the airport ready to collect you for the drive to Brasov.
BUCHAREST BANEASA AIRPORT
Bucharest Băneasa Airport, also known as Aurel Vlaicu International Airport, is located 8.5 KM north of the city centre of Bucharest, and is a school and business airport.
CLUJ NAPOCA AIRPORT TRANSFER
Avram Iancu Cluj International Airport is the second busiest airport in Romania, located in the city of Cluj-Napoca, 8 KM east of the city centre. Cluj Napoca is the closest airport for Turda, Salina Turda (Turda Saltmine) and the Turda Gorge.
There's a trolley bus between the airport and the Mihai Viteazul Square. Alternatively, you can hire a car and pick it up from Cluj Napoca airport. This tool will allow you to compare deals on rental cars from Cluj Napoca.
Cluj-Napoca airport is the second busiest airport in Romania, and as such you can fly into Cluj Napoca from many cities across Europe, and a few places in The Middle East, such as Abu Dhabi.
BAIA MARE AIRPORT TRANSFER
Maramureș Airport is a minor international airport located 10km west of Baia Mare municipality. At the time of writing you can only fly there from Paris or Bucharest. This is the closest airport to the UNESCO listed wooden churches of Maramures, however, flights are limited, so many international visitors fly into Cluj Napoca and arrange transport north from there.
ARAD AIRPORT
Arad International airport is an airport located 4 KM west of the city of Arad, which is located in Western Romania. The airport features the largest and most modern cargo terminal in western Romania.
CONSTANTA AIRPORT TRANSFER
Mihail Kogălniceanu Airport, located 26 KM Northwest of Constanta is a large airport that's named after the third prime minister of Romania, Mihail Kogălniceanu.
The Airport features taxis and bus lines into Constanta. Constanta is smaller than most airports, and at the time of writing can only be reached from London, Istanbul, and Rome.
Constanta airport is the closest airport for Danube Delta tours from Sulina, this area is a nature lover's paradise with abundant wildlife. However, Constanta airport is still over 100Km away. It is likely to be more convenient to fly into Bucharest and arrange transport or a transfer to Sulina.
CRAIOVA AIRPORT
Craiova International Airport is a large airport located in the south-western part of Romania, 7 KM east from the Craiova Municipality, which is one of the largest cities in Romania.
The airport features a bus line into the city, with a bus station right in front of the airport. As the airport is not particularly large, there are a limited but still significant number of international flights, however all of them are from within Europe at the time of writing.
IASI AIRPORT
Lasi International Airport is one of the oldest airports in Romania, being made commercial in 1926. The airport itself is only 8 KM from the Lasi city centre, Lasi is the second largest city in Romania and is located in the Moldavia region. Being a relatively large airport, Lasi International Airport can take you all across Europe, into Egypt and Isreal.
ORADEA AIRPORT
Oradea international airport is in Northwestern Romania near the Hungarian border. It is roughly equidistant to Baia Mare, Cluj Napoca and Timisoara.
SATU MARE AIRPORT
Satu Mare airport is in the Northeast of Romania, north of Oradea, West of Baia Mare. It is very close to the Hungarian border and not very far from the Ukraine border. The city of Satu Mare is in the county of Satu Mare and the region of Maramures.
SIBIU AIRPORT
Sibiu is a city in Central Romania, in Transylvania. Sibiu is a tourist destination in its own right, thanks to its medieval history and architecture.
TIMISOARA AIRPORT
Timisoara is in western Romania, near the borders of both Hungary and Serbia.