Where to stay in Turda Romania? This post is about hotels, apartments, pensions and the best places to stay in Turda, or near Turda. Most people visit Turda for the Turda Salt Mine of course – Salina Turda, and this really is worth visiting. It's not the only salt mine in Romania, but it's spectacular. The Turda Gorge is also near Turda, a lovely spot to hike or take in the scenery.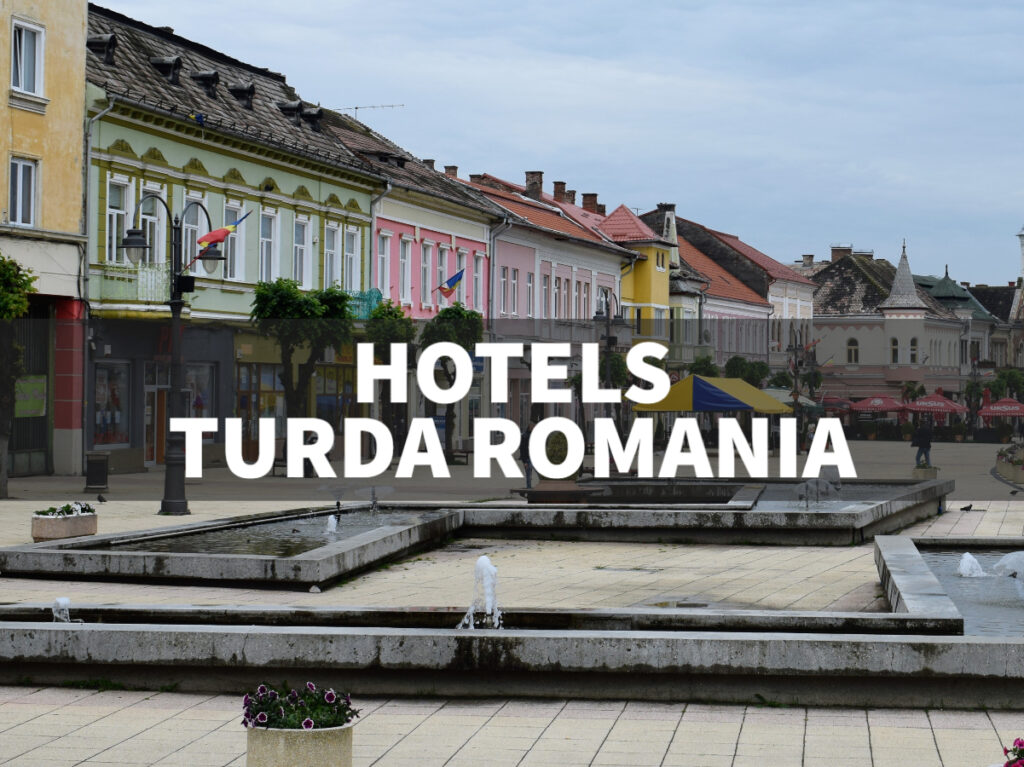 Hotels in Turda
Our chart below shows hotels and other accommodation in Turda based on their distance to the centre of Turda. The hotels closest to the centre of Turda will appear first. You can scroll down through all available hotel options in or near Turda. If you're looking for a hotel near the Turda Salt Mine, use this link instead.
Turda itself is a very nice small city on the Aries River in Cluj County, Transylvania. It has a very attractive old central plaza, the city's central market square, surrounded by colourful shops and old buildings.
The Turda Gorge is not far away, and offers pleasant scenery and walking or hiking trails.
Salida Turda is about 5 km outside of Turda, a 12 minute drive, depending on traffic, in fairly open countryside. There is a car park at the salt mine and a few market stalls selling gifts and souvenirs.
Turda Romania
Turda Romania is in Transylvania is famous for the Salina Turda, the Turda Salt Mine. The amusement park in a salt mine that most have seen pictures of online, an amazing James-Bondesque underground cavern turned tourist attraction.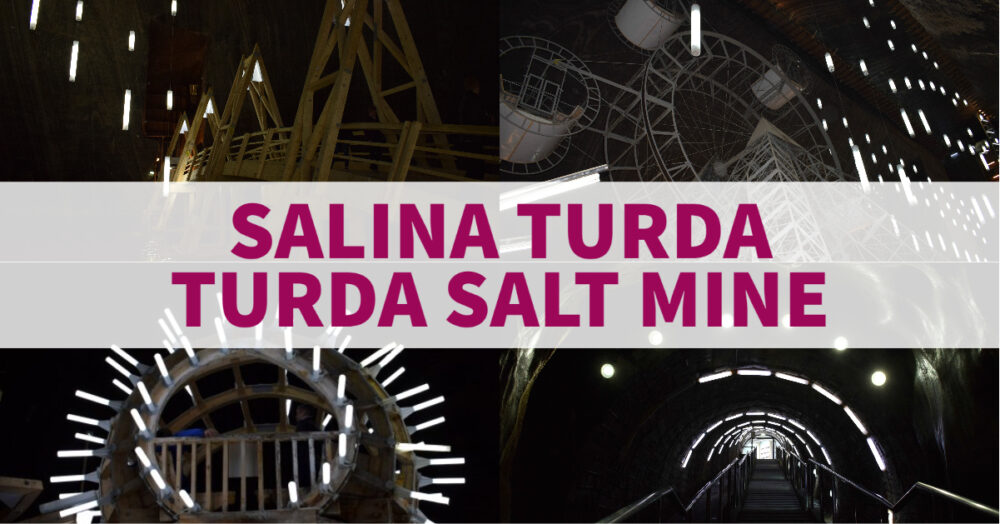 The kids had to love going down a salt mine, particularly one with a fairground at the bottom and a subterranean lake worthy of Gollum, so we quickly booked a hotel in Turda, threw some underwear in a bag, stuffed the rabbit cages with food and just left. I love that freedom!
We are travel bloggers living in Romania. Romania travel is our speciality, so on with Turda.
The Turda Salt Mine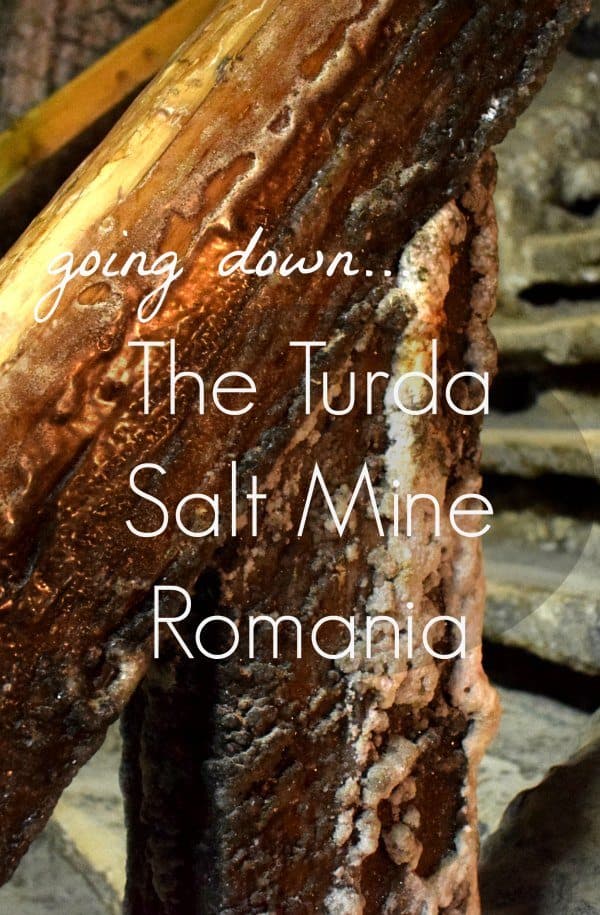 A pin for Pinterest. Thanks for helping us by saving it!
Some 4 or 5 hours later we arrived in Turda. Signs to Salina Turda showed us the way. The Romanian word for salt is sare, so salina seemed a bit odd, but it couldn't mean anything else.
We drove to the top of a luridly grassy hill to see a small car park, wooden stalls, the sort you will find at every Christmas Market, and a large silver UFO. The modern entrance to an ancient salt mine.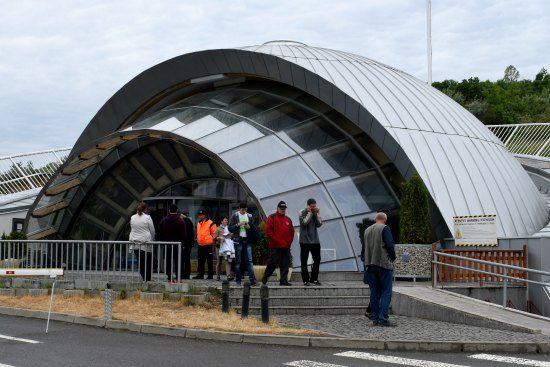 What is a Salt Mine? Salt Mine History
The Turda mine was opened to tourists in 1992 and since then over 2 million visitors have climbed down its space-aged tunnel into the depths of history. The Salina Turda is officially ranked as one of the most beautiful and spectacular tourist attractions in the world, yet so many don't know about it.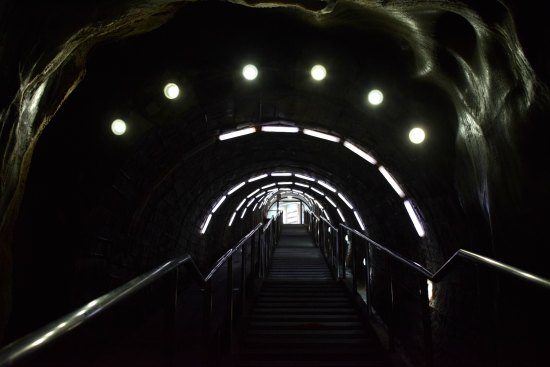 Salt mining has been going on in this area since antiquity, but the mines we visited dated from the 1600s to 1922. Each landing on the stairway bears a date, descending you move forward in time as the miners dug deeper.
The site consists of various chambers, the first, the Iosif mine, is 112m deep, next to it is the deeper, and older, Terezia mine. The Terezia is reached by further stairs or lift and this is where you'll find the lake and boat rides, along with some more weird UFO resembling structures.
If you're into salt mines generally, the largest publicly open salt mine in Europe is also in Romania and close to Bucharest.
The Good and The Bad of Visiting the Turda Salt Mine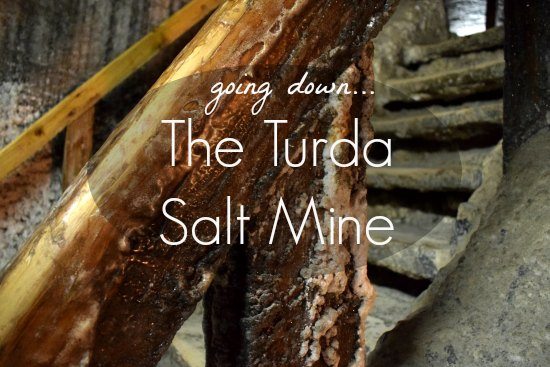 Get there early!
We arrived at 4pm, we didn't have a clue what the opening hours were but they let us in. The salt mine closes at 5pm.
By the time we got down to the bottom of the mines everything was shut, no boat ride, no mini-golf, nothing. We had very disappointed kids.
Other than that slight hiccup they loved the experience of going down the mine, even the 20 flights of stairs we climbed down, and back up again.
There is a lift but it's small and the queue was interminable. Having just got back from Everest we were cool with the stairs.
It is a little vertigo inducing at the top but it's not too cold, nor is it slippery. You can taste and feel the salt in the air and every surface is encrusted. Yes, the kids did find it necessary to lick the walls.
Is the Turda Salt Mine scary? If you are terrified of heights, I am, you may struggle in parts of the Salina Turda. Also if you have claustrophobia or any fear of being deep underground. If you have mobility issues this could be difficult too.
I'm scared of my own shadow sometimes but I coped with the Turda salina. I felt safe and the heights involved when looking down from the upper levels into the abiss, were manageable.
I felt it was safe to take my kids to the salt mine but I held their hands tight and didn't let them run.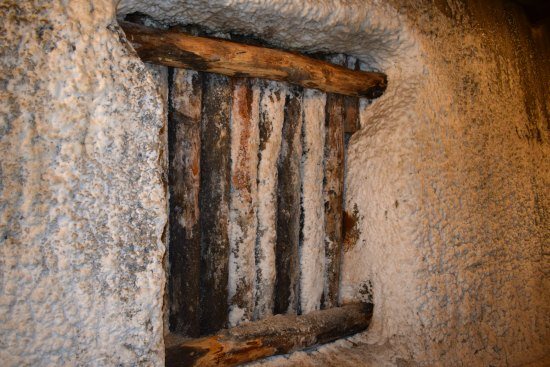 Pictures of The Turda Salt Mine
Some pictures of the salt mine, just because it was so visually impressive. The mine also has a halotherapy area, salt treatment for various ailments.
The salt air just made me cough a little, the view made me stand and wonder.
The only question I want to ask you right now is, did you know about this place? I still haven't figured out why Romania is such a well kept secret.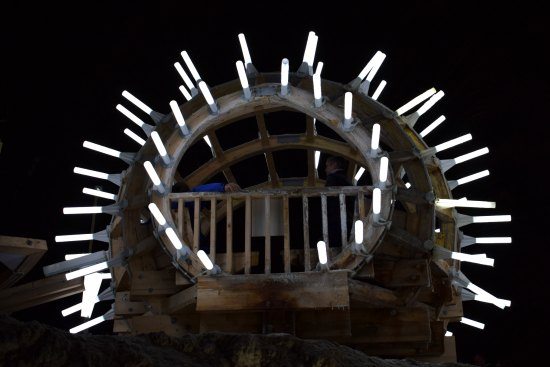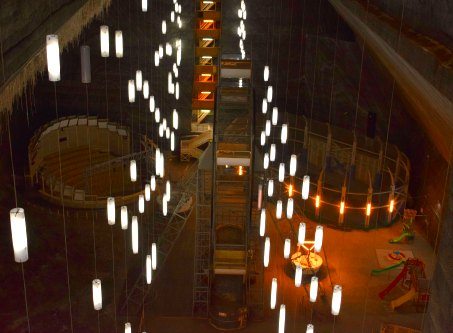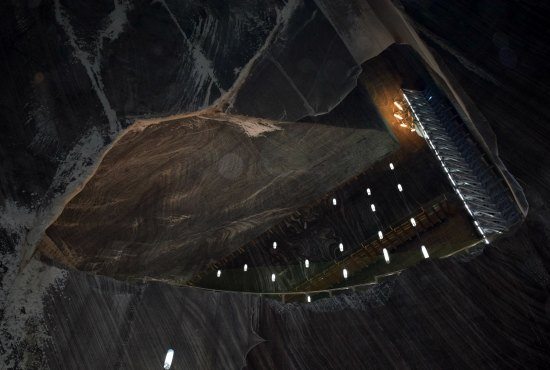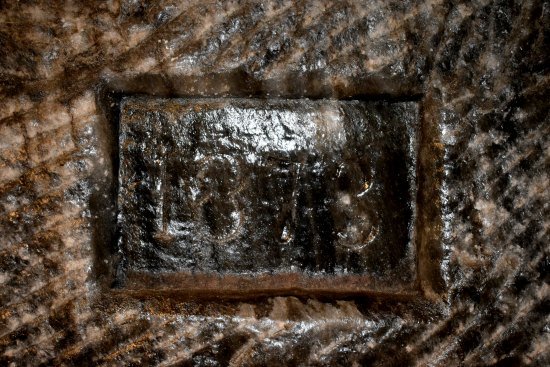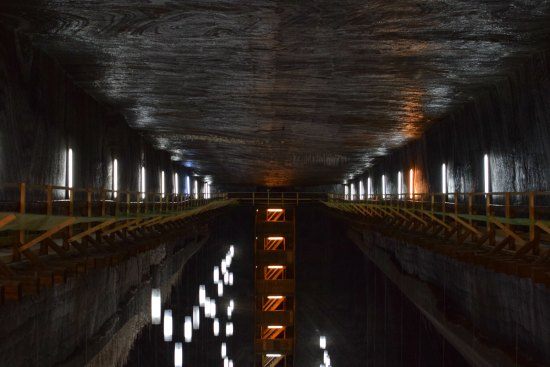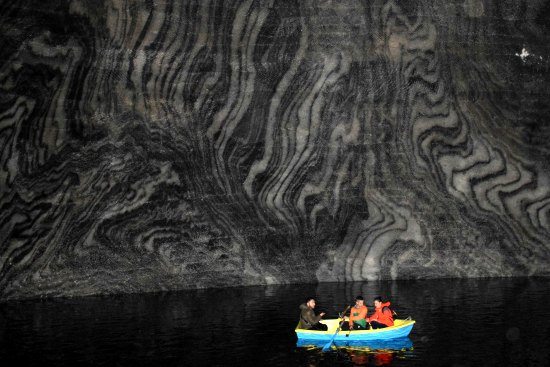 Where to stay when visiting the Turda Salt Mine?
Take a look at the Hunter Prince Castle and Dracula Hotel, it's right in the middle of Turda, which is quite a cute little town with an ancient, scenic central plaza This hotel looks INCREDIBLE!
It was full when we visited or we would have booked. The Pensiune we used wasn't so good so I won't recommend it.
It's well worth visiting Turda and staying overnight, we found a bar/ restaurant serving typical Romanian street food and soups, along with good beer. Alternatively, you can visit Turda from Cluj Napoca.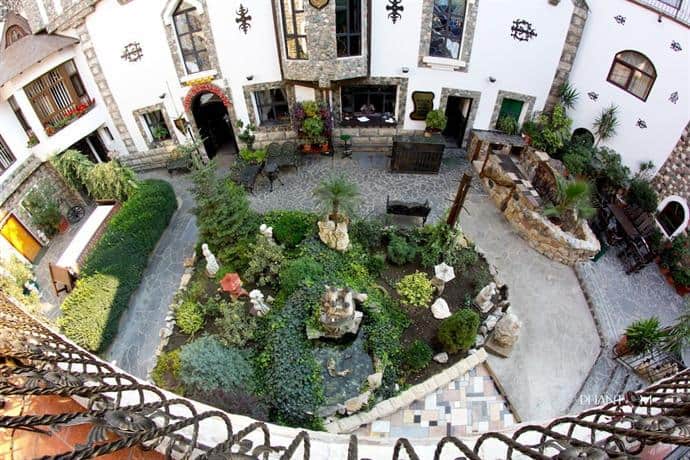 check rates and availability here for this hotel in Turda on Hotels Combined.
Alternatively try it here on Booking.com
Back to our Romania Travel Advice , Index and Blog Page for more things to do and places to see in Romania. We lived and travelled in Romania, on and off, for 3 years to make this resource for you, we hope you make it to Turda and the Salt Mine – Salina Turda.
Other great places to visit near Salina Turda in Transylvania include Brasov, Sighisoara, and Alba Iulia.