Sighisoara is a stunning, and surprisingly tiny, medieval citadel in Transylvania, central Romania. Its story-book looks alone will blow you away with picture postcards buildings, both grand and humble. Add history and cultural appeal to the visual and you've got a must-visit global destination. Sighisoara is most certainly on our list of coolest places to visit in Romania.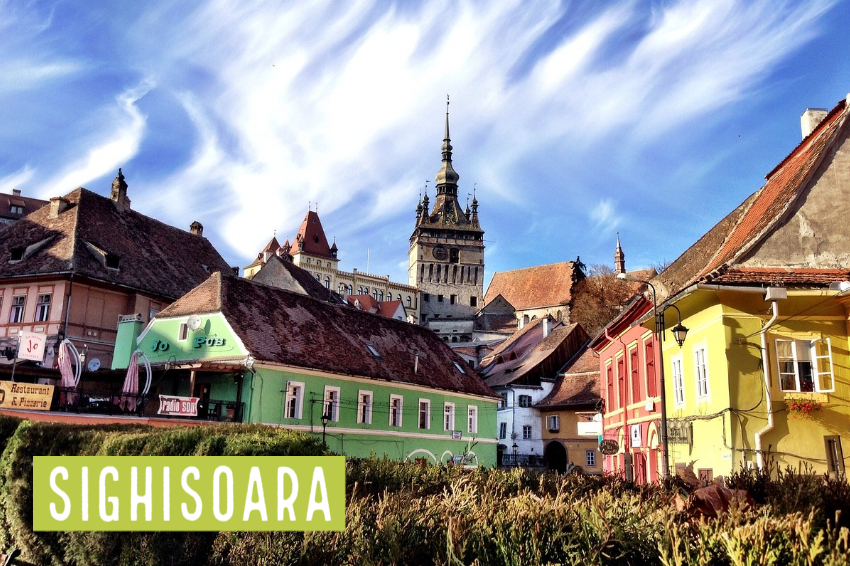 Unsurprisingly, Sighisoara is a UNESCO world heritage site and one of the best preserved medieval towns in Europe, so, things to do and what to see in Sighisoara, along with ideas on where to stay.
We visited Sighisoara as part of a Romania road trip ( with kids), from Bucharest in the south, through Transylvania and up into Maramures County, where time stands still. It's a journey we took many times during our 3 years living in Romania.
A trip like this is well worth doing to really discover the hidden treasures of Romania. More details at the bottom of the page.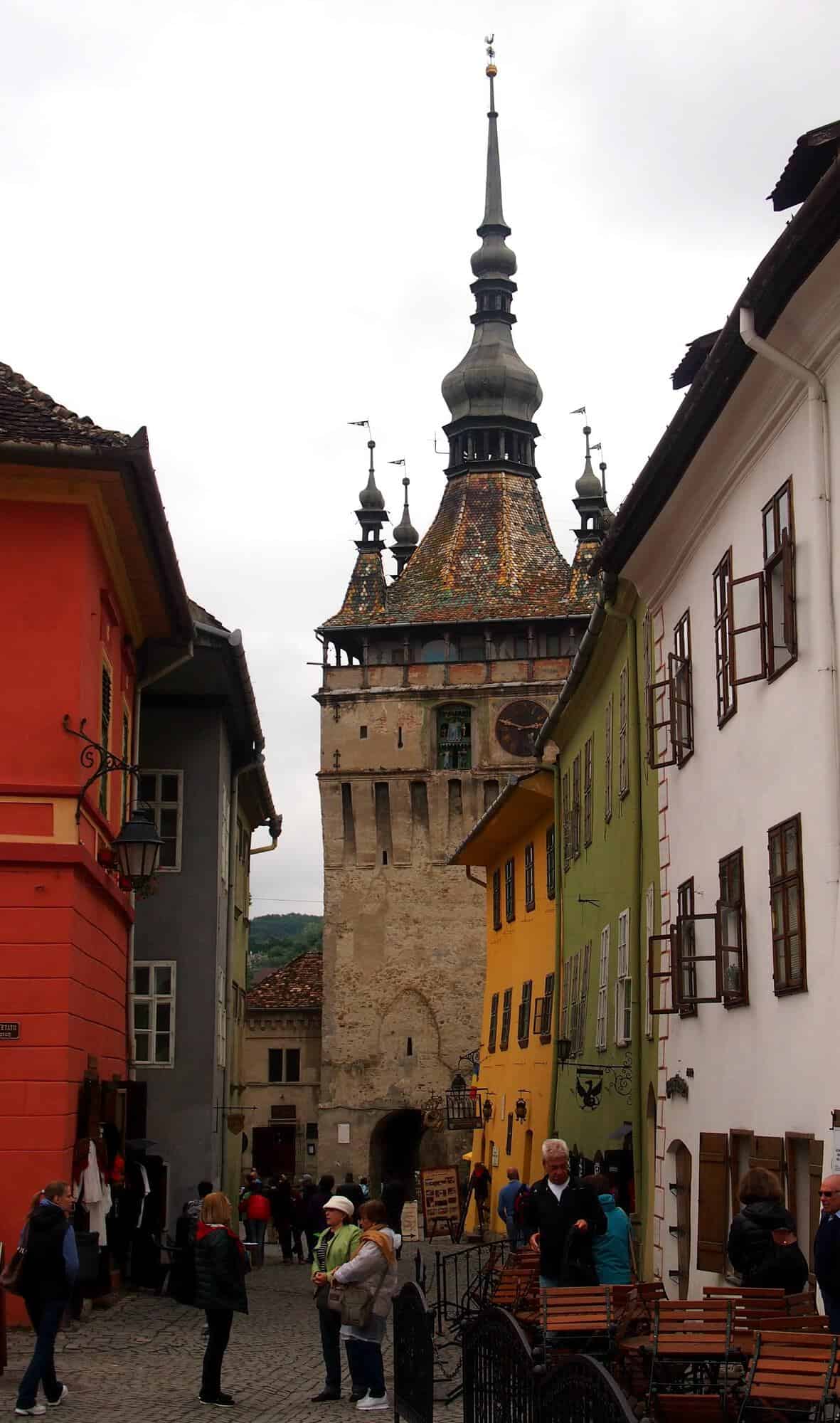 Sighisoara Romania
The old town is mostly pedestrianised, permit holders only can bring their vehicles inside the walls ( although we drove in, no problems), so we, the tourists can stroll around snapping pictures of colourful old buildings, pavement cafes and delicious old churches without being mown down.
The citadel itself is tiny, just a handful of streets, but we very much enjoyed our two-day stay here in an incredible old building converted to a fabulous, spacious Casa Mador apartment ( highly recommended, see below). Yes,the town can get busy with tourists, but all the best places do.
Sighisoara History, The Citadel
Construction of the citadel, ( or Castrum Sex, Fort Six) began in the 1100 s and continued into the 1500 s. The Transylvanian Saxons built it on the ruins of a Roman fortress. Saxon tradesmen turned Sighisoara into a strong defensive construction, with towers and guns overlooking the valley and the 14th century clock tower controlling the main gateway, walls and approach.
9 of the 14 original towers survive today, along with 2 bastions.
Sighisoara is one of seven Saxon Transylvania walled citadels, the others were Bistrita, Brasov, Cluj, Medias, Sebes and Sibiu.
Sighisoara Romania – Things to Do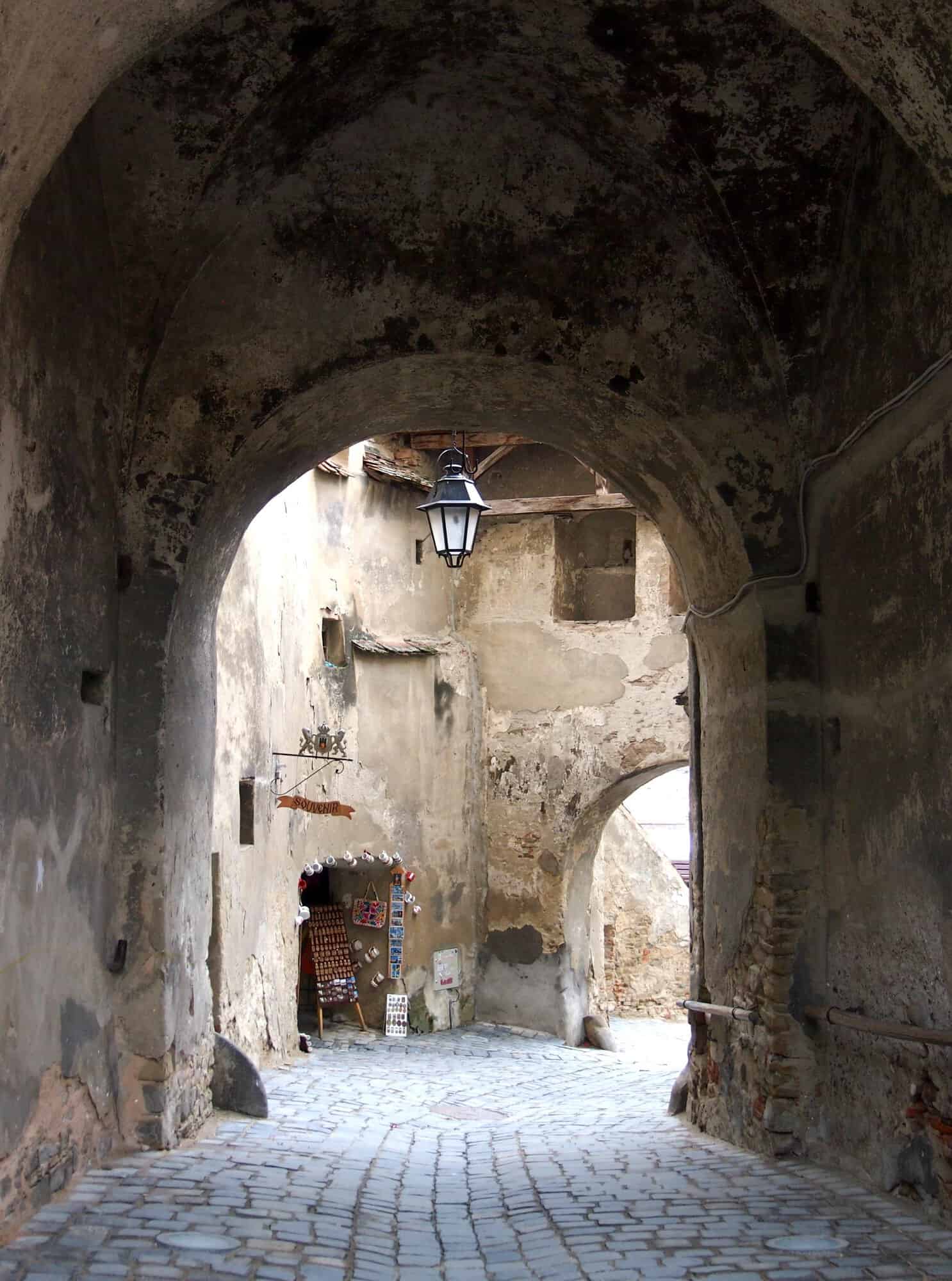 Exploring Sighisoara
The town is so incredibly pretty, if you've visited Antigua Guatemala and are familiar with the candy-box colours of that old town, you'll maybe see a similarity here. Walls, windows, doors and window boxes make this town glow with colour. Ancient architectural appeal and the amazingly coloured tiles on the roof of the clock tower enhance the picture further, it really is like something out of a fairy tale, an expression used often in Romania. The citadel square is a lovely centerpiece and used to be used for witch trials and public executions ( among other things.)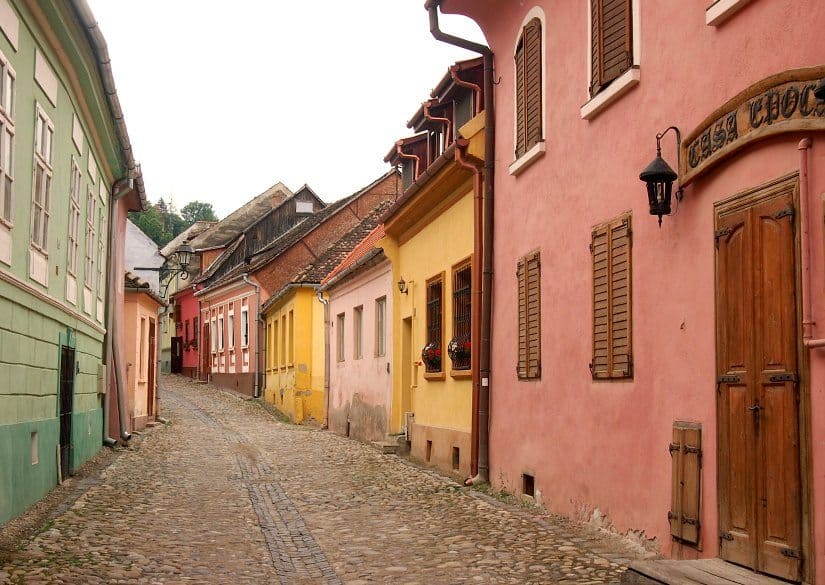 Climb The Clock Tower.
For amazing views over Sighisoara and the small History Museum at the top, you need to climb the clock tower., This 14th-century tower made an excellent defensive look-out tower back when it was a built. Combined tickets are available for this museum and the two below.
Climb the Hill to The Church Through the Covered Stairway.
If you're brave, and not worried about vampires, climb the ancient covered stairway in Sighisoara after dark, or even at midnight!
The stairway was originally built to protect children climbing the hill to school. Its blackened oak beams are very atmospheric and very Romanian. Very spooky!
Sighisoara Shops and Street Stalls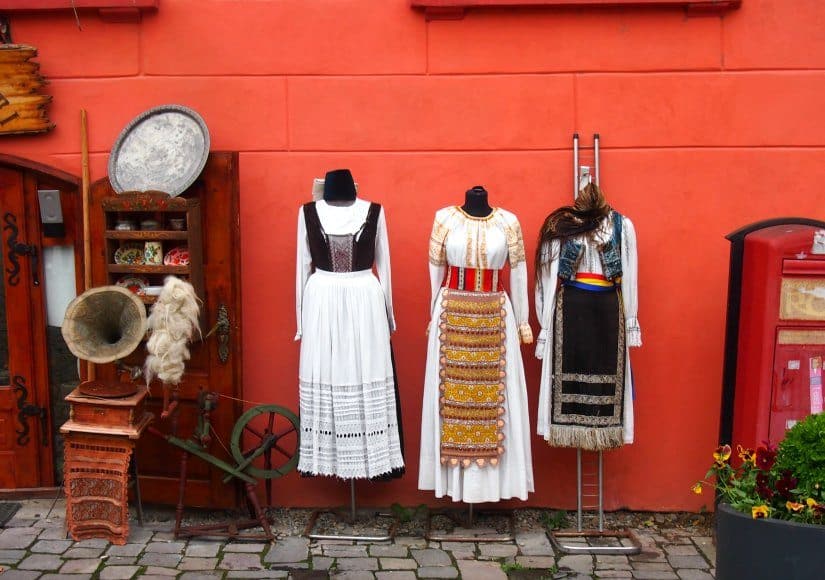 You will find gloriously tacky Dracula related trinkets, antiques, fabrics, costumes and some great local crafts.
The Church of the Dominican Monastery.
The church is known for its Transylvanian renaissance carved altarpiece, Oriental carpets, beautiful baroque altar and functional, huge 17th century organ. A statue of Vlad Dracul stands just next to it.
Sighisoara Torture Museum and Medieval Arms Museum
A tiny museum of torture implements. It's beneath the clock tower.
Sighisoara, The Birthplace of Dracula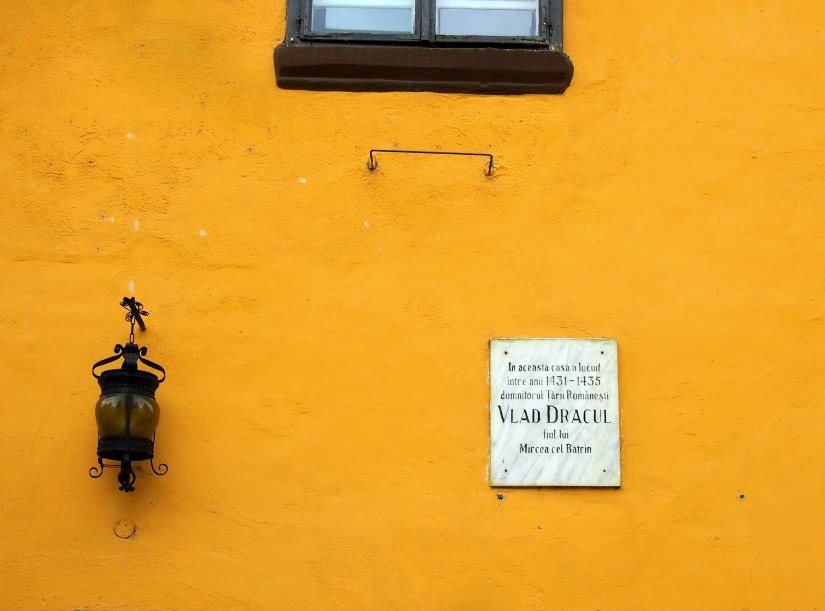 Sighisoara is the birthplace of Vlad Dracul.
History, legend and story are confusing here, was Vlad Dracul the Impaler, or his father? Different versions appear wherever you look.
Vlad Tepes is Vlad the Impaler, Tepes means the Impaler. Bram Stoker's Count Dracula is thought to have been based on Vlad Tepes, whose father was ruler of Walachia in the mid 1400s.
The dates are right for the son to be born here, not the father. I've researched this thoroughly, you can find more on the origins of Dracula in Romania in this post. A lot of people get it wrong and the castles in Romania were never "Dracula's" castle, it was a fictional building, although they still warrant a visit.
You can, of course, visit the former residences of the real life Vlads.
Sighsoara, Best Restaurants
The Sighisoara citadel's main square (Piata Cetatii) has pavement cafes to enjoy. We also recommend the pub to the left of the covered staircase ( no food). You can even dine in the building where Dracula was born, it's a restaurant now serving bowls of vampire soup and dracula wine.
Sighisoara Best Hotels
There are accommodation options within the Sighisoara Cital itself, and if you can, book a hotel or apartment here. This is certainly the best place to stay to see Sighisoara. If there is no availability you may have to stay outside The Citadel.
Use our interactive map, below, to compare multiple accommodation providers and styles at once.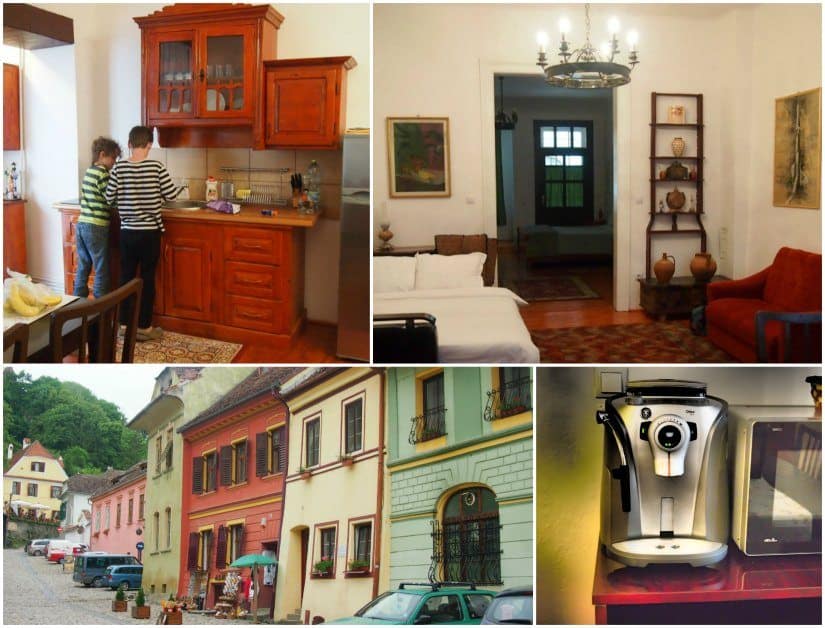 We stayed right inside the citadel at Casa Mador apartment , just steps from the covered stairway. This apartment comes highly recommended for location, spaciousness, luxury and facilities. It even comes with an espresso machine, an outdoor courtyard and unlimited use of a washing machine, perfect! We find that accommodation in Romania is generally good, spacious and highly affordable.
Check rooms, prices and availability for Casa Mador on Booking.com HERE. It's ranking is an incredible 9.8. If it's not available ( and it fills up fast) try the deals available below in Sighisoara.
Thanks for being interested in travelling to Sighisoara Romania. We hope you find our things to do and where to stay Sighisoara travel guide useful. The hotel booking map for Sighisoara is here.