Typical Romanian food includes homemade country bread, cheeses and preserves, cured meats, pickles, sour cream (smantana) and polenta (mamaliga). Typical main dishes include sarmale, meat-stuffed cabbage rolls, hearty soups and stews. Romania also makes many traditional cakes, sweets and desserts. This post is about typical Romanian food and Romanian dishes you should try in Romania or make at home. In fact, learning about Romanian food is one of the coolest things to do in Romania!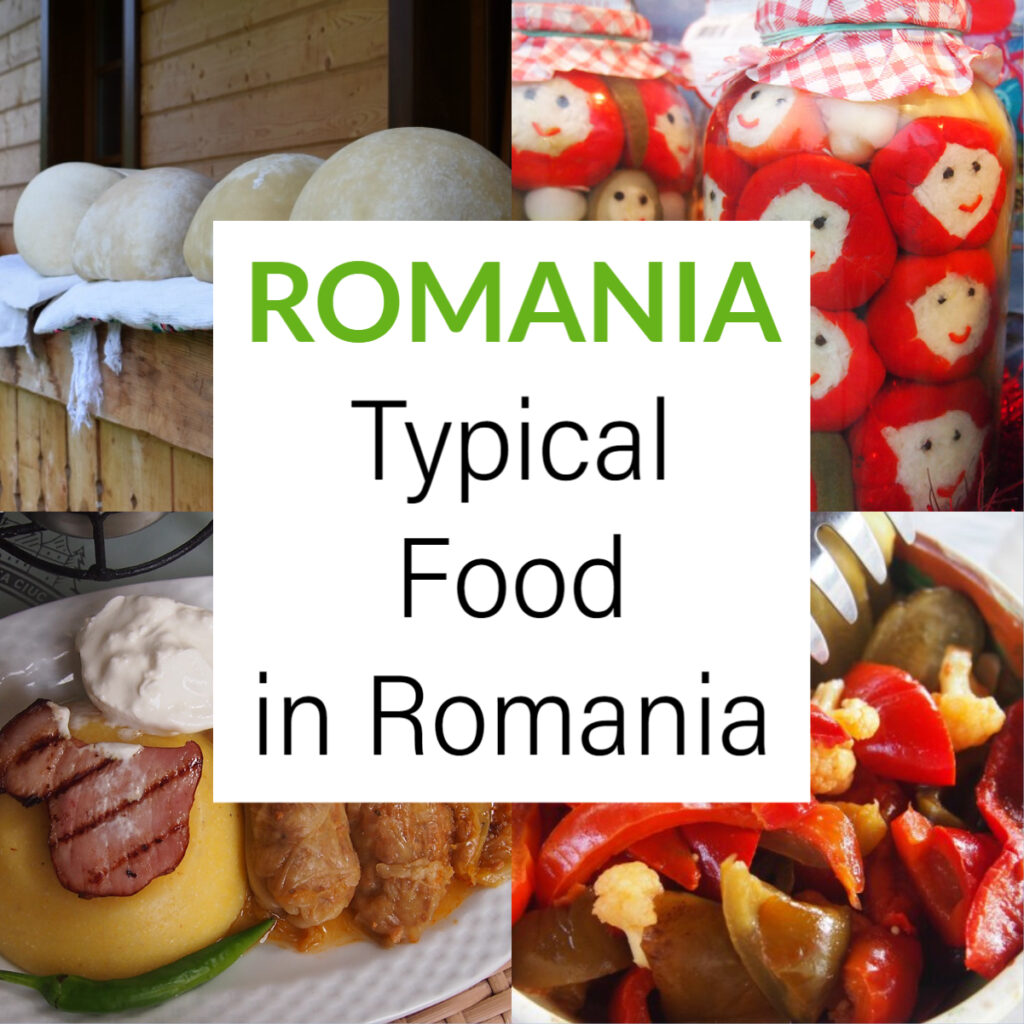 Typically, Romanian food is good, hearty, stick to your ribs stuff and packs a powerful flavour punch.
I have even taken a Romanian cooking class or two, from housewives, the real experts, happy to share the Romanian foods of their childhoods. Cooking classes and food tours are a great way to learn about Romania.
Being a vegetarian or vegan in country Romania is hard, just about all of the traditional dishes are meat-based and dairy products milk, butter, sour cream and cheeses are big players too. Many dairy products and cheeses are still made traditionally by local farming families.
If you have a dairy allergy you could struggle with eating in restaurants in Romania but you may be able to eat the goat and sheep's milk cheeses that are commonly available.
Religious Romanians do sometimes take a vegetarian or pescatarian fast prior to religious festivals (Easter), so vegetarian dishes do appear on a typical Romanian menu.
Romanian Food – Typical Foods
Romanian food is typically diverse and full of flavour with influences from many parts of the globe. Expect meat, mostly pork, fresh trout, good cheeses and dairy products, homemade preserves, polenta, paprika and chillies.
Romanian food has something for everyone, even vegetarians. Below, we list some typical Romanian food and dishes to look out for.
Typical Romanian Soups
Typical soups in Romania are delicious and traditional.
Romania is rather fond of tripe so tripe soup, ciorbă de burtă, often appears. I've tried it, the soup is great, but I can't eat tripe on a regular basis. It's just not for me but a lot of Romanians love it.
Look out for Ciorbă de perişoare, meatball soup and ciorbă ţărănească, vegetable soup, with or without meat.
Goulash soup is common in Romanian cuisine too, and extremely good.
Typical Romanian Main Course Dishes
Pork is common on the Romanian table. As Christmas approaches pig slaughters happen daily here in the Romanian countryside. Romanian villagers will be busy preserving pork and pig fat (Slanina) and preparing sausages and other tasty cured meat treats.
Easter is the only time you really see lamb on the menu, spring lambs are stuffed whole with offal, eggs and onions to make traditional Easter lamb.
Try Tocaniţă (or tochitură ), a tasty meat stew.
Meat-free ghiveci de legume can contain over 20 vegetables cooked in oil. (ghiveci recipe here)
My favourite dish, sarmale, pickled cabbage leaves stuffed with a mixture of minced meat and rice then braised in a pot. Yor sarmale usually comes with a dollop of sour cream (smetana), a serve of polenta and a crisp fresh or pickled chilli.
Typical Romanian Desserts
Papanaşi are like doughnuts filled with sour cream and topped with fruit preserve.
Clătite cu brânză are crepes filled with cottage cheese, raisins and spices.
Cozonac is rather like stollen. It's a traditional holiday sweet bread, rolled and filled with walnuts, poppy seeds or cream cheese. You'll see this in the supermarkets, but homemade is better.
Typical Romanian Breakfast
Some hotel and pensiunea breakfasts have been outstanding, like this one in Maramures, featuring dairy products straight from the cow, homemade jam, honey, tomatoes, cucumbers and a hot dish.
Others have been rather average, processed cheese and sausages. It's well worth hunting down hotels with great breakfasts.
There isn't really a standard Romanian breakfast but you could expect to eat mamaliga ( polenta) in country areas with various accompaniments. In the cities busy urbanites grab pastries such as covrigi (Romanian fresh-baked pretzels).
If anything is typical as a breakfast in Romania it would be good bread, butter, jam, cheeses, cold meats and sliced tomato and cucumber.
Typical Accompaniments to Romanian Food
Just about any dish can be enhanced by a dollop of sour cream (smantana). Expect to see a green chili on the side of your plate too, either fresh and crispy or pickled.
You will see a lot of pickled vegetables, traditionally summer's vegetable harvest had to be preserved for the harsh winters, you'll still see that tradition in restaurants, markets and stores.
Mustard is an art form in Romania, but don't be surprised to also see tomato ketchup, either sweet (dulce) or picante.
Typical Romanian Street Foods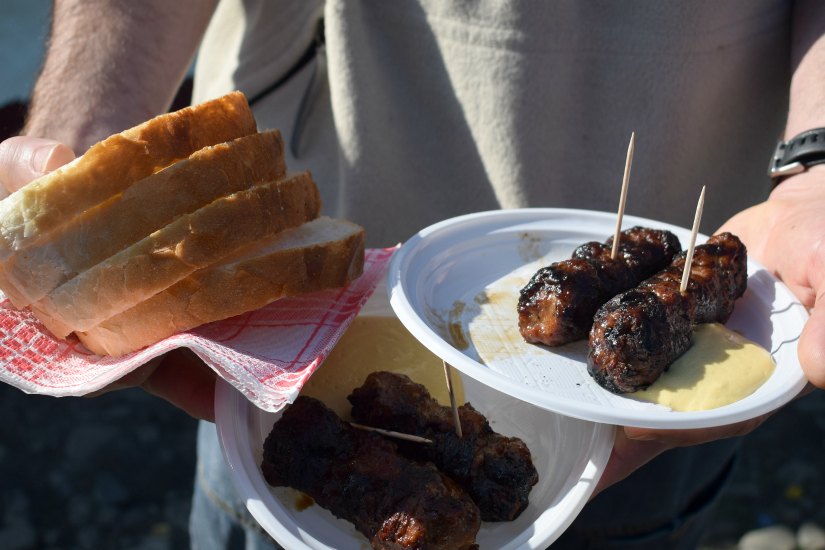 On the streets and in country markets you will usually be able to find a stall cooking mititei or mici (the name means little ones or little boys). Order a plate of these tasty skinless sausages along with a slab of bread and a huge dollop of mustard.
Placinta, (from the Latin word, placenta, cake) came to Romania with the Romans. It's a pastry or cake that can come sweet or savoury. My boys like it with Nutella, I like it with sheep's cheese (telemea, similar to feta).
Kurtoskalacs, (or chimney cake) stalls can be found at markets, on the ski slopes, even outside most supermarkets. These tall cylinders of sweet yeasty dough can also be found in Hungary.
Other Typical Romanian Ingredients and Dishes
One Romanian dish I have to mention is what we call "pig fat on a stick", to our Romanian friends and neighbours it is Slanina and is much loved. To see how it is prepared and served, see our post on lunch in the tuica shed.
It makes an appearance at every Romanian BBQ or cookout. Sometimes they eat Slanina raw with crisp onions. I pull the vegetarian card for this one!
To see the slabs of pig fat coming off the pig, you need our post on pig butchery and slaughter.
Trout is a Romanian speciality, look out for Pastravaria as you drive the mountain roads. This restaurant, Pastravaria Alex in Maramures, was superb.
Sheep and goats make cheese in Romania. You will see these large cheeses at country markets.
The other ubiquitous taste of Romania is telemea, a white feta-type cheese that comes in cow, goat or sheep varieties. This one you'll find easily on supermarket shelves. This is one flavour of Romania that we miss almost daily.
Sour cream, smantana, a yogurt-like thick creamy preparation is best from the farms where wives produce it straight from fresh cows' milk. You'll find this as an accompaniment for almost anything and as a basis of sauce usteroi, garlic sauce.
for Pinterest
This is just the start of our posts about typical food in Romania, there are many more to come, including those on wines, cheeses and traditional ingredients. Sign up to read more about Romanian foods to try and where to find them.