There are a lot of bears in Romania, but not grizzly bears, in Romania you will find a large population of European brown bears, and yes, they can be dangerous to people and livestock. There are wild bears in the mountains of Romania, and captive bears, some in bear sanctuaries rescued from cruel zoos and captivity.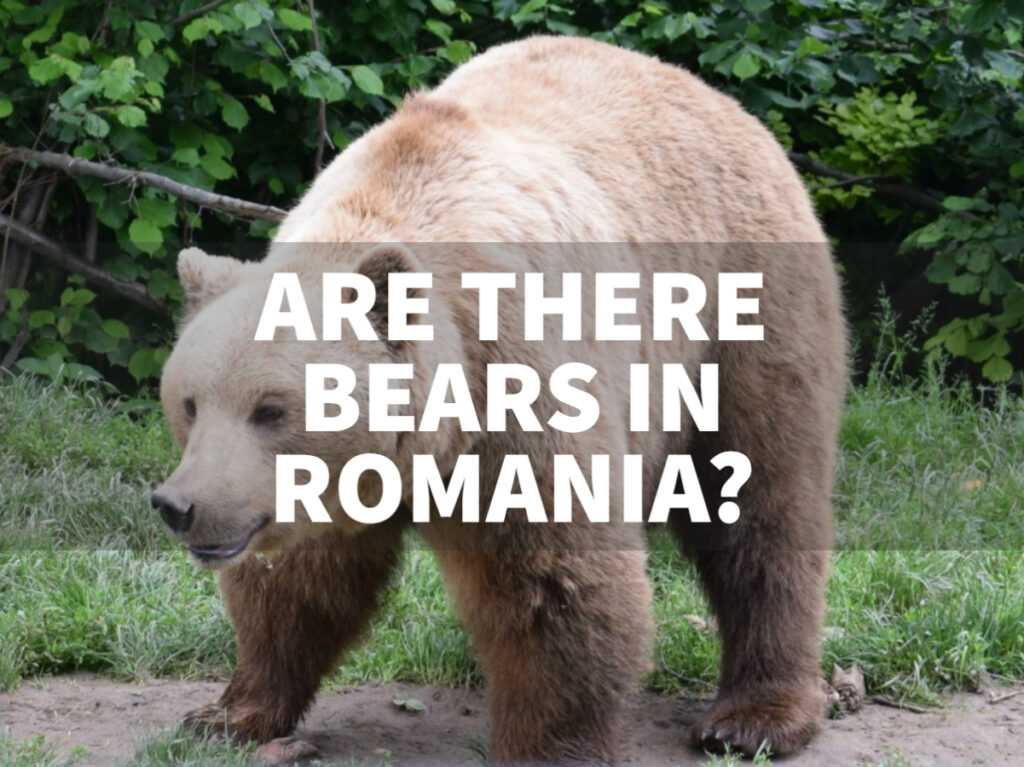 Romania has plenty of bears. Half of the European brown bear population lives on the forested hills of this beautiful country. When we talk about saving bears in Romania, we're not talking so much about the wild Romanian bears, as the ones who have had a terrible existence, held captive by private owners and in small Eastern European zoo enclosures until fairly recently. This post is about bears in Romania, along with the bear sanctuary in Romania, near Brasov Transylvania.
Bears in Romania
Where are the Bears in Romania?
How Many Bears Are in Romania?
What Kind of Bears Are in Romania?
The European Brown Bear in Romania
Brown Bear Diet
What do brown bears eat? Well, mostly brown bears don't eat people. Neither are they designed to live on a diet of corn and scraps thrown by tourists, as the inmate of the cell above endured for 12 long years.
He is now safe at the bear sanctuary near Brasov.
European Brown Bears are omnivores and forage for acorns, plants, fruit, insects, roots and bulbs of plants. When they get hungry enough, they will hunt for meat.
Brown Bear Distribution in Europe and Romania
You can find some rather beautiful animal distribution maps here. You'll notice that Romanian wildlife isn't limited to bears, Romania also has wolves and lynx. Local shepherds have to protect their flocks from predators such as wolves and bears in Romania.
Where to Go Bear Watching in Romania
You can go bear watching in several places in Romania, but sightings are far from guaranteed.
We've lived in an area with bears and have never seen one, although somebody was mauled far up the mountain last year.
In Eastern Transylvania, while staying at the Dracula Castle Hotel at xxxxx we came across fresh bear tracks while walking in forest snow, we got out of there pretty quickly!
Lonely Planet gives information on brown bear watching opportunities in Romania. Tours do exist and around Brasov it's possible to find them feeding from bins at night.
The Bear Sanctuary in Romania
The Libearty Bear Sanctuary in Romania is involved comes in, re-homing, rehabilitating, and giving captive bears a chance of ending their days in a more natural environment.
The bear sanctuary is home to around xxx bears, although numbers do vary.
The sanctuary is above the town of Zarnesti in the Romanian countryside near the city of Brasov in Transylvania.
There is a car park at the bear sanctuary and your visit normally begins with an introductory film, followed by a tour with an English – speaking guide starting at the sanctuary's media centre.
Visiting the Bears
I'm not going to give you too much information, it would spoil your visit. But I will tell you that for us it was a thrill to see Romania's bears for the first time after living here on and off for a year.
Bears are magnificent animals. So we were both delighted and deeply saddened by our visit.
Some, all, of these bears have had lives full of torture and suffering. The sanctuary does what it can to make the rest of their lives more natural and comfortable.
Is The Brasov Bear Sanctuary Good For Kids?
Yes, the Brasov Bear sanctuary is a very family-friendly, interesting and fun place to take kids. If your kids enjoy wildlife and being outdoors and are interested enough to listen to the guided tour. There's lots of open space and they may be able to have a run around if they can do so safely. If your kids have ever asked "Are there bears in Romania?' take them here!
Visiting the Libearty Bear Sanctuary, Romania
The bear sanctuary is not far from Brasov, a must-visit town in Transylvania and not too far to drive from Bucharest.
The information below was correct at the time we visited.
Casual visits aren't allowed, guests must join a group tour at 9, 10 or 11am, there are no further admissions after 11 to give the bears some peace. You need to contact the sanctuary to arrange a visit. Full details are at the end of the page.
All the bears have been rescued from hellish existences, tiny cages, bad food, social deprivation and being used as tourist attractions.
Poor Max will break your heart. Taken from the wild as a cub he was kept chained to a fence outside Peles Castle, Transylvania, for his whole life.
Tourists would come to take photos and the bear's owner would torture and drug him to make him compliant. He is blind and crippled, too damaged to join the other bears in the huge communal enclosures. Read more of Max's story here.
On arrival bears undergo rehabilitation and males are castrated, there will never be cubs born here. When they are ready the bears are released into massive natural enclosures on land loaned to the sanctuary.
There are 86 bears in the sanctuary on the day we visited, along with 9 wolves, if you're lucky you'll catch a glimpse, we did. The wolves are much shyer than the bears and are also rescue animals.
Where to Stay to Visit the Brasov Bear Sanctuary?
Most visitors will come from Brasov. Brasov is a well-established town that caters well to tourists. There are a number of other great tourist attractions and historic cities to visit in this part of Transylvania.
You could also stay in beautiful Sighisoara and reach the bear sanctuary in under 1.5 hours by car. Sibiu is also nearby. For Romania we suggest checking the usual online booking sites, Booking.com works well for Europe. Hotels, apartments and pensiune in Romania tend to be very affordable and standards high in proportion to price.
Libearty Bear Sanctuary Contact
It's worth knowing that Libearty takes bears internationally, one bear is from Texas USA, others from nearby countries outside Romania. 93 bears have been saved so far.
Contact Email : mili[email protected] or the Libearty Bear Sanctuary website.
Tel: +40 268 471 202 or +40 722 533 895
You can support the bears by visiting, your admission fee helps keep the bears. Also by adopting or donating directly.
Thre is also a Bear Sanctuary book, available to buy online. It tells the full story of how and why the sanctuary began, along with beautiful images and the stories that go with the bears.
Thanks for visiting our site and we hope you found our post on The bears in Romania and the Brasov Bear Sanctuary useful. We like to think we're a fairly expert travel blog on Romania after spending almost years living in a remote Romanian village, trying to learn what we could about Romania and the Romanian language. We love Romania and you can find more information on travel to and in Romania, along with snippets of village life, by visiting our Romania Travel Blog page. If you're planning a vacation in Romania check out the other cool things to do in Romania.