Brasov Romania or Braşov is a beautiful ancient city in central Romania. It is at the heart of the most famous region of Romania, Transylvania. Brasov occupies low ground in the Carpathian mountains making it a popular winter ski town. Its medieval stone walls are still standing and there are pleasant walks around their perimeter. Here you will find the bastion and black and white towers, interesting historical features. The towering Gothic black church dominates Brasov's picturesque central square, The council square Piața Sfatului. In this post we explore Brasov, what it there to see, and do in Brasov, but also what's nearby. There are many incredible places of interest just a short drive from Brasov itself. Visiting Brasov is certainly on the list of top cool things to do in Romania.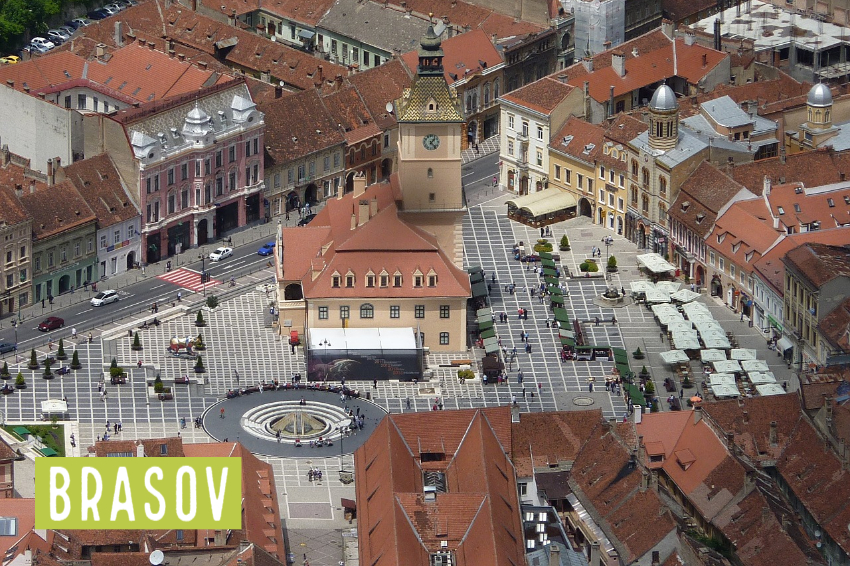 Is Brasov Romania a good place to visit or to stay? What is there to see and how about things to do in Brasov? We tell you everything in this post, and yes, Brasov would be our #1 place to visit in Romania, after Bucharest.
Let's take a look at Brasov. There are incredible things to see in and near Brasov. The city itself is lovely, this is the ideal place from which to explore more of Romania. We tell you what to see near Brasov in our post.
Brasov Romania
The whole of Brasov is incredibly ancient and much of it you could call superficially crumbling. Pretty baroque buildings in yellow, pink, and blue show the passing of time clearly in their plaster but the basic structure of the city is very well preserved.
From Roman origins to Saxon development and medieval fortifications, the layout and constructions of the old parts of town seem to have changed little. Brasov has history, class, and quality and the ancient center is free from communist residential blocks. It has modern up-market shops and plenty of tourists. It's a must-visit and hugely interesting if you can find some of the gems we list below.
Head out for a walk or take a guide, but certainly give Brasov a full day of your time. There are stunning places to see near Brasov too, see a few towards the end of our blog post.
Did you know that Transylvania used to be part of Hungary and that many people are ethnic Hungarians? Hungarian is spoken in some parts. Also, look out for the Romanian gypsies, you can see their Indian (Rajasthan) origins in their outfits a thousand years later.
You did know that Romania is called such because of the Romans, right? You'll see a statue of Romulus and Remus in almost every town. Some parts of Romania, for instance, Alba Iulia, also in Transylvania, have fantastic Roman ruins. Then there's Dacia to learn about, it's not just a make of
Where to Stay in Brasov?
It's best to stay in the old town area of Brasov to be within walking distance of all of Brasov's main attractions. You'll also find plenty of places to eat nearby. Our interactive map, below,l will help you find a hotel or apartment in Brasov, it allows you to compare multiple accommodation types and providers at once.
Our map centres around the Biserica Neagra (Black Church) at the heart of Old Town Brasov.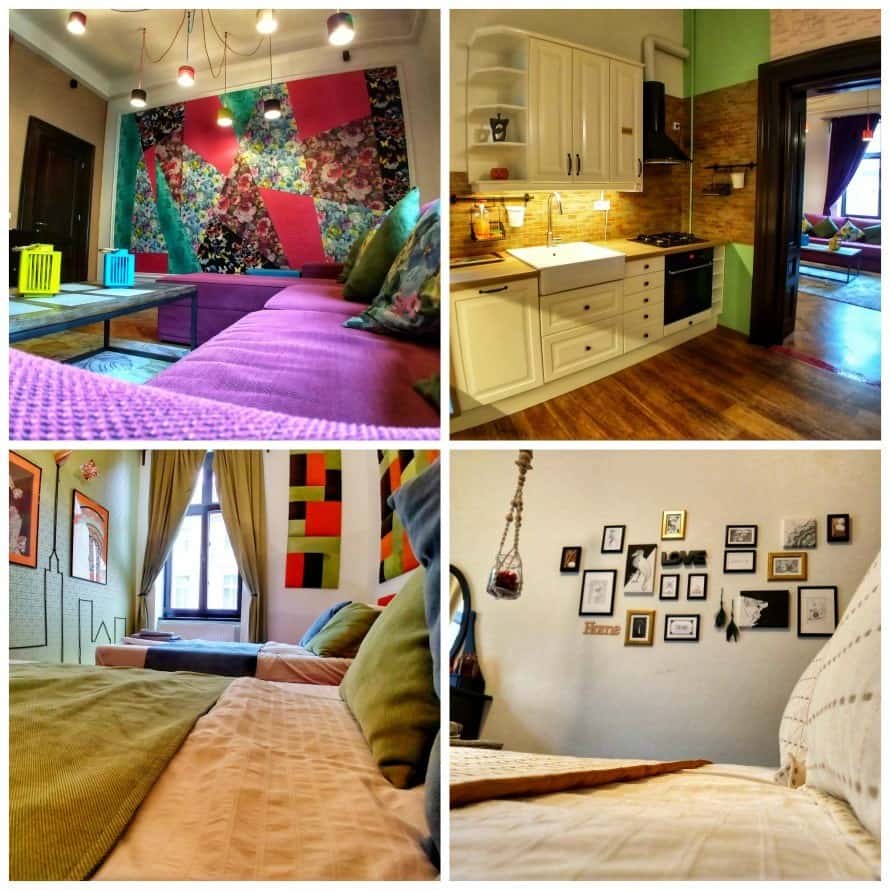 The rather beautiful apartment in our photos is quite luxurious and just steps from the main square in Brasov Old Town. It's not cheap at around 100 Euros per night, but still good value. A beautiful and extremely well equipped 2 bedroom apartment with such luxuries as a home sauna, 3D TV, washing machine and more. I think you'll agree it's rather special. (see it here)
If your budget is tighter you can find apartments in Brasov for under $30 per night (see one here) which are perfectly adequate for a party of 4.
Brasov Tours
If you'd like to pre-book a tour of, or to. Brasov or the surrounding area and the places we mention below, take a look here. You can arrange tours locally or from Bucharest, including multi-day tours. If you don't speak Romanian and really want to get the most of this region we'd recommend an English speaking guided tour.

Brasov Food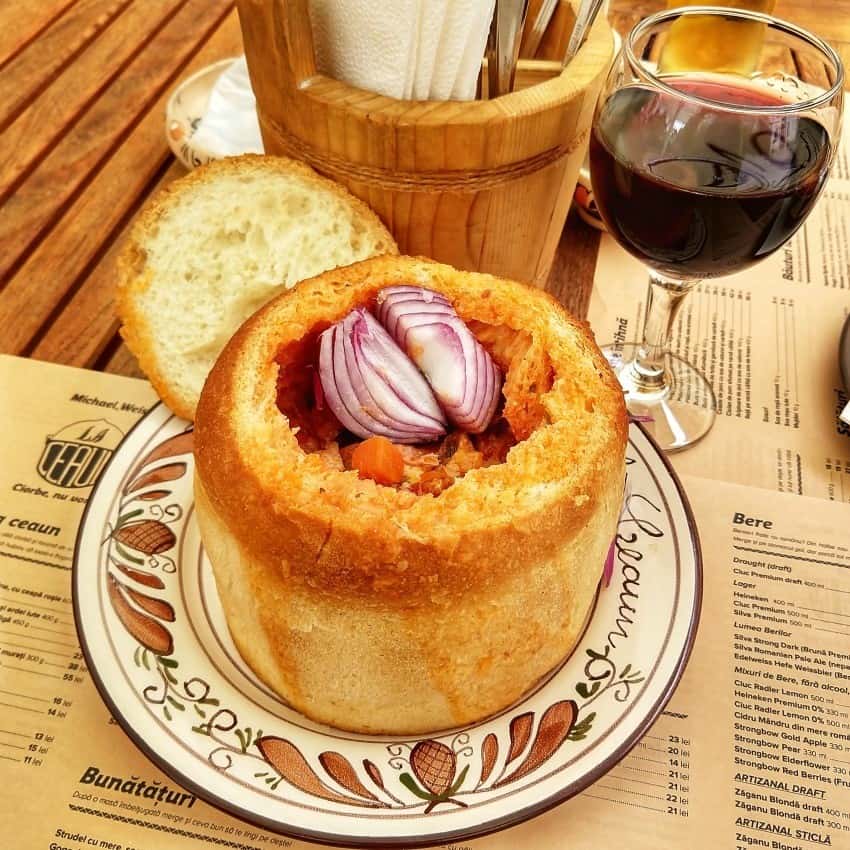 Brasov has many dining options. You'll find all the large chains including Mc Donalds, KFC and Starbucks in Brasov, along with a multitude of restaurants, often with pavement seating, serving Romanian specialities, good pizza and more. Prices are reasonable and there is plenty of really good ice cream and kürtőskalács (chimney cake) to enjoy on the street.
The simple soup above was 14 Ron (lei). That's under $4.
Brasov's Main Square, Brașov Council Square, Piața Sfatului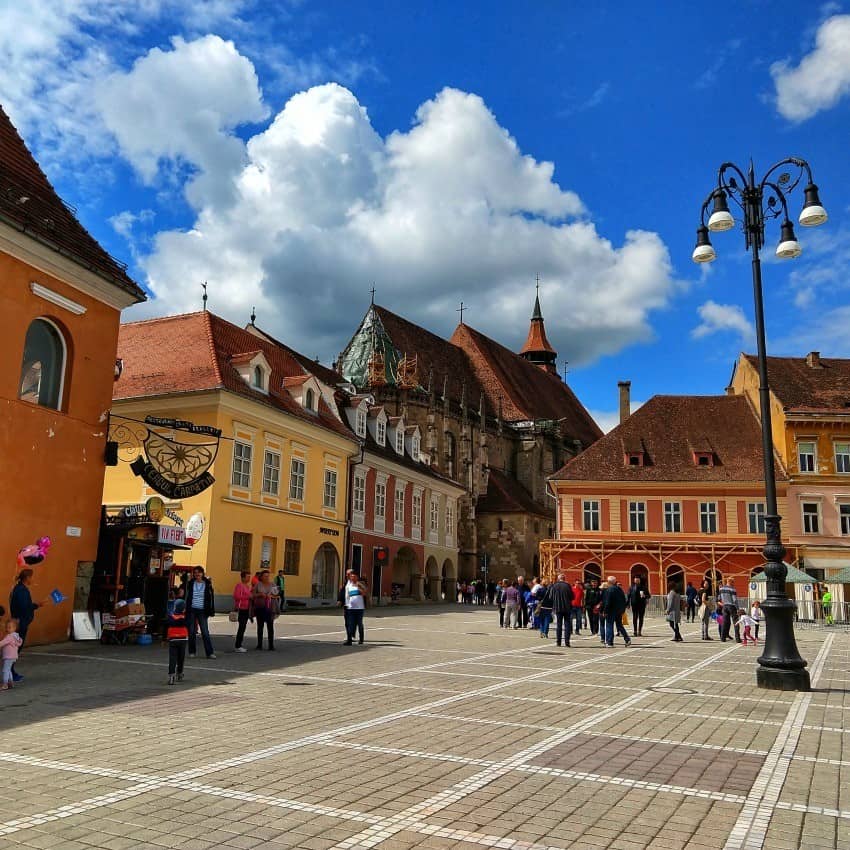 This square was the original marketplace, site of beheadings and home of a pillory for punishing, among other things, witches.
Legend links this square to the Pied Piper of Hamelin, they say the children re-appeared here after being lead away.
Today it is a pretty piazza with plenty of open-air dining.
Brasov's Black Church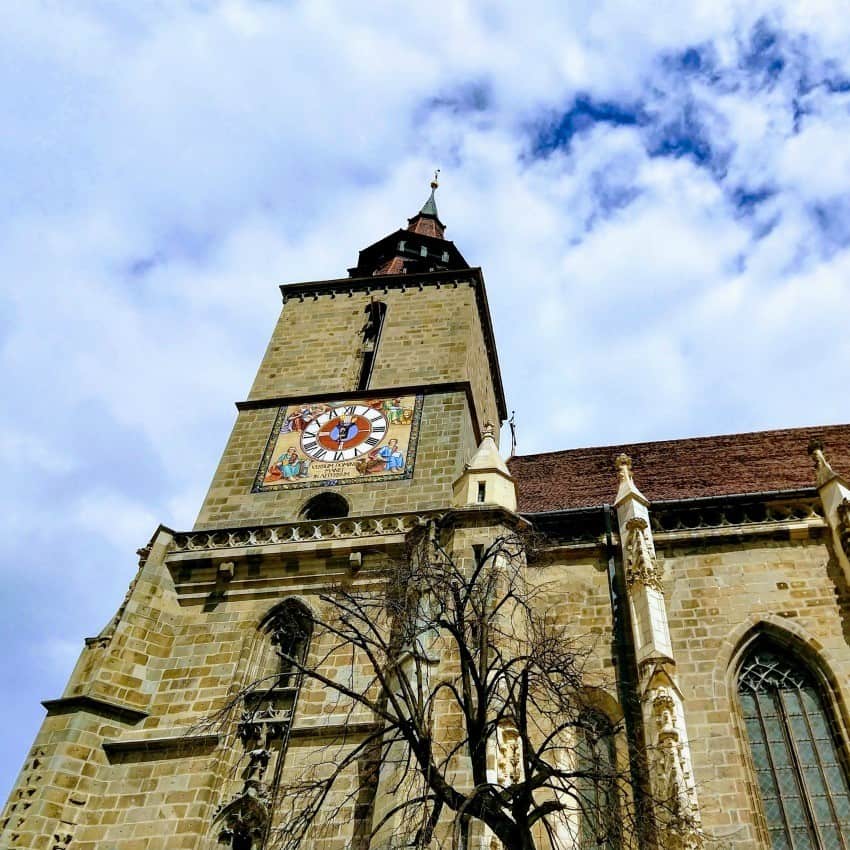 The Biserica Neagră or Black Church (Schwarze Kirche, Fekete templom) is the huge gothic style church in Brașov that dominates The Brașov Council Square Piața Sfatului .
Built as a Roman Catholic church in the 1300s, the Church of Saint Mary, it replaced an even older place of worship.
There is a legend that a German child ( this church, like many in the region, was built by the German community) annoyed one of the Bulgarian builders so he pushed him off the church tower before bricking the child into the walls to hide his crime.
The Oldest Church in Brasov and the First Roman School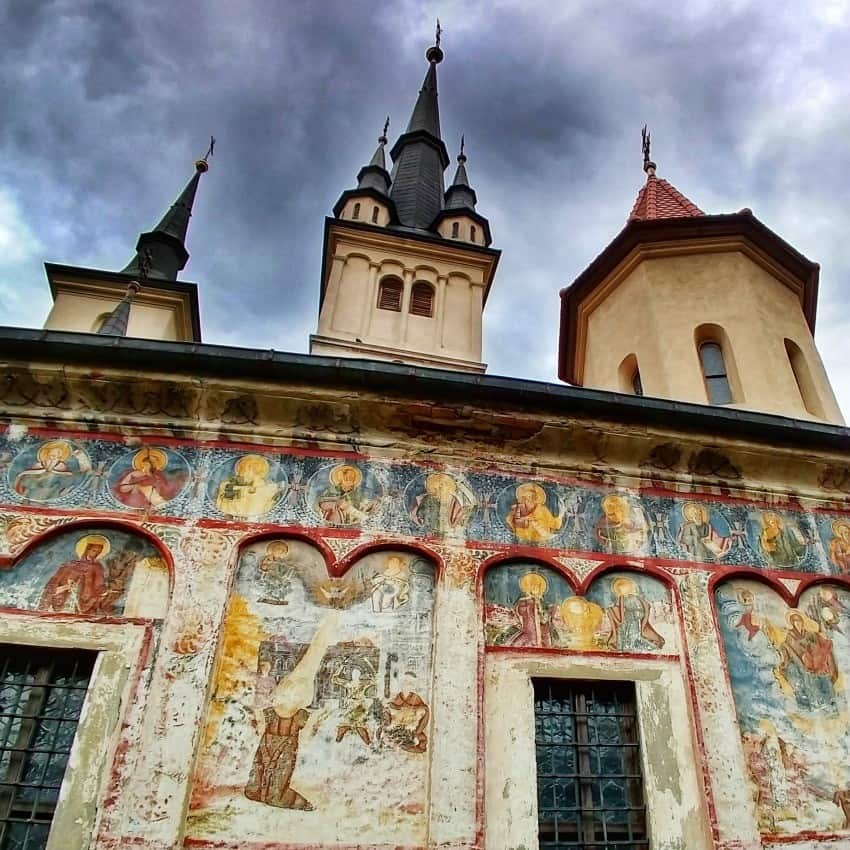 Moving now to Şcheii Braşovului, the old Romanian district outside Brasov's fortified walls. The First Romanian School, Prima școală românească , is adjacent to and in the grounds of the oldest church in Brasov, St. Nicholas. This church dates back to the 1300s. There is a school museum but unfortunately, it was closed when we visited.
This was the only school in Transylvania . Each village would pay for one student to be educated here so that he could share that knowledge with the rest of the villagers on his return.
Brasov's White and Black Towers
Brasov's first line of defence, these towers were built in the 15th century. Located outside the city walls there were originally 4 of these 11 meter high towers.
The black tower is actually white but was named the 'Black Tower' after it was struck by lightning on the 23rd of July 1559
With epidemic outbreaks in the 18th and 19th centuries, it was also used as a quarantine area.
The city turned the towers into tourist attractions in 2003 when tourism became a main source of income for Brasov.
We walked to both the Black and White Towers, they're an easy short walk through deciduous forests starting from the Graft alley and canal. The towers are impressive, but the views are spectacular.
Brasov Old Gate St Catherine's Gate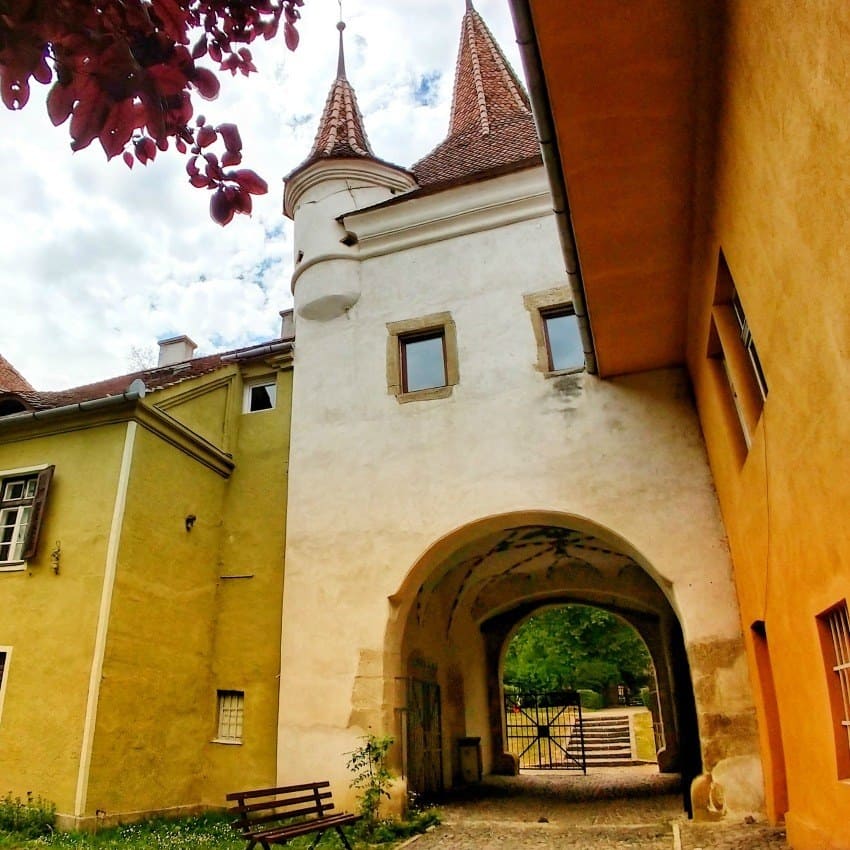 St Catherines gate was built in 1559 after the orginal gate was destroyed in floods in the 1520s.
Built by the Tailors guild it was much bigger than what you see today.
The gate is named after the St Catherine's Monastery that was here many years before on the same land.
Brasov medieval city had 5 entrances but this one was the only one that Romanians could use to enter the city after paying a tax to the Saxon rulers between the 13th and 17th centuries. Romanians were forbidden from owning land or houses in the city walls and so would enter and exit through here and live in the nearby area of Scheii Brasovului.
The four turrets symbolise jurisdiction over the city including for capital punishment. This can also been seen across other cities in Romania.
Brasov's Bastion and Graft Alley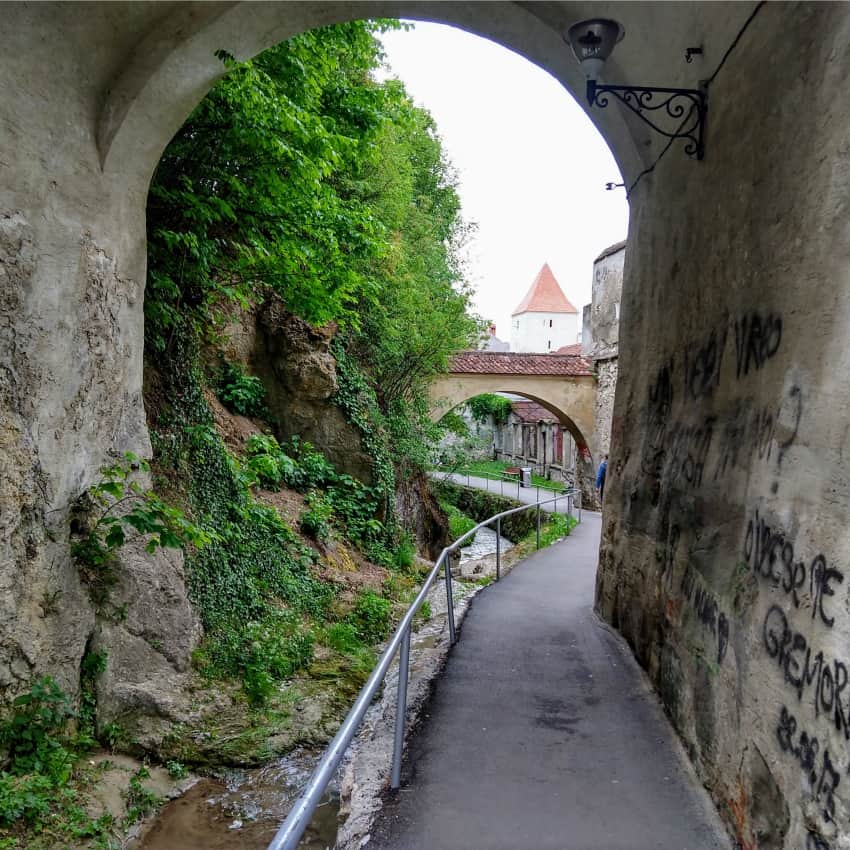 Bastion Graft or Bastion Gate seen above, provides a bridge from the main city walls to the white tower above. There are 200 steps up to the white tower from the base of the gate. It took 6 years to build, from 1515-1521.
All of the water and run off from Şcheii Braşovului had to past through the channel under the graft. Şcheii Braşovului is the old Romanian and Bulgarian district, outside the main Brasov walls. Residents were forbidden from entering Brasov other than at certain times and then they would have to pay a toll at St Catherine's gate, below.
Now the Bastion is used as a museum and you can still get up to the white tower via the repaired original staircase.
The path now runs along the wall but little remains as the city has extended and built through the wall starting back after some serious flooding in the early 19th century.
Brasov's Rope Street, Narrowest Street in Europe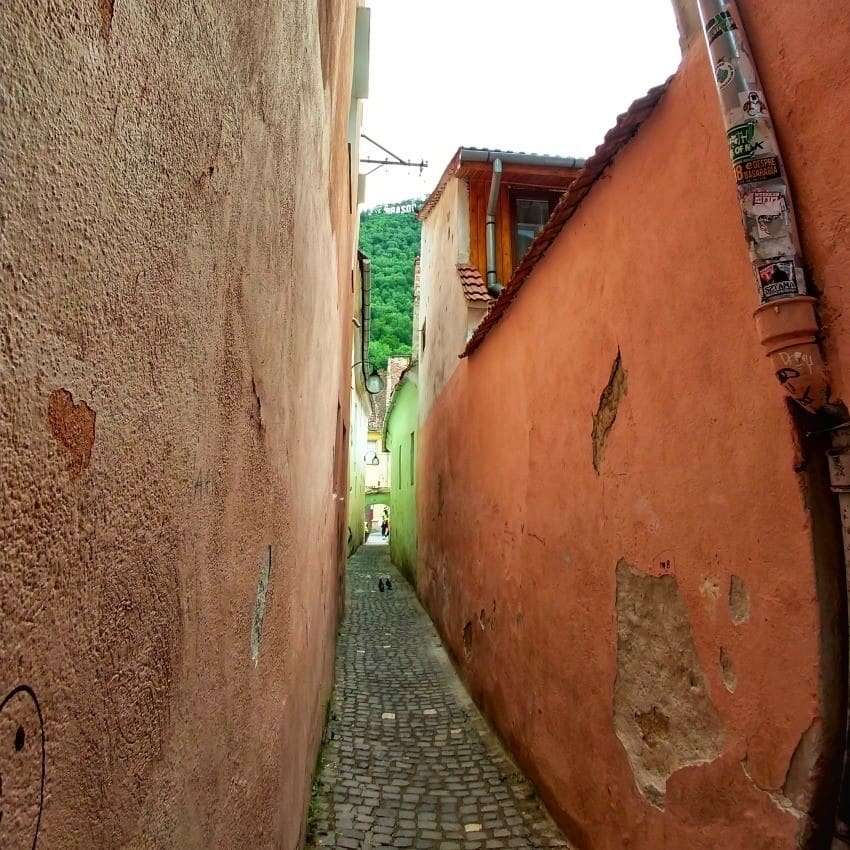 There are actually narrower streets in Europe ( In England, Sweden, Italy and more) so I'm not sure why this one wears the crown. Maybe it could be the narrowest in Eastern Europe. Notably, the Brasov International Marathon passes through this street with policemen stationed on Poarta Schei Street to allow runners to get through the traffic. The marathon route is nothing if not interesting. Poarta means gate in Romanian, this road runs from one of the main gates in the old city wall.
The Brasov Marathon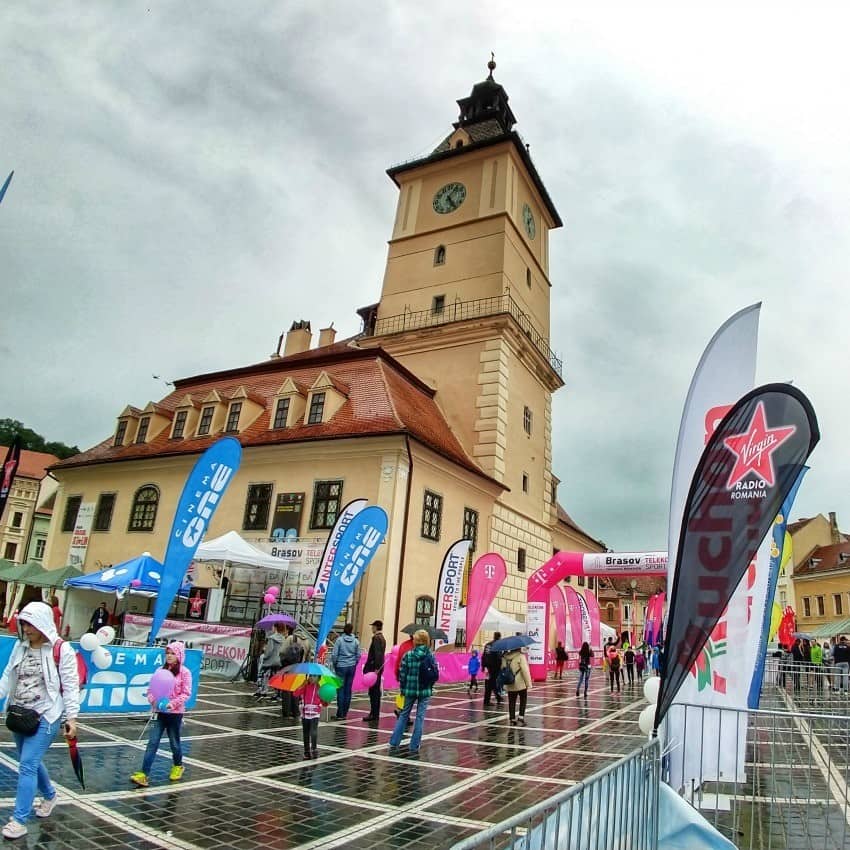 My husband competed in the marathon this year and completed it in three and a half hours. There is a lot of up hill (followed by down) but he had loads of fun. Brasov also runs a half marathon, 5 Km, 2.5 Km and kids' race. This year (2018) it was on 20th May. See more in the video. Chef didn't train for this, he just did it for fun on the spur of the moment. When you're as fit as he is a full marathon is pretty easy.
Places to Visit Near Brasov
If you spend a few days in Brasov Romania, the following places are near and you should certainly visit them from Brasov.
Fortified Churches in Transylvania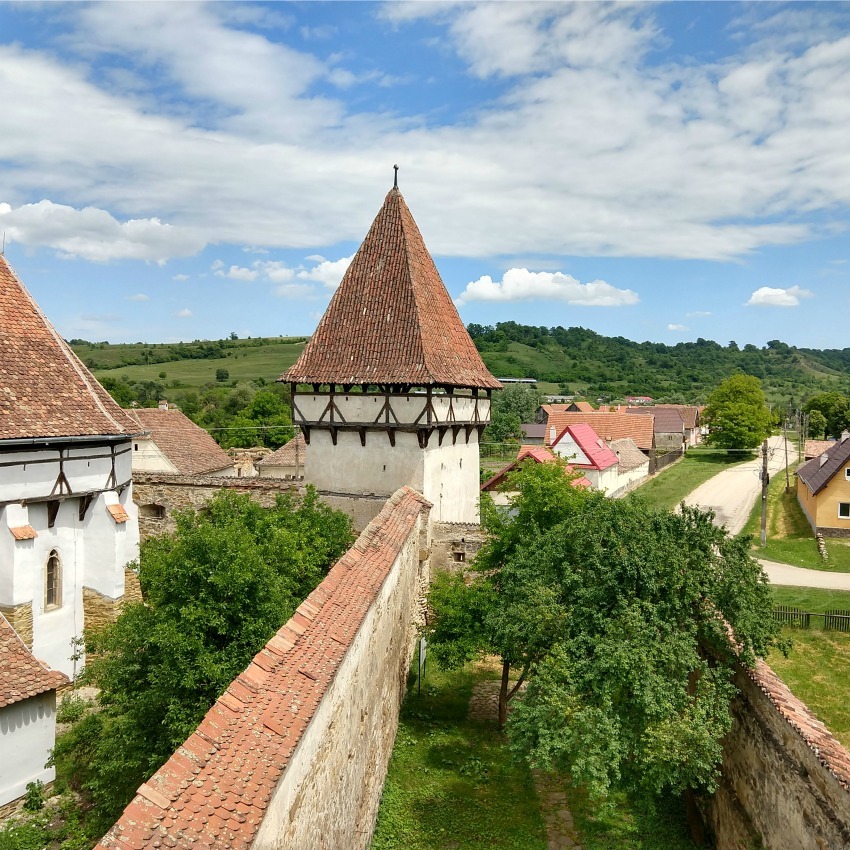 There are dozens, maybe hundreds of fortified churches in Transylvania and many can be reached in a day trip from Brasov. The church above, at Cincsor (Cincșor) is a favourite of ours for its fairy-tale feel, along with the one below at Beirtan. Both of these places had matrimonial prisons, cells where husbands and wives would be locked up for weeks on end while they settled their differences and fixed their marriages.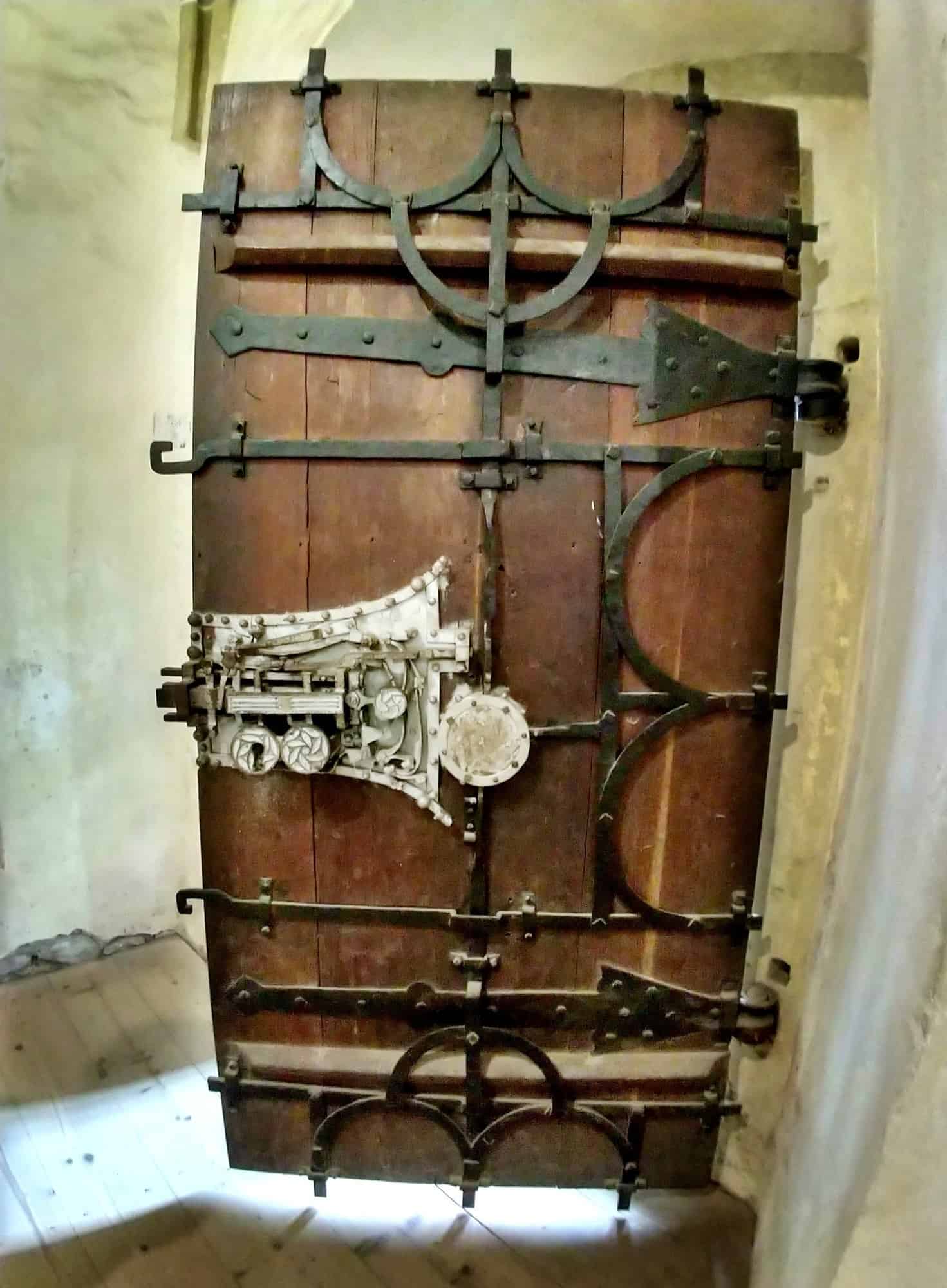 This part of the world is sometimes known as the Saxon trail and Saxon churches are a-plenty.
If you'd like to see the biggest fortified church in Romania (and you should) see Prejmer, below.
The Brasov Bear Sanctuary
in nearby and well worth a look, we have a full post on the Bear Sanctuary, near Brasov in Transylvania here.
Dino World Rasnov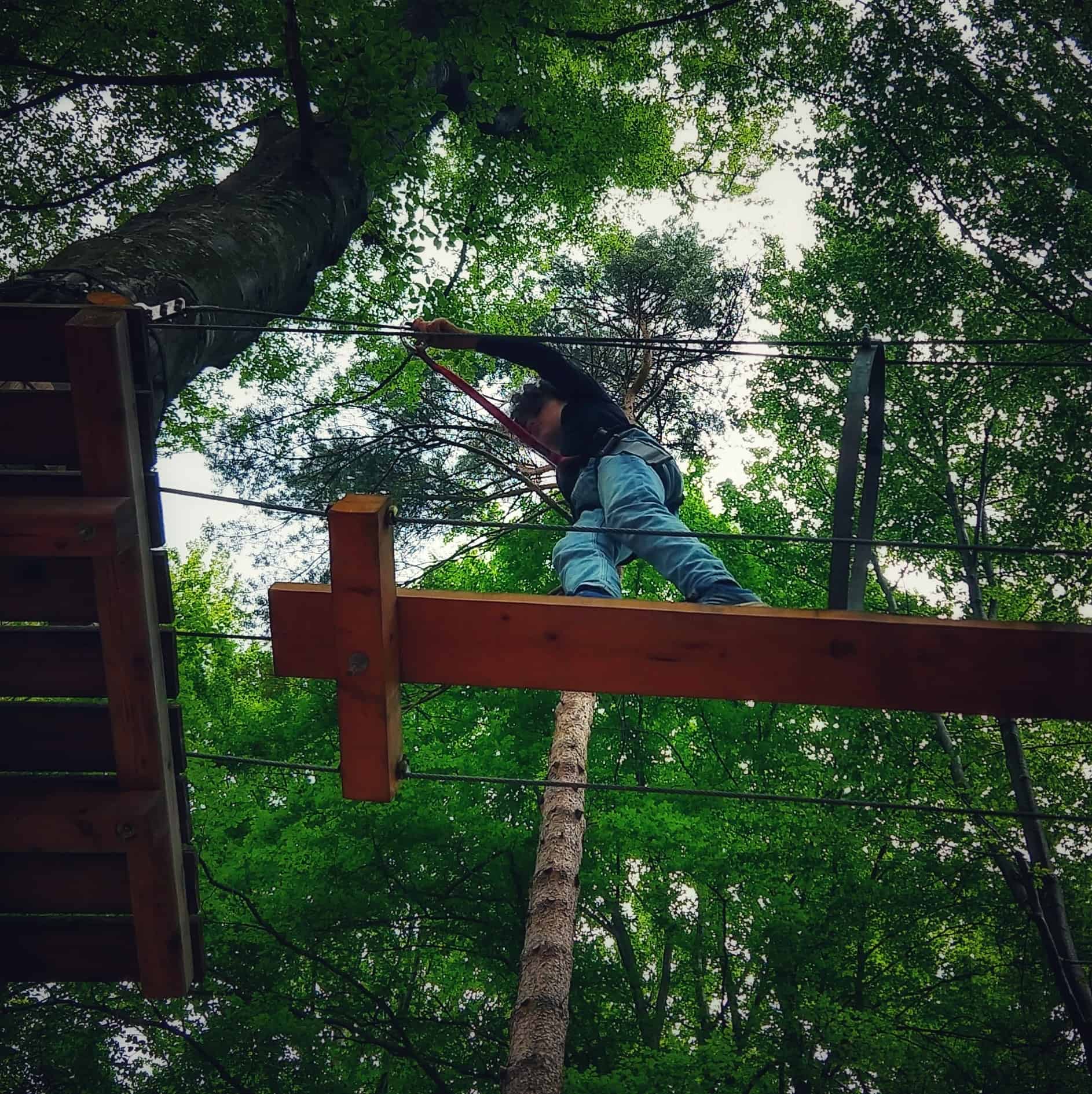 If you've visiting Brasov with kids of almost any age, Dino World is super cool.
Little ones will love the play facilities and dinosaurs, older ones will love the ropes course, zip line, lasers and, if they're Ark obsessed like mine, also the dinosaurs. It's on the hill on the way up to Rasnov Citadel so it's very easy to do both in one day.
Bran Castle
If you're into Dracula and Vampires, Bram Castle isn't too far away, around 30 Km. The castle actually has nothing really to do with the real Vlad. If you'd like to know more about that, read our post on Romania and Dracula.
Two of the most stunning sites in Romania are very close to Brasov
Rasnov, Ancient Citadel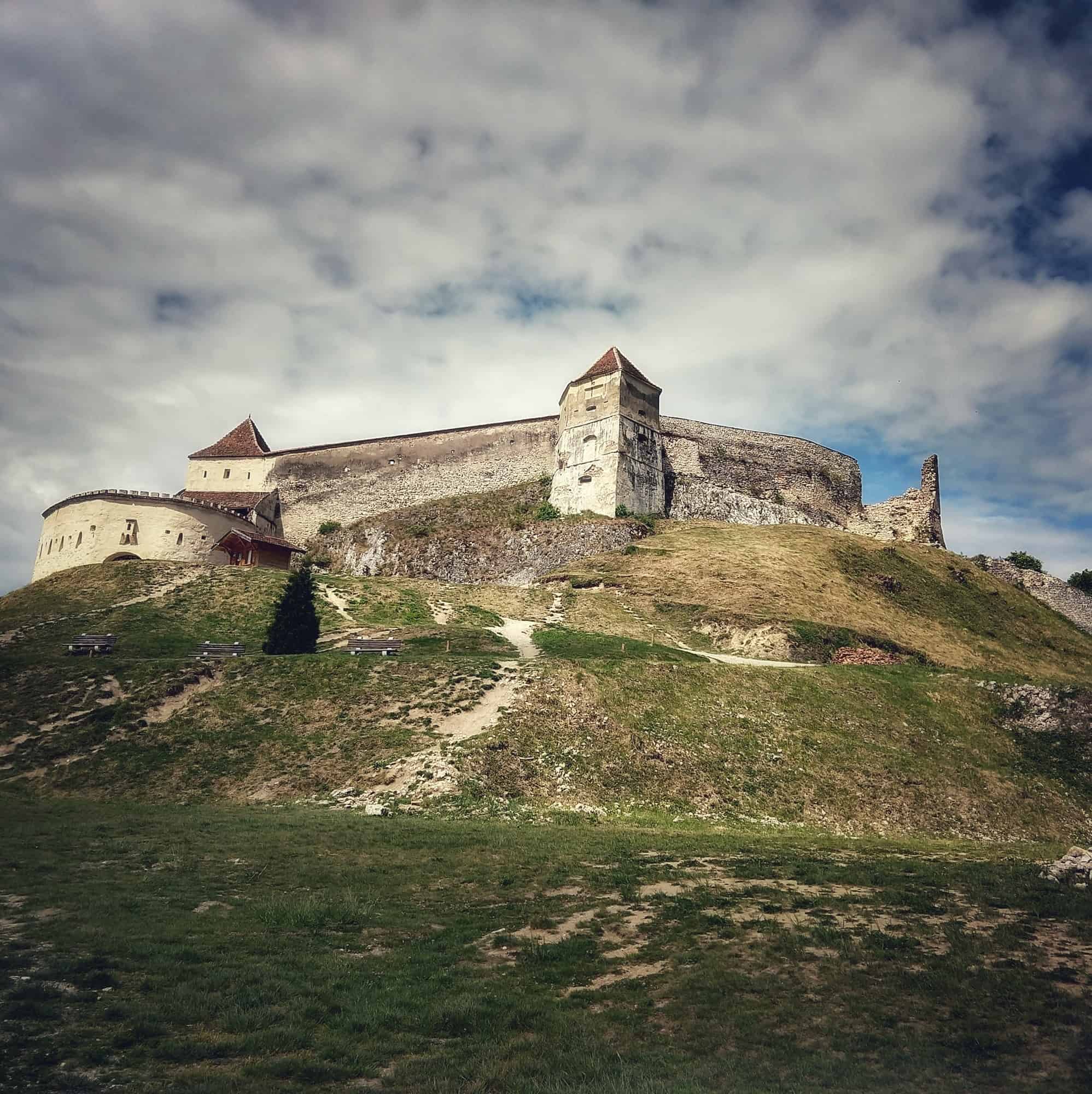 Prejmer, The Biggest Fortified Church in South Eastern Europe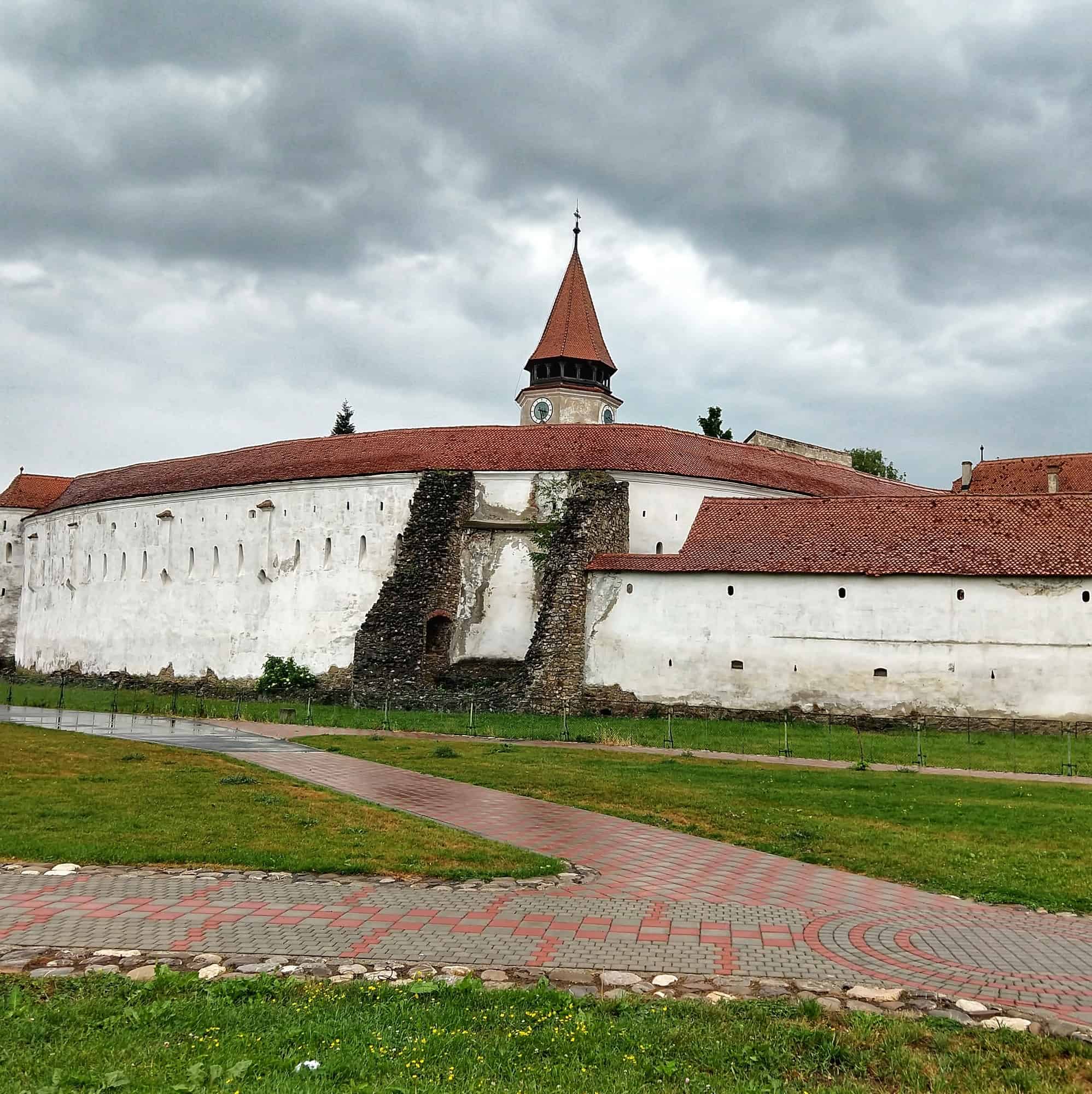 The biggest fortified church in southeastern Europe is at Prejmer (Tartlau in German) in Transylvania and is only about 18 km, 20 minutes by road, outside Brasov. It was built by Teutonic knights in the 13 th century and could house hundreds of local families within its 13 foot thick walls when it was under siege. This place blew my mind, one of the most incredible places I've ever been and I need to write a full post on it. It is UNESCO listed.
The powerful surrounding walls are 40 feet high and 10-15 feet thick.
Fagaras Citadel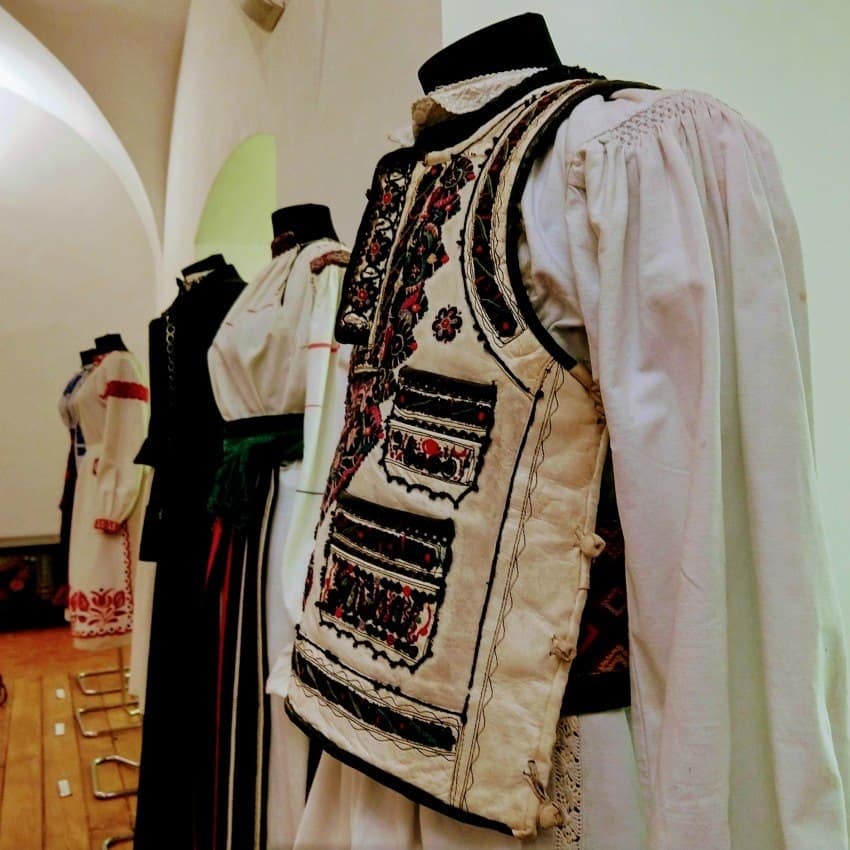 The Fagaras Citadel's construction started in the early 1300s on the site of an even older fortification. This site has been utilised for many purposes down the centuries and is more a museum than a ruin today.
It's original job was to defend South-East Transylvania from marauding Tatars and Ottomans. 2 centuries later it was further reinforced doubling the thickness of its walls. It has a fully intact moat, torture and dungeon exhibits and a link to Vlad Tepes. A most incredible golden domed orthodox church stands next to it and it's well worth the trip.
Fagaras Citadel is 67 Km, about an hour by road, from Brasov.
My younger son really enjoyed the Fagaras Citadel, so if you are visiting Brasov with kids, know that there is a cool wooden see-saw inside the walls here and plenty of ice cream outside along with swans to feed.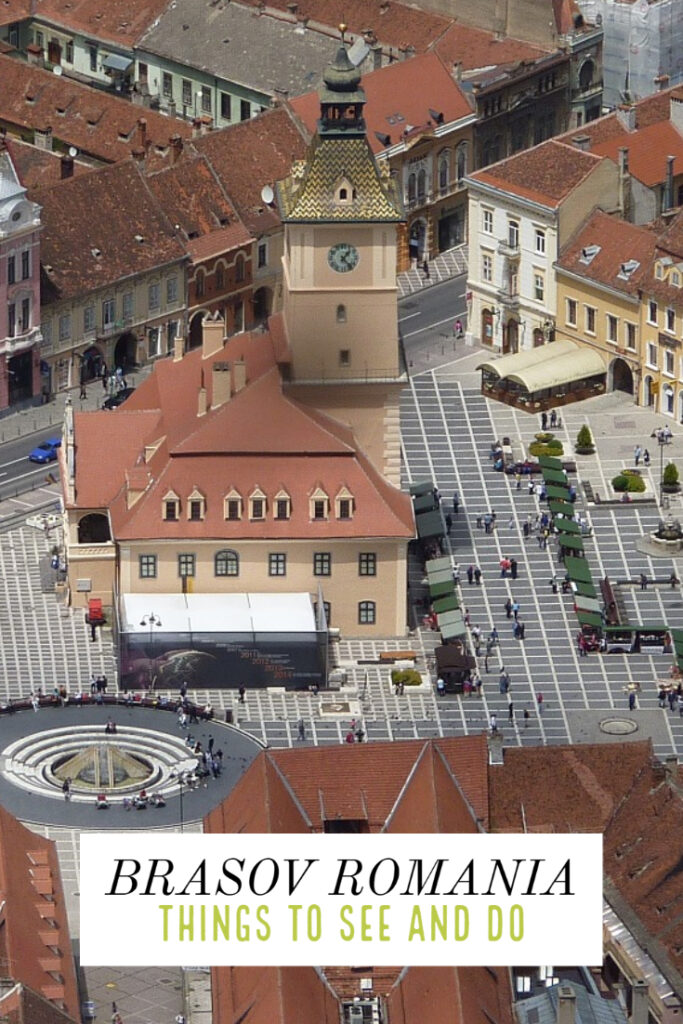 Brasov to Cluj Napoca
Cluj Napoca is one of the most modern, developed cities in Romania. We visit regularly for the airport and modern shopping malls but I don't think it's much of a tourist draw in itself although there are some stunning places nearby. Cluj Napoca is still in Transylvania and is 274 Km from Brasov. To get to Cluj Napoca from Brasov by road you're looking at a 4-4.5 hour drive.
Brasov to Turda
Turda (Transylvania) and the Turda Salt mine (we highly recommend this place, take a look) is just before Cluj Napoca if you are driving. Brasov to Turda is 238 Km.
Maramures from Brasov
Maramures county is to the north of Transylvania. If you're heading up from Brasov to Maramures, know that the drive to Breb is 400Km, which could take you between 6 and 8 hours.
Brasov to Sighisoara
Sighisoara also in Transylvania and the birthplace of Vlad Tepes is 118 Km from Brasov. Click through to see our full post on beautiful Sighisoara.
Getting to Brasov from Bucharest
Brasov is an easy drive from Bucharest at only 170 Km. You could also take the train.
The Brasov Cable Car and Panoramic Look Out
We didn't go, time just didn't allow, but there is a cable car that leaves from Brasov old town and takes visitors to the look out point on the Tampa mountain. You can also hike this trail if you prefer.
Brasov in Winter
Brasov has skiing nearby. About 18 Km up the mountain from Brasov the ski town of Poiana Brasov has a good selection of runs and lifts. We haven't tried skiing here yet but we will. We'll tell you all about it. We regularly ski in Romania at Cavnic, which is tiny compared to Brasov, but fun skiing and very affordable.
Brasov Romania. Brasov is a great place to visit and holiday makers to Transylvania, and indeed Romania, should stop here as part of a Romania-wide road trip or base themselves here while they explore Transylvania. There are many things to do in Brasov, but the places to see above are some of the highlights. Do some research before you arrive in Brasov or take a tour of the city, you really don't want to miss any of the above. Did you want to look at the hotel map of Brasov, it's here.